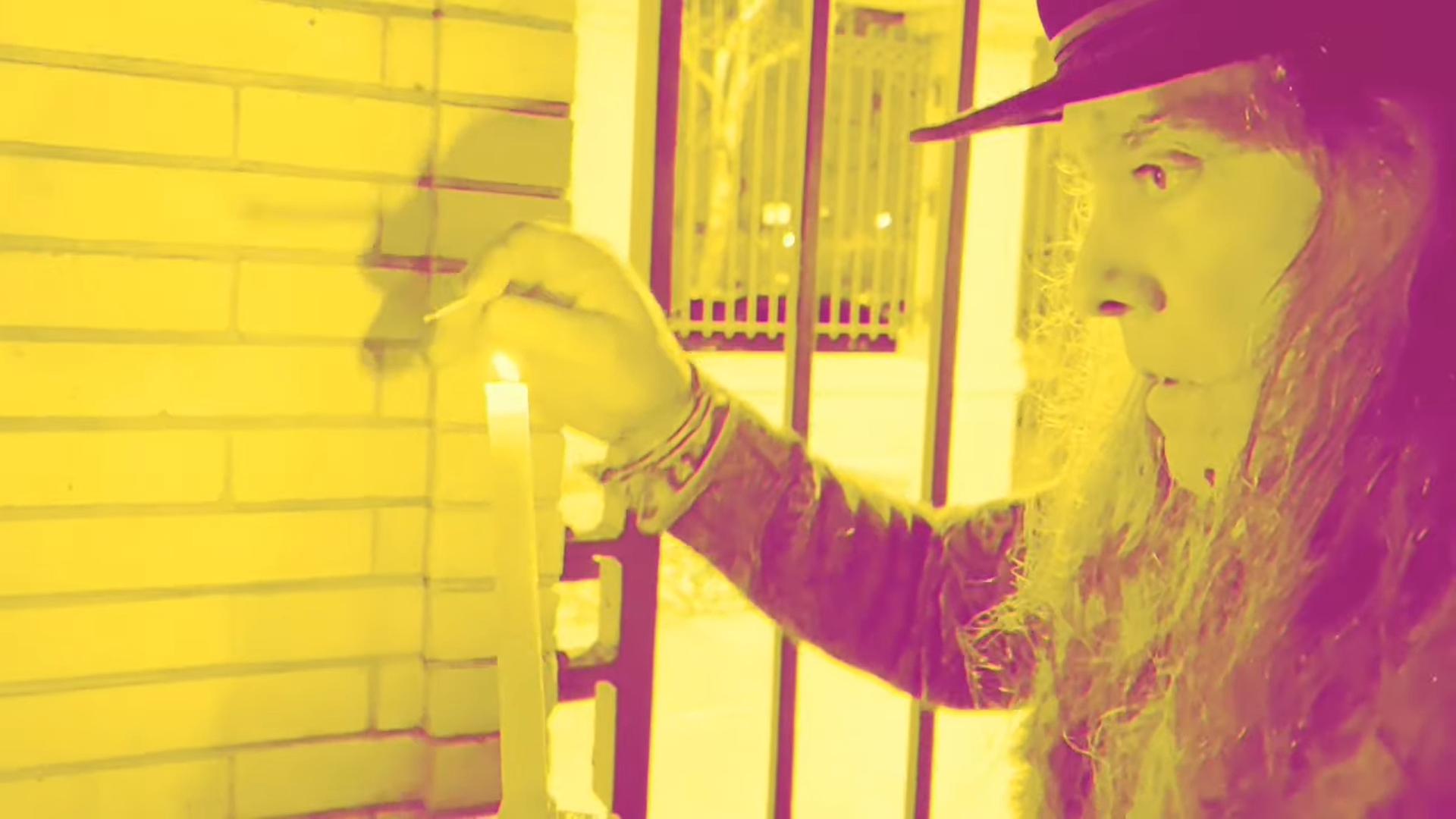 10 March 2023
The latest video from famed NYC producer Martin Bisi's LP Feral Myths is a duet with Mág Ne Tá Z'air (known for her work with the performance group Wild Torus) that has a welcome DIY vibe to it. Shot around Brooklyn's Bed-Stuy area, the 6-minute film is potent in its light-hearted simplicity. We follow a couple (Bisi and Z'air) as they negotiate their urban environment to carry out their individual rituals; together they form a synergy of nature versus unnatural, and nature versus nurture. It's political, it's social, it's spiritual.
Exclusive to The Big Takeover, director Z'air summarizes her vision for the video: 'Everyday, we wear a strange suit. The music video goes under the skin to explore what lies beneath our soft, varied exteriors…' In it, she and Bisi carry out their individual holy rituals, yet in the park, they become 'one with nature, despite the backdrop of the city.'
The fur vest Bisi wears mocks the idea that man is somehow tamed by his environment: his inner wildness is fully exposed as he dances and lopes the Brooklyn streets like an animal in the night. When he preciously lights a candle against the wind, we might question whether it is 'real' wind or the constructed breeze created by the alleyways and spaces between man-made, rigid structures. Another highlight comes by way of some modern-quasi-psychedelia during the bridge about half-way in when Z'air's manic park romp suddenly intensifies into poster edges. In an instant she appears gigantic and all-powerful a moment of peak clarity, perhaps fully embracing the animal sensations normally masked by our daily, civilized conventions. She concludes in a most solemn rite, placing herself at the center of a mandala on the ground.
DEFINE THE ANIMALS / BELIEVE THE ANIMALS
WE ARE NOT ALONE / FINALLY SET FREE
"Sonically, Bisi's production is idiosyncratically rich and ultra-stereophonic throughout. The visual cacophony of imagery experienced as they negotiate with post-industrial society is well matched to the multiple layers of crisp, resonant audio. Another provocative track from Feral Myths that pokes at our own sense of mortality and where we stand in a world of constant change and chaos." – R.B Korbet, March 2023
From the album Feral Myths on Black Freighter Records:
Martin Bisi – guitar, voice, electronics
Mág Ne Tá Z'air – voice, voice effects
Oliver Rivera Drew – drums, percussion
Diego Ferri – baritone guitar, guitar, synths
Directed and edited by Mág Ne Tá Z'air
Get Feral Myths here
Mág Ne Tá Z'air on SoundCloud
Mág Ne Tá Z'air videos as Wild Embeddings
Next Martin Bisi band show: Philadelphia, April 15 at Kung Fu Necktie with Live Skull and Bitter Wish (trio with Clint Takeda of Bardo Pond, Scott Verrastro of Kohoutek/Heavy Lidders and John Comune of Strawberry Hands/Roadkiller). Tickets