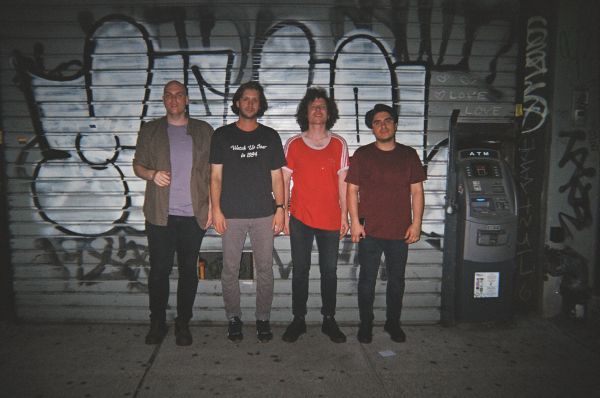 6 November 2017
Holy Tunics; Photo Credit: Devon Bristol Shaw
Holy Tunics is a rock n' roll band that started in Brooklyn, New York in 2014 and features drummer Brian Alvarez, bassist/vocalist Matt Billington, guitarist Bryan Thornton, and lead vocalist/guitarist Nick Rogers. Their EP Hot to Trot was released in late 2016.
On their recent 2017 split EP with Hamish Kilgour of The Clean, Holy Tunics prove themselves again to be the scrappy, romantic jangle kings of New York. Reliving the golden era of college rock heroes, Holy Tunics is a Brooklyn mainstay heralding in a new wave of Paisley Underground-influenced guitar rock. Their first full-length studio album, titled Butter Dish, is set to be released this fall/winter. It was engineered and mixed by Julian Fader at Gravesend Recordings in Bushwick, Brooklyn, and mastered by Amar Lal (from Big Ups).
The Big Takeover has previously written in print that Holy Tunics has an "…energetic, smoother yet punchy production and playing that reinforces their hooky guitar-pop heroics." This dynamism is on full display on the song "Victoria", a track from the band's forthcoming album.
The Big Takeover is excited to premiere the video for "Victoria.". It was directed by David West and filmed around Queens, New York City. The locations used include the George Seuffert, Sr. Bandshell in Woodhaven, and Eddie's Sweet Shop in Forest Hills.
Holy Tunics' next concert is December 3rd at Irving Plaza with Gin Blossoms.