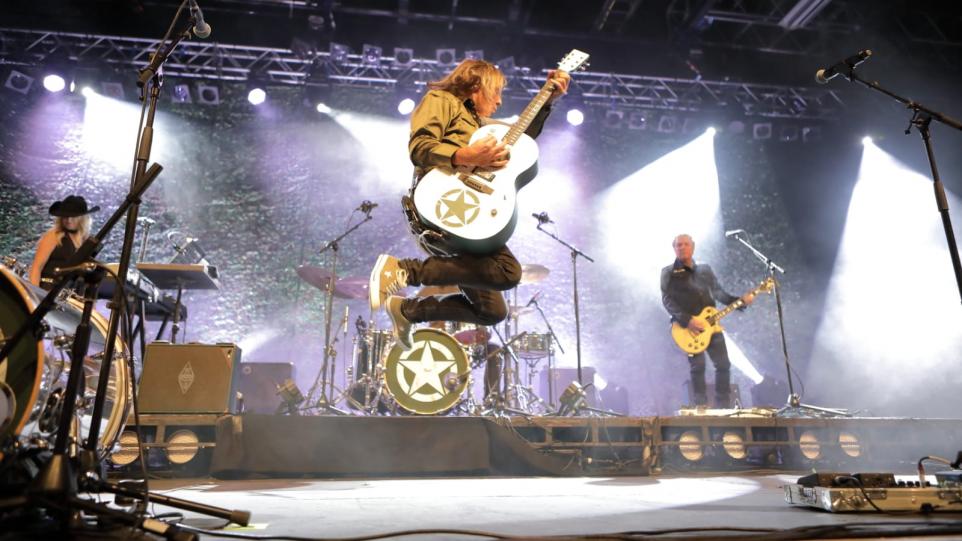 27 March 2023
"I was inspired to write 'Whatever' after hearing John Lennon sing 'Whatever Gets You Thru The Night' on the hospital radio and thought to myself, 'Never mind the night……. what am I going to do to get through life?'," says Mike Peters of the iconic Welsh rock band The Alarm, about the origin of the song "Whatever" whose video we exclusively premiere today.
Battling another bout of leukemia last Fall (he was first diagnosed in 2005), Peters has often reflected on mortality and this song felt like the perfect vehicle to show his gratitude to those around him and share that spirit with the world. "'Whatever' is really about the most simple, yet most important things like family, friends and loved ones who help you in the hours of need and an appreciation of life's fundamental gifts such as being able to breathe, talk and to walk."
Shot on location on Moel Hiraddug, a mountain in the northeast region of Wales, UK, the video was filmed during a winter storm ("It was absolutely freezing!!!") and is symbolic of the uphill climb he's endured… but, as is trademark Mike Peters, with a big smile on his face (remember, he's the guy who "loves to see the rain in the Summertime").
"I had the idea to symbolize my climb back from a place where I couldn't breathe or even walk by climbing a mountain," he explains. "Whenever I've been in hospital, I have projected my imagination towards recovery and the mountain summit has always been a place I aspire to get to as a sign of recovery. The thought being, if I can get back to the mountaintop, I'll know I am on the right track."
"Whatever" embodies the quintessential Alarm-esque filter, which – amusingly – caused U2's Bono to call them "the second greatest rock and roll band in the world." With an anthemic chorus that begs for a crowd singalong, it fits perfectly in their oeuvre of earnest and guitar-charged bangers. It's a return to form for the band, recalling chiming classics like "68 Guns," "Spirit of '76" and "Rescue Me."
Their new album Forwards (due out June 2, 2023 via Twenty First Century Recording Company) is the next step in the band's continual evolution, which has been ongoing for over four decades. "A lot of artists have to kill to make a record like Forwards," he says. "And with the challenges that came my way in 2022, I certainly had to kill or be killed to realize the ambition in these songs. It was literally life or death making this record. I've already taken so much from life, that when I was in the hospital stricken with chronic illness, I wasn't sure if I was going to be spared another opportunity to live. Fortunately for me, I was granted more time on earth and the challenge remains as ever, to make the most of every single second – forwards."
The Alarm – 2022 Tour Dates
April 15 – Cardiff – St. David's Hall
June 23 & 24 – NYC – Gramercy Theater (Gathering NYC)