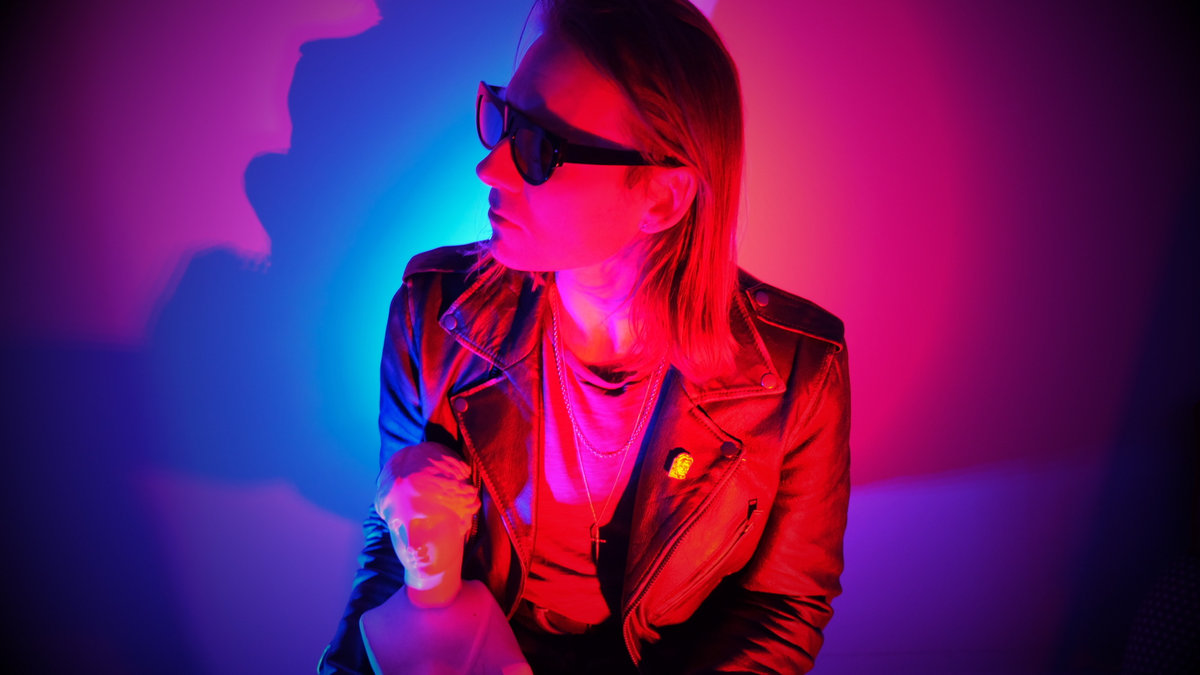 26 October 2023
Photo Credit: Laure Rowell
Following the release of his new LP "(A)Void Love", Crush of Souls (Chuck Rowell of Crocodiles) is releasing a brand new video for the track, "Who Will Silence the Pigs." Filmed in Soligny-La-Trappe and Saint-Maurice-sur-Dargoire by his wife and frequent collaborator Laure Rowell the video is a family affair, also featuring his son as an actor.
Speaking on the video, Rowell said, "It's a story as old as time; life and death, heaven and hell. Where they meet and where they part. In this mini epic, we watch Charles traverse the netherworld and play scrabble with Death. He exits the lush divinity of family life and plays God with the John Gotti of the afterlife."
"(A)Void Love" was written over a period of intense insomnia that coincided with a run of shows playing guitar for Australian legend Harry Howard, Crush Of Soul's main man finally found rest after writing and recording the last song entitled World of Fear. Six months prior he had quit his job as a chef, travelled east to Prague for inspiration and returned ragged and sleepless.
Rowell's insistence on keeping the instrumentation simple and clean came from an arduous two years of literal blood, sweat and tears. Every bit of drama, eastern excursion and sleep psychosis can be found within the walls of "(A)Void Love". Acoustic guitars and dramatic synths provide a cold wilderness for the various rhythms to inhabit; touches of minimal electronics, cold wave and synth pop can be found while the song writing remains classic for lovers of Echo & the Bunnymen and Nick Cave & the Bad Seeds.
To go along with the video's premiere today, Rowell also found the time to talk with BTO about the new record and the video.
1. After an extensive career spent at the fringes of indie, punk and glam rock, what made you feel that now was the time to dive completely into the world of dark-wave?
There are definitely elements of Dark Wave on the first Crocodiles album Summer Of Hate; drum machines, synths, melancholy lyrics. However bands like Sisters, The Cure, Depeche Mode and certainly the more obscure stuff like Liaisons Dangereuses and Iron Curtain have always been my favorites since I was young. I guess these things take time and Paris is the place. I wouldn't peg what I'm doing as just dark wave. I started the project because I finally wanted to create music that I couldn't do with Crocodiles like getting inspiration off of Chrome, The Residents, Throbbing Gristle and theatrical stuff too; try to bring elements of film into the project.
2. "Who Will Silence The Pigs" is the latest in a series of videos for your new LP. Could you talk a little about your process when it comes to creating these videos, and what music videos mean to you?
Making music videos is such a pleasure. I only wish I had more budget and more time. I dream of making truly wild surreal stuff like Jodorowsky or Fritz Lang. Fortunately I have very talented and kind friends here who I can ask for help. My wife is a constant collaborator too. The videos from this record were all mostly shot and edited by me because I am a new father and I still have to work too. We jump into the cemetery or to the beach when we can and I quickly shoot things. They all have a natural and simple style to them which hopefully makes them enjoyable albeit not very complex. The Pigs video was rooted in Bergman's The Seventh Seal, probably a little obviously.
3. What comes next for Chuck Rowell? Are there any upcoming plans for you?
I am finishing the next Crush album this month and another Crocodiles album is close to being finished as well. Both bands are planning US tours for next year.