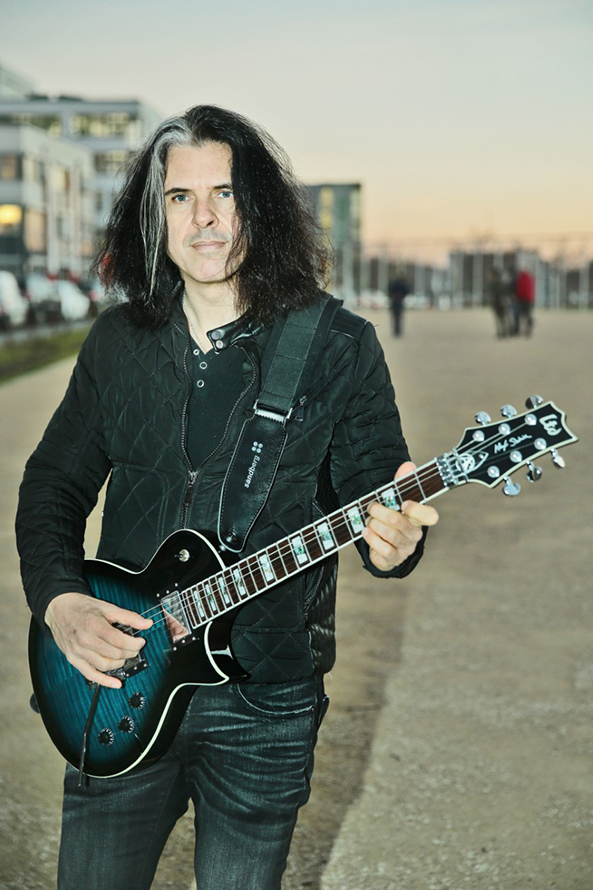 14 June 2021
Guitarist Alex Skolnick has earned an enduring career due to his self-described 'restless creativity' and his versatility. Joining Bay Area Thrash vets, Testament at only 17, Skolnick successfully mixed melody amidst Thrash's intensity to create a signature sonic assault beginning with 1987's The Legacy. Titans of Creation marks the group's 13th studio record and reveals a revitalized energy while retaining Testament's hallmarks. Recent Thrash biopics and books dedicated to the genre have contributed to its resurgence and coupled with many of its founding artists still recording and touring, Thrash continues growing its legacy for a new generation.
"It can be hard to get a perspective when you're one of the creators directly involved. I was just in my teens when it all began so to have all these anniversaries of the group, genre, and my peers feels strange and surreal but it's a good reminder to see the impacts it has made on others. It's very special to me and I'm forever grateful," said Skolnick.
Thrash was the offshoot of Metal, with hallmarks of blazing tempos, intense themes, and uncompromising ethos. Testament has been heralded as trailblazers of sort yet did not attain the commercial success of peers such as Metallica. The media quickly dubbed early Thrash groups Metallica, Slayer, *Megadeth, and Anthrax as The Big 4, though Skolnick clarified the groups themselves did not use the phrase or give it as much merit as fans that hotly contested each group's ranking.
"I didn't give it a lot of thought when I first heard it. Personally, it felt like a media thing and I didn't hear a lot of groups mention it. I don't feel any disrespect if we're not mentioned alongside those groups as I guess I view the phrase as some kind of seniority. Metallica already had a number of records released by the time that phrase was used," reflected Skolnick.
Skolnick focused on refining his craft which ultimately elevated the genre and proved he added so much more than just lightning-fast solos.
"I always worked to prove that Metal just didn't hide behind high gain and speed. I always try to have the playing do the talking, so to speak. There are many elements to Thrash but you can't blame people for not getting it. It's not for everybody; It can be dissonant, challenging, tough to decipher lyrics and some themes can be off-putting however, many genres like Classical challenge listeners as well. That is one of the many reasons why we love Metal, it can be for insiders that always felt like outsiders but all you had to do to be included was have a deep appreciation for the music," stated Skolnick.
Skolnick has earned endorsements from the likes of Ibanez, Heritage, ESP, and Seymour Duncan just to name a few but he remains grounded and grateful for all the support. Asked if he felt validation after earning his first endorsement, he offered responses with his trademark honesty.
"I couldn't even convey into words how that felt! I was thrilled and could certainly have used the gear when I was young," he laughed.
He added, "When it first happens, you're ecstatic but when I began growing as a player and getting older, I realized the other side of it. You can certainly be typecast into a creative corner because people tend to only associate you with certain things. I was always approached as 'You're a Thrash guy so you have to play this kind of guitar' and that can be very limiting despite me always being grateful for any kind of support."
Skolnick struggled with the acclaim he received as Testament's lead guitarist due to his personal ambition to grow creatively.
"I didn't want to be a Thrash metal guitarist only known for that, I wanted to learn even more and be looked at as a guitarist with other things to offer, which made sense to me but was difficult at the time to communicate to others."
He departed Testament in 1993, a mere three years after participating in the now legendary Clash of The Titans tour. Testament appeared on the European leg. Coupled with 1990's Souls of Black earning a #73 position in Billboard's chart, it appeared Testament was poised for a mainstream breakout. However, Skolnick mulled on how to inform his bandmates of his decision to move on.
"I needed to leave at that point because I felt there wasn't much more I could do creatively. Bands can be like a bubble and I had such a strong desire to experience more outside of it. It can be scary for some people to just rely on one band or one thing but what is the worst that can happen? It is great to create something that gives joy to others but I didn't want to be known for only one thing," recalled Skolnick.
He feverishly studied Jazz and revisited music theory, learning that he craved the spontaneity and challenges that came from transforming to an improv player. Skolnick relocated to New York and earned a BFA in Jazz from The New School.
"Jazz offered me a whole new world and it was very exciting! I enjoyed the new challenges of improv. Why should I limit myself? It was certainly difficult at first and at times, felt like starting all over! I had technique, I could sweep pick, play fast but a lot of my other techniques I relied on didn't transfer. The dynamics are totally different. The chords don't transfer and the natural feel is a different level," stated Skolnick.
After participating in countless live jam sessions and impromptu collaborations, Skolnick fell in love with guitar all over again, for reasons in marked contrast to Thrash.
"It's interesting how things evolve. When I was 14, I was very lucky to have taken lessons with Joe Satriani, who introduced me to music theory. At first, I felt that was not for me at all but when I became passionate about Jazz, I returned to all my old theory notes. With Jazz, I really like how I can work on quietly building up my playing, where in Thrash we all know, uses very quick tempos almost constantly. It was mind blowing to see Jazz players do improv without any accompaniment! I was very drawn to that," reflected Skolnick.
Though he ultimately worked to carve a new path in music leading to The Alex Skolnick Trio, Skolnick never abandoned his passion for Thrash but his return was marked by a health scare to singer Chuck Billy. Billy was diagnosed with cancer in 2001 and Skolnick rejoined Testament for a local, Bay Area benefit show. The reunion with Exodus singer, Steve Souza was well-received and offered Testament an opportunity to discuss additional dates. Billy made a full recovery in 2003 and a 'classic lineup' reunion tour followed in 2005, with Skolnick aboard. The initial tour was well-received and perhaps served as a catalyst to Formation of Damnation in 2008. The record marked Skolnick's first studio appearance with Testament since 1992's The Ritual.
"I feel each record has its own identity but you cannot plan too much for a record, you just have to let it come out. I'm very proud of everything Testament has done. Focusing on the song Symptoms from Titans….I think it's very important to approach and discuss mental health though when I began writing it, I didn't make a conscious choice to say 'this is what I specifically want to write out.' At that time, I was sadly seeing so many people struggling with mental health and the losses were so profound, famous or not," sighed Skolnick.
He added, "I was a big fan of Anthony Bourdain and was very shocked to learn of his death, we're all shocked anytime there is a loss because to outsiders, we think the individuals are always surrounded by a support system of family and loved ones and yet these tragic losses happen, which shows there are many components to this struggle," stated Skolnick.
Testament has been fortunate to retain its lineup and not fall victim to tragedy, something Skolnick does not overlook or take for granted.
"Music and art have been littered with tragic loss. It's interesting when we look at the longevity of Thrash and it's true, many of the players are still around and even still creating, which isn't taken for granted considering that commercial '80s rock, which was around the same time as Thrash had such a large heroin 'culture' that sadly glorified drug use. Historically, there have been bands that had junkies, but that can't always dominate the narrative. Looking back at LA Glam Metal, well, that was silly to me even though there were some good players. However, you couldn't pay me enough to dress like that even if it guaranteed me money and hit records," he laughed.
As Testament continues expanding their sound with Titans of Creation, creating on their terms with unrelenting energy, Skolnick continues balancing his Thrash legacy with his constant self-imposed challenges to elevate his personal playing. He recalled his newest collaboration with the Lost Symphony project. Lost Symphony aims to connect the missing link between classical and metal. Founded by multi-instrumentalist and producer Benny Goodman, the core group consists of Benny, his brother Brian [compositions, arrangement], Cory Paza [bass, guitar], Kelly Kereliuk [guitar], Paul Lourenco [drums], and Starset's Siobhán Cronin [violin, viola, electric violin]. The group features a rotating cast of guests that contribute original parts to ultimately release a finished piece.
"Working on the Lost Symphony project was a positive experience because it was so easy to see how sincere and passionate everyone was. They approached me about doing some tracks and I felt the effort would be worth it. I also got to finally collaborate with *Marty Friedman*(ex-Megadeth), whom is a longtime friend but due to scheduling or whatever, we could never make something work. It turned out to be a very positive experience and I'm happy to know everyone involved."
Asked what the future holds, Skolnick gladly stated he continues to informally explore other styles, perhaps surprising himself along the way and reminding himself how deep his love for music runs.
"I recently recorded some music that can be considered Blues and there might be a forthcoming release, I can't say too much just yet. As for an overview of Testament and Thrash itself, I originally thought it would be a genre that would influence others but wouldn't be long-lasting. Maybe like Skiffle? That was an overlooked genre but without it, perhaps there would be no Beatles or British Invasion. I thought Bay Area Thrash would be like a footnote because it was tied to such a unique place in time but I'm so surprised and grateful for people still celebrating it! All these festivals abroad in Europe have really been positive and not only showcase new bands but continue contributing to the legacy and longevity of it all. It's such a great sight to see!" concluded Skolnick.
http://alexskolnick.com/
https://www.testamentlegions.com/site/
Photo courtesy of Alex Skolnick