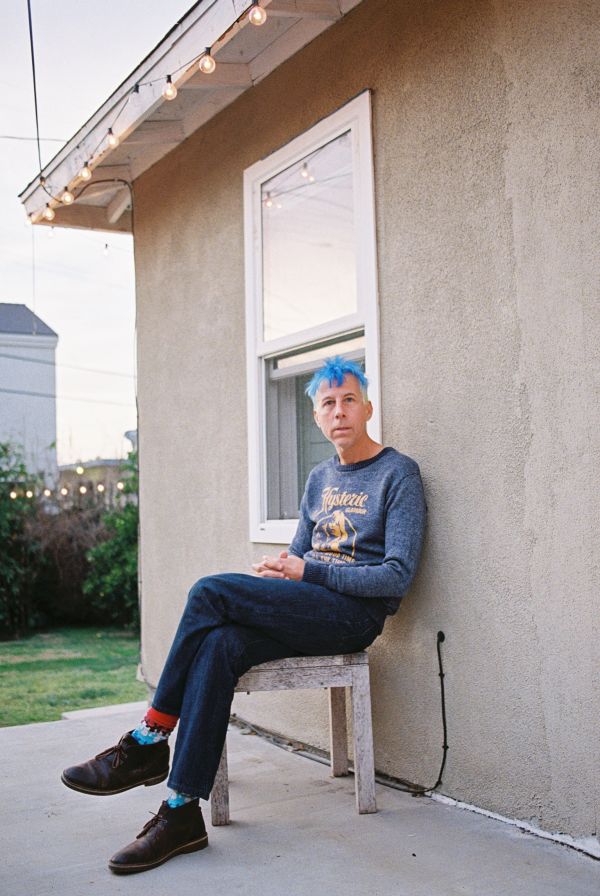 11 June 2021
John Vanderslice – Photo Credit: Andrea DeSouto
It would be an understatement to say the last few years have been trying for everyone's mental health. "Somewhere around January of the pandemic I realized my biggest enemy was having any hope about getting out of it," explains John Vanderslice from his Los Angeles home, "like, I had some optimism bubbling up and all the variants started appearing, at a time when we didn't know if the vaxes were going to cover it. I was like: this is never going to fucking end. I need to have no hope, no desire and just become an emotional zombie."
Amid this turmoil, Vanderslice has announced a new EP, which he describes as a love letter to his late friend David Berman, and an anti-suicide pact with himself.
The two struck up a friendship in 2003, exchanging postcards that contained songwriting advice, and photos of pro wrestlers. One of Berman's letters read, "John: I can't believe civilization is still going here in 2008! Congratulations to all of us, Love DCB," which has been modified slightly for the title of his new release.
"We traded intel and supported each other. Making records was hard for him, he knew I had been there," says Vanderslice. Berman's passing was a stark reminder of what lies on the other side of total despair, and his final album as Purple Mountains a brutal eulogy, with heart-wrenching lines like, "All the suffering gets done by those we leave behind."
Vanderslice touched base with Big Takeover about how he's been taking care of his own mental health during the pandemic, and the routines that have grounded him. "I have lots of amazing friends. Without them I would have not made it. Running is also crucial to my mental health. I run five times a week and I won't cheat or skip a day. I am very vigilant as I can spiral really quickly, but I feel so much better as covid is lifting. I'm extremely extroverted and I couldn't take the loneliness."
The new EP is his second since relocating from his longtime home of San Francisco to Southern California near the beginning of the lockdown, shuttering his studio and setting up shop in the converted garage out back of his new home.
"I have a very small space here; it's about 30 sq ft. It's John Congleton's old mix room in Filipinotown. I LOVE IT! It's dialed up and super-cozy. It can only fit synths and one other person at most. It completely changed how I recorded."
It's been not only a geographic shift, but a massive sonic overhaul for the iconic songwriter, producer, and studio veteran. While the new single "I Get A Strange Kind of Pleasure From Just Hanging On" has plenty of classic Vanderslice sprinkled in, it's an outlier among the wilder excursions here. Opener "Uncommon Love" is a rigorous listen, the straining synths eventually becoming a sort of meditative wash of noise.
To coincide with the new release, Vanderslice has uncovered a trove of unreleased music, collected together as ETHICAL JUTE MOUSE: Lost Songs From Tiny Telephone 2001-2021.
The 17-song batch could easily be another album, and features a Radiohead cover he contributed to Stereogum's 10th Anniversary Compilation, and a song from an old 7" split with the Mountain Goats, which was released on Ben Gibbard's label. Both releases are expected on July 16th.