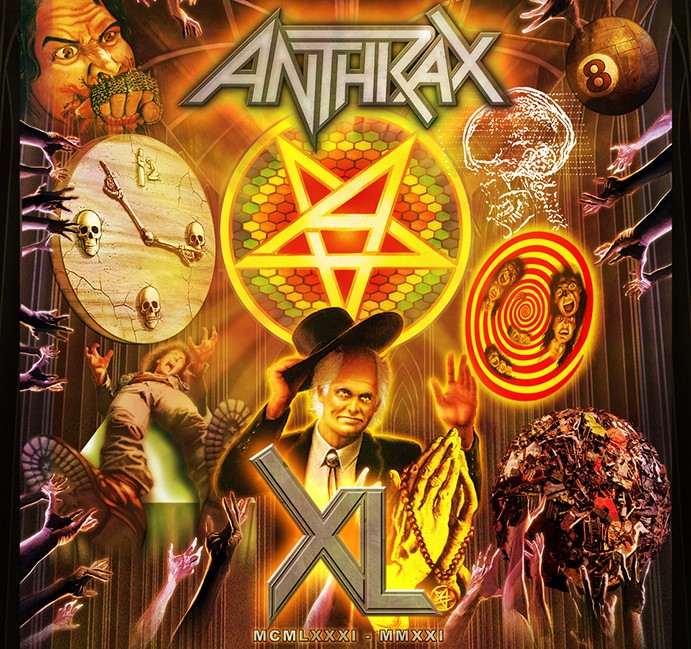 30 July 2021
Thrash Metal legends Anthrax celebrating their 40th anniversary has allowed for an unprecedented opportunity for introspection and gratitude. Their livestream concert event continues earning accolades for flawless musicianship and unrelenting passion. Surviving all the challenges that go with their unrivaled touring schedules and lineup shuffles, Anthrax has not overlooked the fact that their international fanbase has remained loyal throughout the group's tenure.
"Even when we play the old, classic songs it feels fresh to me because I'm looking for fan reaction, and everyone reacts differently so I feel its brand new every night!" said bassist Frank Bello.
Anthrax solidified their place in Metal's Big 4 pantheon, joining peers Metallica, Slayer, and Megadeth as trailblazers of the Thrash subgenre. The New York group worked tirelessly to break into an industry all too quick to dismiss Thrash as unlistenable and unmarketable, yet Anthrax has ultimately created an enduring career, boasting over 10 million record sales worldwide and Grammy nods for Persistence of Time, Attack of The Killer B's, and their groundbreaking collaboration with iconic Hip Hop group, Public Enemy for Bring Tha Noize. For Bello, he makes it clear that the group will not rest on its laurels.
"We're currently planning on releasing our new album in 2022 and we have about 6-7 songs completed right now. I feel nothing is ever off the table with Anthrax. The energy is always there and for me, it's just the angst that I feel and I have to get it out! Music has always been my outlet and I have to be clear, there's a difference between wanting to do something and the absolute need to do it; It's always been a need for me," stated Bello.
Anthrax quickly embraced the burgeoning New York-New Jersey scene, creating a lifelong partnership with Megaforce Records founders Jon and Marsha Zazula, credited with discovering and signing Metallica. Anecdotes of Anthrax constantly visiting John's record shop, Rock & Roll Heaven with their newest demo tape hoping to receive much-needed feedback and ultimately, a contract with the independent label pepper Zazula's autobiography. Words like 'tenacity' have been integral to Anthrax's career.
"The Zazulas have done so much for us and Metal over the years to the point where we see them as family. Megaforce Records gave bands a home, created a community, and gave people chances that nobody else was willing to even consider, much less offer. I'm so grateful to John, and Marsha, though we're so sad to have lost her," reflected Bello. Marsha Zazula passed in January due to cancer.
Anthrax always maintained a lengthy tour schedule right from the beginning, building a supportive fanbase with their '83 debut single, Soldiers of Metal. Fistful Of Metal followed a year later and Anthrax was already playing top billed shows with their peers, having already outgrown their initial, small club dates. Anthrax was earning traction but the first of many lineup shuffles found singer Neil Turbin, guitarist Greg Walls, and bassist Danny Lilker departing. Bello officially joined in 1984. Though Fistful Of Metal was well-received, it wasn't until singer Joey Belladonna's recording debut on Armed And Dangerous that Anthrax first earned recognition for their vocals, a trait that always set them apart from their peers. Despite creating a rabid fanbase, Bello never ignored his personal challenges.
"I've never been the type of person to say anything in life was easy, even Anthrax. My father had abandoned my family, for whatever reasons, when I was 10. Music was my outlet and it saved me. Ever since I laid eyes on Geddy Lee, Geezer Butler and Gene Simmons, I knew music was something I HAD to do! I got tunnel vision very early and focused on nothing but that goal. Joining Anthrax felt like I had even more purpose and my family were supportive though I was really going thru a lot," reflected Bello.
Though he continued struggling with his father abandoning his family at 10, Bello looked to music even more to help him cope, as opposed to turning to substances much like his peers. Bello's upcoming autobiography, Fathers, Brothers, and Sons: Surviving Anguish, Abandonment, and Anthrax carefully details his hidden turmoil as he sought to create positive, impacting relationships within the subculture.
"I felt we would always look to each other during tough times but when you're young, the possibility of taking it all for granted can happen. Metal was and continues to be my outlet. It's so easy to fall into a hole but within my book, if I can just have one person come away feeling better and be inspired to positively change their situation, I know I did something right with this project," he stated.
Bello is quick to use superlatives like 'tenacity', 'angst', and 'passion' in response to how the group took off after 1985's Spreading The Disease, with former Overkill guitarist Dan Spitz aboard. For such a new group, Anthrax already had multiple lineup changes but the respective talents of drummer Charlie Benante and founding guitarist Scott Ian were never overlooked. If the group's strength was songwriting, lineup instability was the Achilles's heel.
As Anthrax was poised to reach a new height after their successful European debut tour, tragedy struck a friend that shook the Metal community to its core. Metallica bassist Cliff Burton was killed in a tragic tour bus accident in 1986, leaving many to question if the group could survive. Anthrax played their final date in Sweden.
"That was, and still is, such a loss for so many people, including music. Cliff was very gifted and his death hit hard," Bello solemnly reflected.
For Anthrax, Bello continues to utilize the phrase 'dusting yourself off.' Anthrax was earning festival dates abroad and selling out local dates with regularity thanks to 1987's Among The Living, widely considered a personal benchmark for the group in which future releases would be compared to. However, in true Anthrax fashion they followed their instincts and capitalized on Among The Living with a release in such marked contrast not even longtime fans had the foresight to imagine, including manager John Zazula.
1987's I'm The Man EP united the burgeoning sounds of Hip Hop with Metal's hallmark aggression and resulted in a humor-tinged song that is still played by the group. One could imagine a nightmare scenario of the group alienating their loyal fanbase but the song proved to be a rousing success, while its B-side live version took clear shots at political leaders' ongoing attempts to censor and even criminalize music and artists deemed 'offensive'.
Anthrax concluded the '80s with 1988's State of Euphoria and the next 5 years proved to be critical turning points for Anthrax.
"When we started airing the mini-documentaries online for the anniversary events, it was awesome to see everyone's unique take on the records. For me, State of Euphoria could have been even better if we were just able to finish it properly, meaning, I still feel some of the songs could be stronger. We were on such a hectic schedule during that time!" said Bello.
Metal entered mainstream consciousness due to the ascension of music videos of the then fledgling MTV network and Anthrax's Madhouse and Antisocial were in heavy rotation. The genre was still the target of political officials, activists, and televangelists, and further gave the music visibility.
"We just kept going and were never home from touring. State of Euphoria definitely was responsible for our ongoing success and I think you can use tours as a means to measure the success of a record; You tour more in support of a record. Again, I wish we were able to refine that record a little more, is all," stated Bello.
For Anthrax, their next creative decision led to a landmark tour and cross-cultural success that is still talked about and looked at fondly. Guitarist Scott Ian had been a longtime fan of the seminal and now iconic Hip Hop group, Public Enemy. Led by the uncompromising and politically aware singer, Chuck D. the group was routinely targeted by media pundits and politicians, citing their incendiary politically charged lyrics and themes as 'racist.' Ian was a staunch supporter of Public Enemy and pushed for both groups to collaborate. The resulting Bring Tha Noize track led to an unprecedented hip hop and thrash metal headlining tour. Anthrax already made it clear they liked and embraced Hip Hop with their I'm The Man EP, so the members themselves felt a tour with a respected Hip Hop group was the logical next step.
"We always went with our gut and thru hard work, and some luck, it turned out well for us. We were all fans of Public Enemy and Scott turned us on to them. We intended to just collaborate together and write one heavy song with them. I always respected Chuck D. because of his willingness to tackle heavy subjects and write heavy lyrics. Lyrics themselves can be just as heavy as a metal riff. His ferocity and approach were similar to ours so it made total sense to work together and to this day, he's family to us," reflected Bello.
The tour was a rousing success and it united to subcultures many believed shared no similarities whatsoever. Bello recalled no fan confrontations or incidents during every set. As Anthrax enjoyed their new high, behind the scenes things were creatively and dramatically shifting. The group's next decision tore their fanbase behind and even created internal division in the ranks. Singer Joey Belladonna was fired in 1992, a year after the tour with Public Enemy.
Speculation ranged from Anthrax going in a Hip Hop direction and there was no longer a need for Belladonna's vocal style to members disliking him, though there was little proof, if any. Perhaps Anthrax would implode after reaching a new height but the group proved otherwise after enlisting Armored Saint singer, John Bush.
The group was now contending with the media frenzied 'grunge explosion' with groups such as Nirvana, Soundgarden, Alice N' Chains, and Pearl Jam dominating airwaves. Anthrax released Sound of White Noise in 1993, remarkably only one year after parting ways with Belladonna. With major label support courtesy of Elektra and the international success of label mates Metallica, could Anthrax permanently enter mainstream's lexicon? The record peaked at #7 on U.S. Billboard charts.
While Anthrax earned unprecedented success, their fanbase was torn between loyalty and growing up with Belladonna and learning to embrace and recognize Bush's talent. Additionally, the record marked the last time guitarist Dan Spitz would record with Anthrax. Spitz had cited his desire to pursue a career as highly skilled, Swiss trained watchmaker. He continues earning accolades as a talented micro-mechanical engineer.
"There will always be people that put negativity out there with anything and everything. Obviously, that was a challenging thing but I always have the best time with Anthrax and felt, at the time, whatever we decided to do with anything was the best decision and we would go with it. I look back and feel very blessed and grateful. To have had two, amazing singers? That's almost impossible to have. Each one of them is so unique and bring so much to the band," stated Bello.
Additionally, the earlier departure of guitarist Dan Spitz led to a revolving cast of lead guitarists, with the role currently being held by Jonathan Donais since 2013. For Bello, he believes Anthrax will always retain its hallmark sound due to the foundation of Benante and Ian but fans have always been quick to criticize the group's latter output following Sound of White Noise. 1995's Stomp 442 and 1998's Volume 8: The Threat Is Real received little promotion and label support, ultimately leaving Anthrax at a crossroads as their fanbase remained as divided as ever. 2003's We've Come For You All was the final studio record with singer John Bush.
Anthrax certainly had questionable relations with former personnel but their decision to reunite with Joey Belladonna and Dan Spitz for a 'classic lineup' tour in 2006 renewed fan support and earned media praise. Benante was quoted as stating the reunion was about repairing relationships and for Bello, he felt the timing was right and rehearsals felt natural.
"I love the fact we have that history of talented singers; Bush and Belladonna. I still go back and listen to all our records because even though I'm a member, I'm also a fan. Both of those guys are still my friends and with regards to Joey, his voice is a gift and it's awesome he shares it with all of us," said Bello.
After consistently touring for packed dates, the reunion sadly ended with no new recordings. Speculation ensued that personal differences returned but if proven true, a resounding resolution took shape in 2010 as Belladonna once again returned.
"I like how everything has been resolved, I feel we're all in a good place. Worship Music was such a reminder of just how much we all love this music! Joey came in and really nailed it!"
Anthrax retained their intensity and capitalized on Belladonna's return with 2011's Worship Music and 2016's For All Kings, which Bello feels marked the band's most productive period "in a long time." Worship Music marked the group's first new record since 2003.
"We have had many lineups but throughout, I have seen all of us grow and I don't wanna stop playing! This has become more than just music for us over the years. To me, For All Kings represents the idea that we're all personally responsible to take a risk and put yourself out there and be in charge of creating something great, a king if you will with regards to decisions. Worship Music, to me, is even more direct; We worship this music and all its given us and the unique opportunity to share it with those that love it, too. The different members are like snapshots in a scrapbook and I'm anxious to create the next page, with our fans," concluded Bello.
https://www.anthrax.com/
https://www.anthrax.com/news