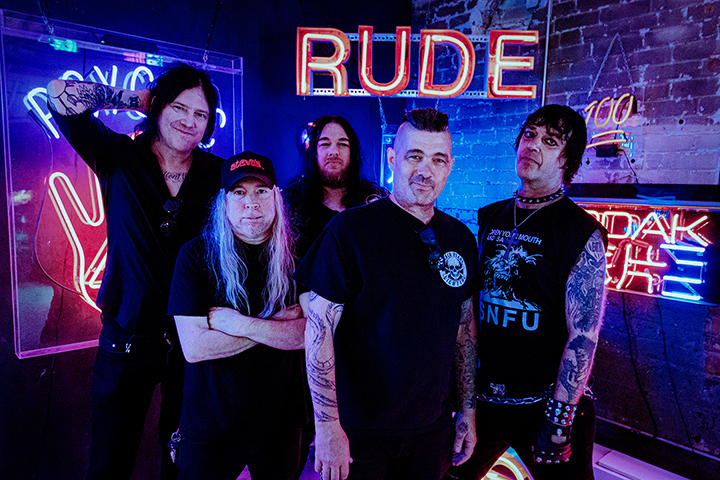 13 November 2022
Guitarist Rich Jones proudly states How The Darkness Doubled features his strongest songwriting to date. The newest Black Halos record features all the songwriting hallmarks and the spirit of '77 Punk they unabashedly unleash, but Jones feels the record's nuanced melodies set it apart from previous releases. Splitting duties in Finland with Michael Monroe and Canada with Black Halos, Jones speaks with energy reminiscent of the hectic tours the Black Halos always embarked on during their '90s heyday. With the upcoming release of How The Darkness Doubled and Monroe's I Live Too Fast To Die Young, Jones stated he continues enjoying the songwriting process, and a renewed sense of gratitude for being able to continue doing what he loves.
"Writing with Black Halos puts me in a different head space than with Michael. 'Halos singer Billy Hopeless and I go way back and with this new record, I'm under no false allusions. We're not looking to break new ground, promote a record and go on an endless tour like we used to. I wanted to make a new record for us, write as best I could, and feel no pressure," stated Jones.
Black Halos debuted with Die Young, Stay Pretty in '99, five years after the media's love affair with grunge faded courtesy of Kurt Cobain's tragic death. Black Halos secured a deal with Sub Pop, which was still a strong label but perhaps past its prime as a home for the groups that broke into the mainstream during Nirvana's meteoric rise. Black Halos seemed poised for greater success but their punk & roll sound and image stood in marked contrast from the radio-friendly, 'pop punk' sound the media pushed. The group maintained a relentless work ethic, and Jones recalled endless touring but their dedication to rock & roll and youthful enthusiasm surpassed any logic or careful, career plans.
"We wouldn't think anything of driving 12 hours to play a 30- minute set! We would play anywhere, anytime because we absolutely believed in what we were doing. We even flew to Alaska for just one show. I never thought of being exhausted or setting us up for burnout, recalled Jones.
Black Halos quickly earned a reputation for wild stage shows and created a loyal network of fans that simply wanted unfiltered, high-energy punk & roll that invoked the spirit of '77. An ill-fated tour following 9/11 had the group in a quandary and suddenly, Jones found himself struggling to remain with the group he loved.
"I loved what we were doing but I eventually got burnt out. We had van issues and after 9/11 happened, security issues were really tight across the states and we were stuck. I had called Sub Pop for help and they just didn't want anything to do with us. I was fed up at that point and left the group because I felt there was more to see, and more I could do. Perhaps it was pigheaded arrogance to leave but during that time, it felt like the right decision for me," reflected Jones.
Jones quitting Black Halos came as a surprise, considering he was a primary songwriter. Billy Hopeless soldiered on and continued with different lineups before disbanding the group in 2009. Jones joined Amen in 2001 but the group was mired in legalities due to the violent and unpredictable behavior of singer Casey Chaos. Jones eventually grew tired of the issues and left in 2004.
Jones' longest rock & roll tenure remains with Hanoi Rocks singer, Michael Monroe. Jones continues serving as a primary songwriter and paired with Steve Conte, Sami Yaffa, and Karl Rockfist, the group tours internationally and consistently records. I Live Too Fast To Die Young was released in June and features many of Jones' high energy, melodic offerings.
"Next year will mark 10 years with Michael! Sometimes, I don't believe it myself. It's really been an honor to play with people as talented as them and the awesome careers they created but there's no hierarchy or egos in this band. I'm really grateful for all I do have and every experience. I don't look back at any previous group being a failure or anything silly like that. I view those experiences as making me better equipped to handle any future challenge because every experience made me who I am today."
He added, "Sure, I was very angry at Sub Pop for what happened back in 2001 but dwelling on things weighs you down. There were also a lot of positives that happened during that time, too."
Billy Hopeless and Jones had lost touch after Black Halos but Jones stated Hopeless had reached out to him while on tour in Spain in 2016. Despite several years passing, Jones stated Hopeless was in good spirits and they slowly began discussing the idea of writing new material.
"Everything felt natural and there was no ill will. Things slowly came together and before I knew it, I was reaching out to guitarist Jay Millette. I would pester him a bit but he was onboard and nothing felt forced. We do what we feel is right, without any pressure. If a show or song doesn't make sense, we simply don't do it," said Jones.
2020 yielded Ain't No Good Time To Say Goodbye, a tribute single for SNFU singer, Chi Pig. Hopeless wanted to celebrate his longtime friend and proceeds from the single helped fund a local mural in his honor. The single marked their first new collaboration since 2001.
"Writing with Billy is always great because he can still surprise me. We actually intended on doing a full record after that single but of course, the pandemic made it very difficult. When I first left the group, it was very hard because they're my longtime friends and Black Halos was always a part of me. It's good to come back home and just build on what we all started. I want to share these new songs with longtime fans and hopefully see their excitement. I feel this record is a renewal," stated Jones.
How The Darkness Doubled features all the hallmarks of Black Halos; crisp and loud guitars, sneering vocals, and Jones' melodies. The record retains some youthful enthusiasm and some unexpected tempos but it never strays far from familiar, Halos territory.
"To be honest, I feel like I enjoy playing more now than before! I don't feel the same pressure as when I was 24 and working to make a career happen. We can take things more on our terms and I feel, if it doesn't make the best sense for us, we won't do it. Back then, I made a choice to tour at all costs, everything took a backseat. With this record, I view it as more of a passion project and I'm proud of how it came out. I feel it features my best writing," said Jones.
Black Halos will be playing a handful of shows to promote How The Darkness Doubled, but Jones stated there are no current plans for a full tour yet.
"We have to do what makes the best sense for all of us. I learned through every experience, positive or negative that I still love playing these songs because they're still a part of me. Life is just too short to deal with shitty people so I refuse to. The fact that people are still interested in Black Halos and ask about this record makes me feel what we're doing is valued. I always make sure to tell myself, I'm still so lucky to be doing this," concluded Jones.
https://theblackhalos.bandcamp.com/album/how-the-darkness-doubled