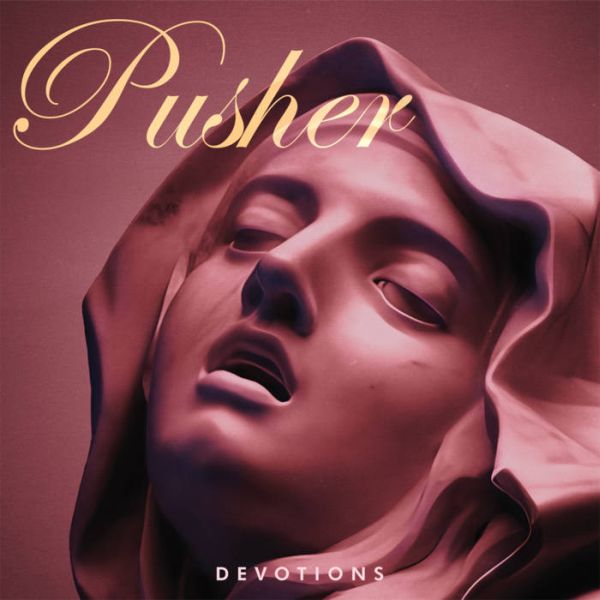 21 September 2021
Devotions – Pusher
Devotions is a dreampop duo hailing from the eastern coast of Australia in Brisbane and consisting of Luke Zahnleiter and Amber Ramsey.
The band create an incredible infusion of electro-laden pop with the dreamy ethereal moments only a dreampop band can produce. Vocals float over languid textures, determined percussion, and perfectly positioned jangly guitars and bass.
The band began when Zahnleiter (Glitter Veils, The Rational Academy) needed an outlet to help with his loops of OCD and destructive habits. He was soon joined by Ramsey to create their version of nostalgic pop and narcotic-like ambience.
With films as an inspiration, the trio drew from films directed by Wong Kar-Wai, Nicolas Winding-Refn, and David Lynch. Their brand of floating pop would fit within the visual worlds of the directors and their final video visions.
Pusher is Devotions' debut album, which was recently released via Somewherecold Records and was recorded in both Brisbane and the southern city of Melbourne.
Within the context of these sleepless nights, the trio not only brought their film muses into the studio, but also the '80s Australian post-punk artists that came before them, ambient music, and the art of Ed Hopper. All of these swirl into a bleak sense of romanticism, giving each track a fragile and yet beautiful tone.
Luke Zahnleiter kindly participated in a Q&A interview to shed more light on the band and their music.
Can you give us a bit more background on all of your music experience? Where did you all get started and what other projects not mentioned above have you been involved in?
"I started writing music and playing guitar when I was around 15. It was a perfect match for me at the time and gave me that gloss we all need in our formative years. I then played guitar in a bunch of bands and would experiment with my own tracks on late nights in my archetypal, share house bedroom. I used to walk to the all night service station for breaks and when I returned, I would listen back in horror. I definitely romanticized the whole process back then and didn't really connect with the bands I was playing in. I remember feeling like everything was still in front, but I hadn't yet crafted anything I genuinely loved."
"The first project that really felt authentic was Glitter Veils. I met Michael (other half of Glitter Veils) when I was playing with Lia Mice and went on tour with his band Nite Fields. From there we became close friends through touring and made, what I still consider, a really great record. After that band fell apart for various reasons, my mental health flat-lined, and I needed to put my energy into writing and starting a new project. I started collaborating with Amber after hearing her amazing solo act, Cloud Tangle. After that, the project really grew from there."
Pusher is an amazing debut album. What was the process like in terms of actually writing your tracks?
"Most of the tracks stem from what I would call a texture/tone layer. Something like a simple synth patch or skewed sample. I usually like to set an atmosphere before I even think about melodies, lyrics, structure, riffs etc. Similar to films, I always connect more with the intangible feeling of the whole thing, rather than any particular plot or character. I would then just layer guitar, vocal ideas, beats, synth over top and experiment with different loops and structures."
"Eventually ideas would come and the resemblance of a song would steer me in a new direction. The first few tracks were easy, but I remember struggling with the last few tracks. I had the strangest sleep pattern of my life at the time and would only sleep every second night. This part of the album I pretty much wrote while unglamorously horizontal, as I needed what little comfort I could get."
Do you have a vision for Devotions that stretches into the future? What's next?
"We will hopefully do some touring when we are able to travel again. I have a lot of material and ideas that I am currently working on, so we will definitely look to release a second album. I'd like to be less fastidious with the new material and trust my instinct more, rather than overthink every detail. I am also working on some ambient pieces that I would love to release as a shorter EP in between."
There are a lot of film and visual artists mentioned above but what musicians or groups have inspired your music throughout the years and specifically with Devotions?
"Probably my first love of any real relevance was '80s post-punk. Bands like The Smiths, The Birthday Party, Joy Division, and Swans. I spent all of my late teens trying to write How Soon Is Now or The Killing Moon and to this day, I still attempt to contort my guitar in homage to Rowland S Howard. I also really loved surf music and '50s rock like Link Wray, The Shadows, and Chris Isaak for a modern take. Moving on, I fell in love with minimal electronic and ambient music. The kind of stuff that you can listen to and suddenly whatever you're doing at the time seems profound and important. Probably the best examples are artists like Tim Hecker, Clams Casino, and Max Richter. Also acts like Htrk, Fka Twigs, Chromatics and Arca, who seem to blend ambient and pop."
What are you listening to now?
"Dean Blunt, Yves Tumor, Iceage, Preoccupations, and sleazy RnB."
He also has generously delivered a detailed Track by Track Commentary of Pusher:
"Nil by Mouth"
"This was the first track that Amber and I worked on together. We made a makeshift studio in a screen-printing warehouse I used to work at and got this great, natural reverberation on the guitars. I had the guitar lines lying around for years and we managed to sculpt them around the bass and drums I was playing with on another track. I need a lot of stimulation during the day…vices to get me through monotony, so I guess conceptually it revolves around my envy of people who don't need external pleasures and are generally just well balanced."
"Excess"
"This is probably the most direct and pop driven track on the album. I wanted to create a memorable riff as the heart of the track. It's probably one of the only songs I wrote guitar and vocals first, with the ambience and synth layers coming later. The lyrics are pretty self-explanatory…. what starts as a bit of fun and escapism can soon become your main focus."
"Pawns"
"This is possibly my personal favorite track on the album, at least lyrically. It focuses on one-sided love and that almost druggy feeling you can have when in complete infatuation with someone. I was really happy with the synth sound we got. I think it was created on Serum in Ableton and we then blended it with a Juno 106 when we took it to the studio."
"Vanity Pools"
"I am always trying to make the perfect blend of beautiful and banging. I love when tracks can sound fragile and staunch at the same time and I think "Vanity Pools" is a great example of this. The song is littered with skewed samples and revolves around a contorted guitar line I had been playing with for a while. I also think the vocal layering and how the instruments complement each other in the outro is really interesting. It's loosely based on a destructive relationship I was in some years back and how that impacted my OCD."
"Final Girl"
"This is another track that I wrote the guitar and vocal melody before anything else. My partner loves Kate Bush, so I tried to write a Kate Bush song and this is the result. I really love the bass sound, which is the blend of a Monopoly, Juno 106 and a subby, sine wave synth I made in Ableton. Lyrically I think it skews slightly off topic, but the sentiment was to write about the transition from limerence to a more deep-seated love and appreciation."
"Fluorescent"
"[This was written after watching] Dracula. The Coppola version with Gary Oldman and Winona Ryder. The score is amazing and off memory, we more or less tried to mimic its feel in this track. I struggled with the guitar at first and everything I wrote sounded too jarring and angular. When I struggle with a part, I usually just loop a section and keep banging my head against it until something sounds palpable. I probably spent a few hours trying different approaches and of course, what made it onto the album was the first thing I wrote. I also love the cut up saxophone sample towards the end of the track."
"Helix"
"Around the time we were writing the record, I was also working on a score for my friend's animation film. I was using a lot of guitar loops and drones with screwdrivers on strings and various synth patches. I wanted something similar for the album to act as a short interlude. Ambient music is probably my favorite style and I usually gain more emotion from listening to music without structure and vocals. I've always had a lot of respect for albums that slot sound pieces in between pop/more traditional songs."
"Modeling"
"This is another one of my favorite tracks and was the last one we recorded. It originally sounded completely different and I think the only thing that remains from the original is the chorus guitars and bass line. I wanted layers to entwine with each other and form counter melodies throughout the track. Conceptually, it's more or less about overcoming anhedonia by placing meaning and importance in everyday/trivial things."
"Dollywood"
"We worked with our good friend, Thomas Roche, on this one. I used to play with him in a band called The Rational Academy and he is far better with electronics than myself. I was really stuck writing a beat and couldn't seem to breathe life and movement into the track. We ended up spending a few days working on the track together and created a beat with an almost Latin feel. I wanted to finish the album with a wash… something that almost pushes the track out of focus and engulfs the listener. As a child I used to love theme parks and Dollywood was one that I always wanted to visit. I wanted the final wash to feel nostalgic and comforting, like reflecting on the golden years."