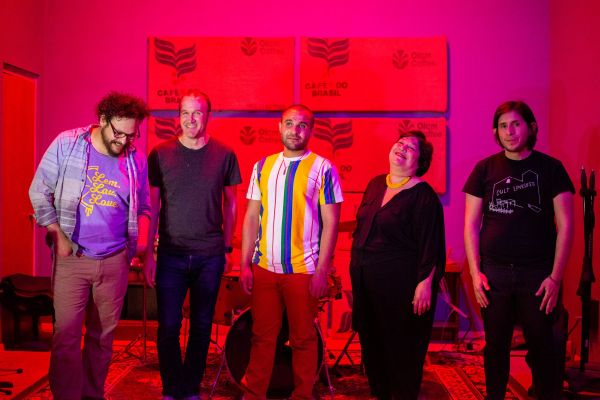 4 October 2021
EEP – Photo Credit: Pantaleón Mena
To be honest, it's hard to know where to place EEP in the pantheon of modern genres. Listening to their newest captivating single, "A Message To You," the recurring thought was, "What exactly is this?"
The melodies suggest the fervent, deconstructed pop of bands like REM, while the guitar tones are an homage to The Lilys. But it's highly probable that the members of EEP aren't concerned with delusions of genre like the rest of us. They're probably just interested in being a good band.
Guitarist/vocalist Rosie Varela recalls the band forming slowly, as she sought out local musicians to help her record a single. Partnering with guitarist/vocalist Ross Ingram, bassist Sebastian Estrada, guitarist/vocalist Serge Carrasco, and drummer Lawrence Brown III, the quintet has created an unmistakable sound.
EEP's first release, 2020 album Death of a Very Good Machine, received praise and play from the likes of KEXP and No Ripcord. And now the band are on the cusp of releasing their next record, Winter Skin, on November 5th.
Written about witnessing a breakup at a show, "A Message to You" features amazing performances from all five members. Varela, Ingram, and Carrasco provide ardent vocal melodies that dance across layers of fuzz bass and shimmering guitars. Brown keeps everyone on time, making sure every hit is placed perfectly.
EEP sounds like a band that's been creating music together forever, which is only possible through a collaborative creative spirit. When thinking back to the Winter Skin sessions, Ingram recalls, "The songs kind of swallowed each other up and became something better. Even once we've started on a song, there's no telling which direction we're going to end up."
These five people are serious about the art they are making, and that's evident on every note of "A Message To You."
As the song reaches its close, there's a meandering, almost weightless outro that features Varela's voice and a variety of ambient sounds. It's the type of musical freefall that can only be accomplished by a group of musicians who understand exactly what a song needs. Taking a backseat to the song is something so many musicians can't quite seem to grasp. But it seems to come naturally to EEP.
The band members kindly took the time to reply to some questions we had about their enchanting music:
From what I've read and heard, EEP has a pretty collaborative writing process. How did that manifest on Winter Skin?
Ross: "On Winter Skin, we didn't worry about the setbacks and challenges of Covid because almost everyone in the band has the ability to record remotely. We knew we could send the songs to each other and everyone would send back something that would either fit the song perfectly or take the song to a new direction or level that was better than where it was before. We knew we could count on everyone to deliver until we got back into the studio. Once we did, that trust and comfort level with each other made it that much easier to get back into our rhythm. We really had fun exploring the music and expanding upon the sounds and vibe we had already put together on the first record."
"A Message To You" started as you witnessed someone being broken up with at a show. What drew you to write about that moment?
Rosie: "Heartache is devastating, but witnessing it in a very public place left a big impression on me. It felt like I was the only person in the club (out of about 80 people) who noticed the exchange. After the guy stormed off leaving his ex-girlfriend alone at the club, I honestly wanted to hug this girl, but instead I sent her good thoughts as she was trying to hold it together. "You're going to be ok" and "It's ok to cry." I wanted to write this song for anyone who ever had to hide tears and had no choice but to be strong."
What is the El Paso music scene like?
Lawrence: "The El Paso music scene is like an island, in that there are so many different influences from so many parts of the world from the musicians here – it's like the New Orleans of the Southwest. We've got a big Mexican Folk music history, great jazz players who travel and come back, and awesome rock bands. Sparta, The Mars Volta, and At The Drive-In started here as well as so many I know I'm forgetting right now, but there's just some incredible musical diversity."
What can we expect from the rest of the songs on Winter Skin? Is "A Message To You" representative of the sounds on the record?
Serge: "Winter Skin is a blending of many moods, styles, and concepts we explored through the lens of shoegaze. It's an experimental record where we approached songwriting from a very organic workflow. It felt like we were trying to explore the boundaries of what shoegaze and EEP are. We found ourselves on an unexpected, super creative journey and we hope our listeners can share in that experience with us. It's a trip."
What's next after release day November 5th? What will you be up to for the rest of the year?
Rosie: "We'll start writing record number 3 pretty soon after this release! We have a continuous creative writing and production cycle at Brainville Studio so we can keep doing what we love."
Bandcamp
Twitter
Instagram
YouTube
Facebook