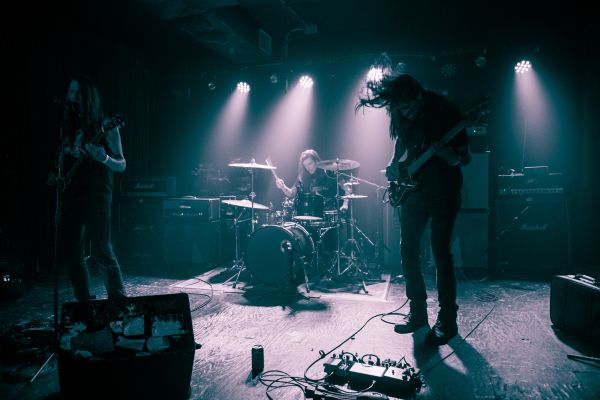 29 June 2022
Grandpa Jack – live – Photo Credit: Dante Torrieri
"Once the bodily stink set in, we knew we were on to some saucy stuff," shares Grandpa Jack lead guitarist John Strom, on roughing it to record their new album Grits.
One year after the release of their 2020 breakout album Trash Can Boogie, the Brooklyn-based stoner rock trio traveled to the remote upstate New York town of Saugerties to lay down the fuzzed-out tracks that would become their next album.
While the studio at The Sonder House had every bit of top-shelf recording equipment a musician could dream of, the band's private accommodations left a lot to be desired. They insist, however, that the setting is what made Grits the album it is.
"Whether it be shooting beer cans – or each other – with BB guns, fun with kerosene or swatting swarms of mosquitoes while relieving oneself, every aspect of the process had a play on the product," says Strom.
"It's difficult to say which song is the favorite as this album is definitely a start to finish experience – one we did intentionally – and one that we couldn't have done without the help of our friends and collaborators Stephen Mason, Matt Labozza, and Kyle McEvoy," Strom continued. "Though the setting was limited in glamor, Grits is a result we are all very proud of."
Recording the album was a fully collaborative effort among the members, who recorded all of the instrumentals for the tracks live, later returning to add embellishments and interludes. They even improvised a few tracks, such as "Moths" and "Mosquitoes."
"After we finished the music, we buckled down and wrote and recorded all the lyrics in about two days. The three of us went song by song, bouncing ideas and metaphors off of one another as we wrote," says Grandpa Jack drummer and vocalist, Matt C. White.
Grandpa Jack kicked off their month-long record release celebration with the debut single "Once Bitten" – a hard-hitting track about knowing when you're being betrayed – on June 24.
Stream "Once Bitten" at Spotify
Ahead of the official release of Grits on July 29, the trio will drop two additional singles, and also host an album release party June 30 at The Broadway in Brooklyn with support from New Jersey's Smock and beloved locals Certain Death. Ticket link HERE
Website
Bandcamp
Spotify
Instagram
Facebook