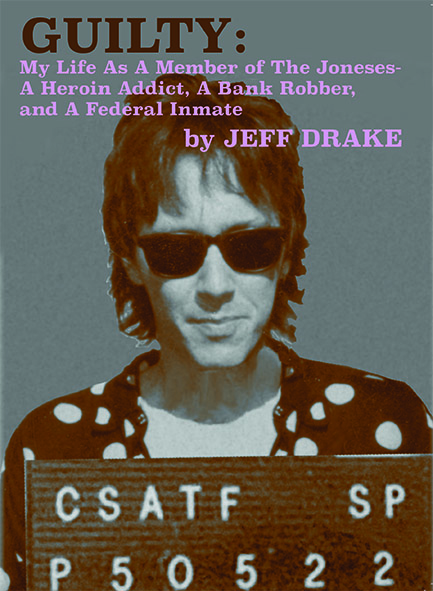 11 September 2022
The Joneses left their mark within LA's burgeoning rock scene, pre-dating the explosion of the 'Sunset Strip Sound' with their raucous punk & roll that gave more than a nod to New York Dolls and Chuck Berry. Singer and guitarist Jeff Drake proudly stated "We were like Eddie Cochran meeting the Dolls at Chuck Berry's house."
Formed in '81 with skating legend Steve Olson, future TSOL guitarist Ron Emory, and drummer Mitch Dean*(who later joined the second incarnation of TSOL fronted by *Joe Wood), The Joneses had a meteoric rise within LA. Featuring imagery reminiscent of the harder, glam rock they proceeded, The Joneses immediately created a fan base hungry for rock & roll played with reckless abandon.
Drake's upcoming autobiography Guilty: My Life As a Member of The Joneses-A Heroin Addict, A Bank Robber, and a Federal Inmate seek to clear the myths surrounding The Joneses, chronicle the early LA rock scene, his prison stint, and eventual resurfacing with Amanda Jones and Vice Principals.
Drake recalls how The Joneses were on the cusp of earning that elusive record deal but his fast lifestyle and the ultimate commercialization of his peers left The Joneses becoming true outliers within a scene they helped build. Revolving lineups, limited studio output, and in-fighting eventually had Drake slide further into addiction's abyss, ultimately leading to a drug-influenced bank robbery which had him serving federal time. The book is available via Hozac Books
"It takes a lot of discipline to write. It was very cathartic to revisit all that stuff and I am blessed with good recall so I was able to include a lot of details. I feel beyond grateful to have worked to parlay my limited songwriting skills into something people still care about years later," said Drake.
Starting The Joneses at 20, Drake moved to Los Angeles to pursue music. With the angst, energy, and juvenile delinquency of his early rock heroes inside him, Drake met Olson who also shared a similar drive to pursue music. Their love for rockabilly and '50s rock-inspired them to begin penning originals and take the next step with songwriting.
"I was 'fresh off the turnip farm', so to speak. I didn't know a lot about anything. I wasn't interested in school despite being a merit scholar due to such high PSAT scores. I even had the chance to go to USC, but it just wasn't for me. I met Olson, who was already a skating star but I had no idea. He downplayed that at the time because he was working to be known as a musician. We were both into rockabilly music and it was a good fit, he played bass," said Drake.
The Joneses were able to complete a tour up to New York, surprising Drake that they had earned fans that far out of California but Olson surprised Drake in the spring of '83 by quitting before their second tour.
"Olson quit because he caught our guitarist Steve Houston backstage with his girlfriend! There was no way we could've toured again, they would've killed each other. Even though we got a lot bigger afterward, things were never the same after Olson left. The music was less '50s rock and became harder, '70s, recalled Drake.
The Joneses were still wildly popular despite the lineup turning over twice as Drake scrambled to fulfill show obligations. Onstage, they were the missing link between the angst of '50s rock and the reckless abandon of Johnny Thunders. The LA rock scene had not yet exploded into commercialized glam hard rock, and Drake was able to witness early incarnations of Hollywood Rose and their evolution to Guns N' Roses, and the frenzy of A & R record executives seeking to sign the newest, hot act.
"We were certainly earning momentum but as we kept coming up, people kept quitting. We released our Criminals single and BYO Records, best known for early hardcore punk released Graveyard Rock and Pillbox on a compilation. We were filling clubs regularly and label execs were in the crowds. Before Guns N' Roses was anything, I was working at a rehearsal studio and they would come by to practice and I thought they were horrible! I still think they suck. Axl Rose sounded like a screechy Janis Joplin. They would bug us to play shows with us but I was against it because I knew they would start some shit," stated Drake.
Drake's disdain for Guns N' Roses boiled over during a show at Raji's. The Joneses launched into a Rolling Stones cover and suddenly found themselves onstage with unexpected company.
"We covered Jumpin' Jack Flash and Axl Rose jumped onstage, with either Slash or Izzy and they started singing backups, which I thought was fucked up and disrespectful because it wasn't their show. They were acting like these stars even though they were nothing yet," stated Drake.
Guns N' Roses eventually opened for The Joneses at The Troubadour, with topless dancers.
"I just thought that was really bush of them," stated Drake.
Elektra had shown interest in The Joneses as well as Geffen, but they passed after deeming the group 'too dangerous. The irony was never lost on Drake as Geffen later pursued and signed Guns N' Roses.
"We had the fan support and label interest but we had bad management. Danny Sugerman, our celebrity manager was a junkie and he just thought getting signed was a slam dunk. He tried to induce a bidding war and he just dragged it out. Elektra was into us in '83 but who knows what would've happened if we went with them. It was tough being so close but we surrounded ourselves with people that just didn't know what they were doing, or have our best interests in mind," reflected Drake.
The Joneses' lone full-length, Keeping Up With The Joneses was scheduled for release in 1986 via Dr. Dream Records. The Joneses only had their self-released Jonestown single, Criminals EP (American Standard), and tracks on two compilations to their name. With no new output since 1983, Drake believed they were overdue and he didn't want The Joneses getting overlooked as his peers continued earning record deals.
"After all the labels initially passed on us and began signing Guns N' Roses, Motley Crue, Poison, and other groups, we felt it was time to do something. We went with Dr. Dream in '86, which turned out to be their first-ever release! We were still earning good press, had a nice write-up in Creem, and people still came out to shows. But, all that got derailed because the stupid label signed a distro deal with GreenWorld and went out of business! Our record was getting good airplay but due to lawsuits and bankruptcy, nobody could even buy the record until 1987," lamented Drake.
As he witnessed peers earning heavy radio play and national tours, Drake felt like he was on the outside looking in. Sugerman began pushing for a leather and chains image and harder music so the group could renew record industry interest, but Drake vehemently opposed it.
"I didn't want any of it. Sugerman kept pushing us to cover these songs from The Zippers, an old band he managed and it was nothing I was into. Addictions got bad, we were always loaded after other labels passed and it was tough, I didn't have any skills to deal with challenges. We fired one guitarist because he was too stoned to play, and someone said 'Woah, too fucked up to be in The Joneses?' and I was like, that's what people think of us?"
The Joneses soldiered on, still filling clubs but with fans unable to purchase their record due to lawsuits between Dr. Dream and GreenWorld, the band was in limbo. Drake's addiction worsened and tensions ensued between the current lineup that featured Scott Franklin and Johnny Nation.
"They had blamed me for us not being successful and were going to fire me. They pushed for us to jump on the Metal bandwagon and I didn't want anything to do with that. I figured, if they were going to fire me, so be it because who was going to write the songs at that point? By that time, I was over it. Once we imploded the glam, hard rock bands took our audience. I was very frustrated to have come so close," sighed Drake.
After The Joneses imploded Drake decided to retire from music, at 25. His quick rise and decline within the competitive LA rock scene was just a lot to cope with and seeking refuge in addiction did nothing to inspire him to continue songwriting. However, Drake's retirement was short-lived and through the help of old friend, Steve Olson, he returned to music.
"Steve is great and he and Linda Stein, Seymour Stein's wife tried to help get a deal with RCA. The Joneses recorded Tits & Champagne demos in '88 and I thought they were strong but the label passed. It was crazy because there was another band from Boston using the same name! RCA got things mixed up and an attorney had contacted me threatening a lawsuit. The songs eventually came out on Trigon Records in1989, but with little to no support or promotion. I was paid by the Boston attorney in 1990 to stop using the name but then the Boston group broke up so I kept using the name anyway! Thanks for the money, boys," laughed Drake.
With the money burning in his pocket, Drake's addiction became more overblown. Spending the lawsuit proceeds on a Mustang and drugs, he declined fast.
"Things got out of control in 1991. I was homeless and dope sick, it was a lot to take in. I tried seeking treatment in Santa Anna but the system is a setup that you have to call daily to see if a spot is open and then they can accept you. After two weeks they had an open spot so I was driving and my car broke down in Anaheim! So there I was stranded and dope sick. I got it in my head that I was just going to walk," sighed Drake.
Upon arrival, a nurse informed Drake that he had to return tomorrow. Feeling desperate and with no recourse, Drake stated 'tomorrow feels like a million years. Feeling unable to wait any longer, all he was focused on was alleviating the pain.
"I remembered my two friends in the area that was my connection. They used to talk about the bank robbery and how some aspects of it were easy. I was desperate and somehow decided walking into the local bank and filling out a withdrawal slip demanding money would solve everything. I got away with 3 grand and brought drugs and got loaded. Within half an hour I was picked up by all these cops with guns drawn," said Drake.
Asked about his experiences serving federal time, Drake stated that prison life was in marked contrast to how the media depicted inmates and the judicial system. Aside from one physical altercation, Drake simply stated his sentence was "Awful, demeaning, and rigid schedules that I struggled with. But overall, a lot easier than I thought it would be."
"I tried songwriting behind bars but nothing positive came of it, just really bad material. I was released for a brief furlough and The Joneses played a show! It was wild because we obviously couldn't advertise and I was not allowed to be anywhere near establishments that sold alcohol. My father picked me up and knew about the show but he was supportive because he knew how much I needed to play again. I was able to pull it off, the show was packed and with the same lineup as Tits & Champagne EP. We just went all out," recalled Drake.
After completing his sentence and rehab, Drake began Amanda Jones in 1995. Featuring Drake on guitar and Amanda Brix commanding the stage, the group focused on more melody built on a power pop foundation. Amanda Jones earned enough support and was quickly signed to Bomp! But defeat was quickly snatched from the jaws of victory.
"I'm proud of that band because I think my playing was better and Amanda could certainly sing! We had strong crowd support but what I still don't get is how many people that loved The Joneses didn't dig what we were doing, and vice versa. It was a happening time and I liked the record we did. Things were moving in the right direction until I relapsed and we broke up in '96." sighed Drake.
Drake gave music another go when he attempted to launch a solo career. Reaching out to his brother, Scott from The Humpers to guest on some tracks, the project quickly evolved to Vice Principals. The duo immediately attracted attention and earned consistent bookings and an eventual record deal with Sympathy for The Record Industry.
"That band was yet again another 'could have'. I liked what we were doing and things were going well. I wanted a plan to make sure we would keep things going but it quickly became my brother's band and turned into a power struggle. Originally, I was supposed to be singing more songs but that quickly changed. Eventually, I didn't like the rock star attitudes going around and when I began writing new songs, Scott didn't like them. The dynamic became difficult and I eventually quit in 2001. We did one record," stated Drake.
Drake decided to pursue a new direction and left songwriting behind for education. He pushed himself to earn a degree in history, to become a history professor. His goal was dashed once he learned his prison conviction would prohibit him from becoming a teacher.
"I felt frustrated about the teaching goal not being realized but I was very proud to have earned my degree because it took so much to fully immerse myself in the education process. I really enjoyed it and I still feel accomplished," stated Drake.
While immersed in academia, Drake was disconnected from music and had no idea about the growing mythology surrounding The Joneses. It wasn't until Full Breach Kicks contacted him about a reissue did he truly see the power behind his former group.
"I had no idea because I thought we were long forgotten. Full Breach approached me in 2005 about doing a compilation featuring all our material. I was shocked at how people were digging songs I wrote years ago! Criminal History: Revisited did a great job capturing all our songs for newer generations to check out. We did some sporadic reunions to support the release, with our last one in 2016. Todd Youth from Chelsea Smiles (Warzone, Murphy's Law, Danzig, Fireburn) played with us in 2015," recalled Drake.
To complement Drake's autobiography, Puke N' Vomit Records reissued three deluxe vinyl additions comprising all of The Joneses' songs. Despite their limited output, Drake remains proud yet humbled by the renewed interest in a group he began decades ago.
"It's been a wild ride. From moving to SoCal at only 18 and meeting Olson and starting a group that came up so fast and almost getting signed; I'm grateful just for that because sometimes, I felt I didn't deserve it. It blows my mind that people still cover our songs and that all these years later, people are still supporting our songs and that we mean something to people," concluded Drake.
https://www.facebook.com/THEJONESESbandpage
http://hozacrecords.com/books/