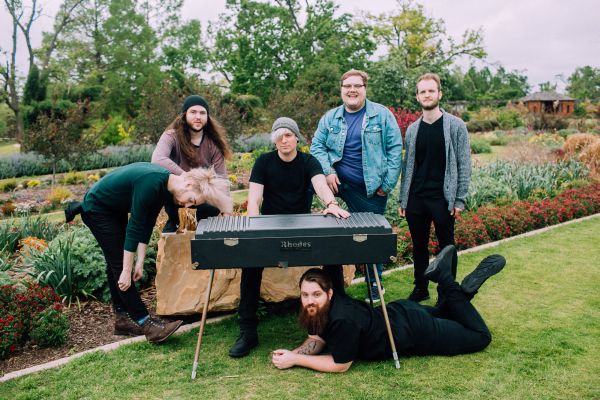 30 November 2021
Johnny Manchild And The Poor Bastards – Photo Credit: Dylan Johnson – on Insta at giantclick
We Did Not Ask For This Room is the 4th and newest studio release by Johnny Manchild and The Poor Bastards, a multi-genre ensemble founded by Johnny Manchild (composition, production, vocals, keyboards), and forming members Ethan Neel (drums), Ben Wood (trumpet), and James Thompson (bass).
Since its inception in 2016, the band (affectionately known as "Bastards") has grown into a collective of 10 collaborators in regular rotation, with Johnny Manchild at the helm. The album is a compilation of long-awaited demos and brand-new compositions.
The first thing anyone will notice about Johnny Manchild and The Poor Bastards is that this is a tight band. There is zero mess. The recording and playing on this album are absolutely pristine. It's all clean, sharp edges. If this band was an instrument it would be a goddamn surgical scalpel. From the first delicately picked notes to its epic guitar and horn section outro, "The Clock" is one hell of an opener.
Johnny Manchild and The Poor Bastards bring a combination of musicality and proficiency reminiscent of Jellyfish but with fewer obvious influences. Johnny Manchild is a self-described "music nerd" and he's pulling inspiration from as many places as he can get his hands on. This certainly makes the band unique. Call it jazzy pop-punk or prog piano-rock. It doesn't feel like jazz fusion, but the many elements that make up this band are fused tightly together.
"We," for example, is a smooth groovy bossa. The horns stay front and center. Guitars both classical and crunchy support the melodies. "Resolve" is a sonic journey channeling piano rock and modulating key/time signatures: "I've never seen better days," belts Johnny Manchild as the Bastards drone their ominous half-steps.
Johnny Manchild (it would be a disservice to use anything but his full name) growls his vocals as often as he flaunts masterful vibrato. He croons as soulfully as he belts. Look for him somewhere between Frank Sinatra and Billie Joe Armstrong.
The Bastards themselves bring righteous guitar harmonies supported so completely by the horn section that they blend together into an indistinguishable wall of sound. Colossal drums fill out every track. The horn section constantly punches through the mix.
Synthesized harps, flutes, strings prove that nothing is off the table; this band won't let anyone forget just how truly experimental they can be. The songwriting uses inventive chord progressions, borrowing from a spectrum of genres, but it still feels like pop even without the standard I-IV-V pop/rock chords.
"Chamomile" (British English pronunciation here, please: "It's been a while / but I can rest, Chamomile") slows things down utilizing doubled vocals, gentle psychedelic guitar through a wah pedal, violin, and delicate keyboards. This track is moody, cozy, and lovely with hints of a heartbroken Beck on his album Sea Change.
Immediately after that "Dose" wakes you right up with a heavy electronic industrial jam. The horns keep it jazzy with a big band swing feel. That synth is so rad. "Lovely" is all piano rock showcasing Johnny Manchild's rhythmic piano chops weaving their way around syncopated horn melodies.
We Did Not Ask For This Room closes with "The Nothing" as toy piano gives way to a rocking show tune closer.
There's so much to like on this album. No two songs sound the same, so be prepared. Even the album art is fantastic! Maybe Johnny Manchild and The Poor Bastards didn't ask for this room, but they sure as hell deserve it. Given the quality of the album, the room is for sure complimentary.
Johnny Manchild gives some insight into his and his cohorts' creation, stating, "In 2019, I spent the year with the band writing and recording a new single to release every month for 12 months straight. We viewed it as a challenge to ourselves, and it was a challenge we succeeded in, both by its mere completion and by the dramatic growth of our fan base. I decided I wanted to pursue a full length album release at the highest quality we were capable of, so we decided to go to sonic ranch and put everything we had into the album, financially and personally."
"I've always been transparent in my writing in the past, but these songs take on much less of a metaphorical direction than usual, and instead lean more towards a literal expression of my experiences. Something that fans and I have consistently shared and talked about with each other is mental health issues and depression, and that's something this album digs into in a deeper way."
"I didn't set out to make a bummer of an album, but I did set out to be as honest as possible, and I'm excited to say I think I achieved that in a way that I find musically exciting. I'm very proud of this album and the work that went into it, and I'm hoping fans can find something in it for themselves as well."
Website
Facebook
Twitter
Instagram
YouTube
Patreon