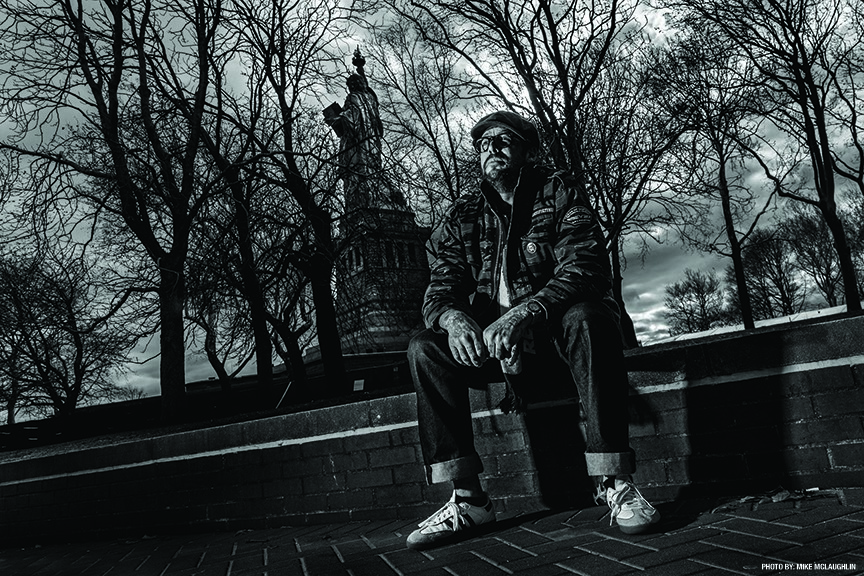 16 April 2019
Singer & songwriter Lenny Lashley is among Boston's most prolific artists thanks to his conviction that strength and vulnerability can be successfully linked. All Are Welcome continues his growth as a lyricist and offers themes of tolerance, introspection, and transcendence. Deviating from the more electric tracks of 2013's Illuminator, Lashley offers listeners his powerful messages, even if armed with nothing more than an acoustic guitar. Longtime supporters are treated to an intimate look into the man they were so comfortable viewing simply as the front man of the rowdy punk group, Darkbuster.
"When I was writing and looking for a title, I was moved by the actual words of the Statue of Liberty and was especially drawn to the message of inclusion. Our parents and grandparents came to this country from rougher lives and to start creating something new. I don't think topics of immigration will grow stale because they're still discussed world- wide. People have the basic human right to work and create a better life for themselves and loved ones," stated Lashley in his hallmark Boston accent.
Lashley was quick to state that as a songwriter, he generally steers clear of political themes, which is ironic considering he joined Street Dogs in 2013, one of the most politically active punk groups fronted by Mike McColgan. Street Dogs have been staunch defenders of labor unions and joined striking workers during Wisconsin's labor protests in 2011. The group continues its political activism and McColgan's Gulf War service has served as a theme throughout his songwriting. Lashley compared his beliefs with the convictions of his Street Dogs band mates.
"Mike and Johnny (Rioux) are well-read when it comes to world events and I believe that has rubbed off on me. I think you have a responsibility to say what you mean and Mike is very passionate about politics where personally, I'm more subdued. I think there's always room for discourse and the ability to learn from each other. There should always be an opportunity for intelligent discussion. Some people call for revolution while I approach it as a plea to humanity," reflected Lashley.
Lashley collaborated with his new band mates to release 2018's Stand For Something Or Die For Nothing, Street Dogs' newest full length record since 2010. Lashley demonstrated immense commitment by re-launching Darkbuster and touring nightly with both groups.
"The record took awhile but the collective effort was there. It's something we made sure we were all very proud of and that it was cohesive. Darkbuster is always on the table for shows but I feel I do my best focusing on one thing at a time."
Lashley first earned well-deserved acclaim as a solo artist with Illuminator, penning more electric-driven tracks in support of his evolution as a solo artist, yet he states the record was written during the most challenging points in his personal life. He reflected on his struggles.
"I was having a tough time in my personal life. Things actually unraveled when I was touring in Darkbuster. I had a nervous breakdown induced by drugs and alcohol and was actually sober for three years before I relapsed. I was in a horrific state of paranoia and I really would not wish that upon anyone," shared Lashley.
Returning from the road, he confronted himself and was ultimately unsatisfied with what he had become due to substance abuse. Lashley stated the road to recovery is never easy and every individual's path is different but he believes his new found clarity continues to have positive impacts on his songwriting and daily life.
"I had to take responsibility and pick up the pieces of my life. Listening to other people, I would hear stories of people supposedly functioning while struggling with addiction and people may think that works, until it doesn't. That's a misconception and deceitful, that you are not addicted simply because you are functioning. I cannot erase the past but I learn from it. I choose not to embrace it and dwell but to move ahead with what I learned. In recovery, there's the term 'godsmack', an event that kind of pushes you in a new direction. The breakdown was the catalyst for me," stated Lashley.
He added that the music has taken on a different meaning and his approach to his craft has him writing at a higher level. Recently completing a tour with Dropkick Murphys, Lashley elevated his efforts to connect with crowds as many dates featured arenas, venues not always suited to the intimacy of acoustic songwriting.
"I felt like it could be a challenge but I'm really happy with the crowd responses. I'm very comfortable being up there with just an acoustic guitar and sharing my vulnerability; that's how I like to communicate. I know some people might not be used to seeing me as a solo artist due to my time in Darkbuster but it's not always fair to hold people to just one role. As for sobriety and music, I feel like I'm not cheating the music. I'm having more fun than ever onstage and I can make an honest effort, I'm more focused on the task."
Lashley still continues his role as Darkbuster's front man and despite the all-new lineup, maintains a seamless transition from studio to stage. Coupled with his guitar duties in Street Dogs and their new record, Lashley states how grateful he feels for all the positive support from fans of each group.
"I just call it New Darkbuster, playing with a whole new set of guys but it's still very significant to me because it's a new chapter. Haters are gonna hate so to speak but it's still me playing those songs. I'm forever grateful for all the support and that I can still do all this because it could have all gone a different way," concluded Lashley.