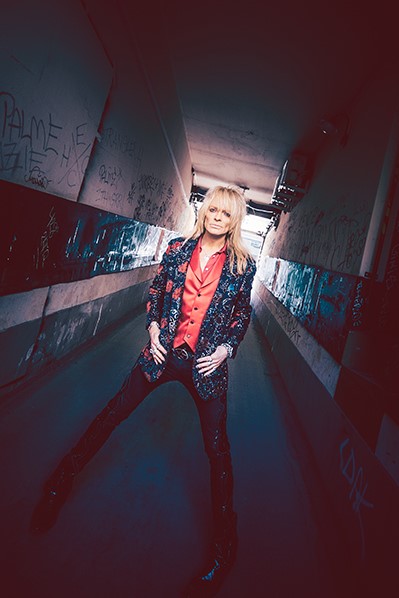 23 October 2022
Singer Michael Monroe beat 'father time' celebrating his 60th birthday by commanding a stage with a thrilling, sold-out concert featuring a rare, Hanoi Rocks reunion with co-founding guitarist Andy McCoy. The duo had been estranged for years following the end of Hanoi Rocks' rebirth, which yielded three new studio records before the group disbanded in 2007. Monroe has enjoyed a successful, and lengthy solo career and this milestone offered an opportunity to celebrate the legacy of Hanoi Rocks and pair with McCoy for a one-night event.
"I've heard it said we're the 'worst of friends and best of enemies' and such but in any case, we grew up together and started something very special when we put the original Hanoi Rocks together. Andy was exceptionally talented as a songwriter at a very early age and wrote a bunch of outstanding material when he was only in his teens," reflected Monroe.
He added, "That kind of gift can be sometimes hard to live with and he can be his own worst enemy. He has alienated a lot of good and important people with overly hostile behavior but we created something special and the music, fame, and reputation live on."
For Monroe, it appears differences were set aside and the duo once again recognized just how impacting their music remains. The September reunion show took place in Finland, once again reinforcing that Hanoi Rocks remains unrivaled within their country, though they were certainly poorly imitated within the U.S. Having earned cult favorite status during their initial run in the '80s, Hanoi Rocks were a rock & roll hybrid with versatile songwriters that sported the oft-imitated and later homogenized 'glam rock style. Many of the famed 'Sunset Strip' groups continue citing Hanoi Rocks as a major influence despite Monroe's disdain for the commercialized sound and imagery associated with the renowned LA rock sound.
"The fame and greatness of Hanoi Rocks never quite translated into record sales but on the other hand, we made our mark and left something of a lasting mark on the music world. I never found it frustrating that so many phony, 'hair metal' bands were having success because I'm always happy for other people's success and secondly, I always felt kinda good about those bands 'making it' because, in a way, it set Hanoi Rocks even further apart from them," reflected Monroe.
Hanoi Rocks left an undeniable mark on the burgeoning LA rock scene and the group continued selling out shows and earning respect until tragedy struck in 1984 that ultimately derailed everything. Drummer Razzle was killed in a drunk driving accident with Motley Crue singer, Vince Neil following a party celebrating Hanoi Rocks' first U.S. tour. Both Neil and Razzle were drinking heavily and according to several accounts, had left the party to purchase more alcohol, with Neil driving. His vehicle collided with another and Razzle was transported to a local hospital, where he was pronounced dead on arrival. He was only 24. Neil was sentenced to 30 days of jail time but was released early for good behavior. Monroe reflected on the tragedy's aftermath.
"After Razzle died bassist Sami Yaffa left the band and Hanoi Rocks broke up. There was one last miserable tour of Poland with a drummer and bass player subbing. I did the tour on one condition-that no recording would come of those gigs. Sure enough, one day when I stopped by the Hanoi management office with Stiv Bators, I saw the hideous cover art for a live record titled Rock and Roll Divorce, which is one of the corniest album names I've heard! It had a photo with Sami and Razzle despite them not playing on it. I had already decided to stop the band since I didn't want the world to know Hanoi Rocks as something that it wasn't," he stated.
Monroe shares a very concise narrative of Hanoi Rocks and avoids the pitfalls of rock and roll cliches, with no bitterness, self-mythology, or regret. Even the mutual 2007 disbanding of Hanoi Rocks which ended their acclaimed reunion, or rebirth as Monroe clarifies, has him still maintaining all the initial dedication and love for music that inspired him decades ago. He reflected on music's constant presence in his family and his initiation to rock & roll, which immediately transformed him.
"I had seen Black Sabbath on tv at 8 and that got me into it. I discovered Little Richard, Chuck Berry, Rolling Stones, Punk, just everything! I had a very musical family growing up. My grandfather was a professional cello and double bass player and his father played the oboe in symphony orchestras. My mother made me take piano lessons when I was 5. When Hanoi Rocks started we moved from Finland to Stockholm. Me, Sami, and Nasty Suicide lived homeless for the first half a year and Andy lived in an apartment with his girlfriend. It was a wild and carefree time because since we had nothing to lose, the only way to go was upwards," said Monroe.
Hanoi Rocks have proven to be influential despite traditional means of success eluding them. Monroe always remained active in music and his enduring solo career demonstrates an unwavering commitment to rock and roll. Additionally, Monroe's milestone celebration yielded the much-anticipated re-issue of Demolition 23's lone studio record. The self-titled record was originally released in 1994.
Monroe teamed with Little Steven's Wicked Cool Records for the reissue project. The original record featured Monroe, Yaffa, Jay Hening, and Jimmy Clark. Little Steven originally partnered with Monroe to pen a record that was stripped of all artifice to ultimately showcase their love for rock & roll purity and Punk's youthful, reckless abandon. Free from stifling record contracts and a much-maligned partnership with Billy Idol guitarist, Steve Stevens, Demolition 23 captured a brief, yet creatively pure time for Monroe during his time in New York.
"It was originally supposed to be a solo album but I felt the band was so strong I thought I'd give it one more shot at having a new band with a name. After the Jerusalem Slim fiasco (with Steve Stevens) I had to get out of my deal with Polygram Records. I was eventually dropped and I called Little Steven and we started writing for what was to become Demolition 23," stated Monroe.
Monroe had lived in New York for a decade and his love of Punk was amplified being surrounded by the Lower East Side rocker community, despite the original New York scene being declared dead.
"Little Steven and I had decided to start a kind of new scene downtown and organized Glam, Trash, Punk-Michael Monroe & Friends on Monday nights at the Grand Club on 13th street. By that time, we had Henning, Yaffa, and Jimmy Clark on drums, which became Demolition 23. We would play a killer set of our favorite punk songs and have guests join us at the end; Joey Ramone, Ian Hunter, Walter Lure, Bobby Steele, Kory Clarke, and Sebastian Bach," said Monroe.
Demolition 23 teamed with Little Steven to record what was to be their lone studio record. The album received great reviews and Monroe still fondly recalls how natural the entire recording sessions felt.
"It was the easiest, and most fun time I've ever had recording an album. Having the production in the capable hands of Little Steven, I could relax and concentrate on the essentials and enjoy the process."
Demolition 23 earned positive reviews and an international tour offer had them poised to leap forward, until Monroe was faced with another challenge that threatened to derail everything the group relentlessly worked to earn.
"The band was hot and ready to go when Jay got hit by a car and broke his leg badly. We had to wait about a year and a half for him to recover. Then, a couple of weeks before our first tour, starting in London, he was arrested in New York and consequently couldn't get a passport in time to travel outside of the United States," stated Monroe.
Monroe replaced Hening with a familiar face; Hanoi Rocks guitarist Nasty Suicide. Only supposed to be enlisted as a stop gap, he decided he wanted to join Demolition 23 permanently. The tour resulted in sold out dates in Japan, with the London date viewed as a great success. After the tour concluded in '95, Nasty decided to quit the music business and study to become a pharmacist. This left Demolition 23 in a quandary. The record earned strong support in Japan and the label, Music for Nations released it in Europe but the record was never formally released in the U.S. Once again left without a guitarist, Monroe disbanded Demolition 23. Hening took his own life in 1997.
Monroe pressed on and consistently released solo records, reinforcing his songwriting prowess and unquestioned reputation for electric, live performances. Residing in Finland, his current group features Rich Jones, Steve Conte, Yaffa, and Karl Rockfist. Despite great distances between members, the group tours consistently and just released I Live Too Fast To Die Young. Perhaps viewed as Monroe's declaration that he refuses to fall victim to the cliché of early, rock & roll death, the record proves Monroe can still craft high energy rock & roll complemented with a stage show that challenges peers half his age.
Hanoi Rocks may have endured and enjoyed a more impacting career if not for tragedy, and perhaps Demolition 23 could have sustained a longer career but Monroe views neither bitterly or with regret.
"The music, songs, and live performances have always been the most important thing for me and Hanoi Rocks. Demolition 23, it's still one of the best albums I've ever made," he concluded.
Demolition 23 reissue vinyl is available via Wicked Cool Records
https://demolition23.bandcamp.com/
https://www.instagram.com/michaelmonroeofficial/
Photo: Ville Juurikkala