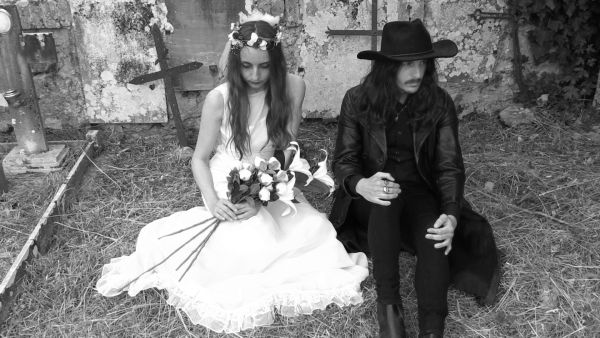 26 December 2022
Samantha Stella and Nero Kane – Photo Credit: Samantha Stella
Nero Kane is a psych dark folk songwriter. Both in his vocals and guitar style, his European roots intertwine with America's desert sound in a project full of emotional visions and cinematic and ritual flavor.
Kane's music has achieved amazing international reviews and was depicted as a suspended and crepuscular journey particularly concerned with death, religion, and love with a unique style and personality.
His live sets are defined as shamanic, hypnotic, and rich with beauty and intensity. Echoes of Swans, Nick Cave, Velvet Underground, Johnny Cash, Nico, and Cold Meat Industry Swedish resound in a neo-expressionist pagan chant.
Nero Kane's debut album, Love In A Dying World (American Primitive, Los Angeles, 2018), was produced and recorded in Los Angeles by Joe Cardamone (The Icarus Line, Skeleton Joe).
Tales of Faith and Lunacy (Nasoni Records, Berlin, 2020), his second album, was produced and recorded near Venice by Matt Bordin (Squadra Omega, Italian Occult Psychedelia).
His third, and most recent, studio album Of Knowledge and Revelation (Subsound Records, Rome, 2022), arrived in September and was created with the same team of the previous one in a fertile collaboration with producer Matt Bordin and visual artist, performer, and filmmaker Samantha Stella, whose voice has been defined as, "evoking the ghost of Nico."
Based in Milan (Italy), in the last five years Kane (electric guitar/vocals) and Stella (organ/mellotron/vocals) have performed together in clubs, theaters, churches, museums, and art galleries in Italy, Europe, the UK, and Los Angeles. They have just ended their 2022 Of Knowledge and Revelation Europe and UK tour with shows taking place in those countries' major cities (London, Berlin, Paris, Prague, Zagreb, Rome).
Website
Facebook
Instagram
Spotify
YouTube
Bandcamp