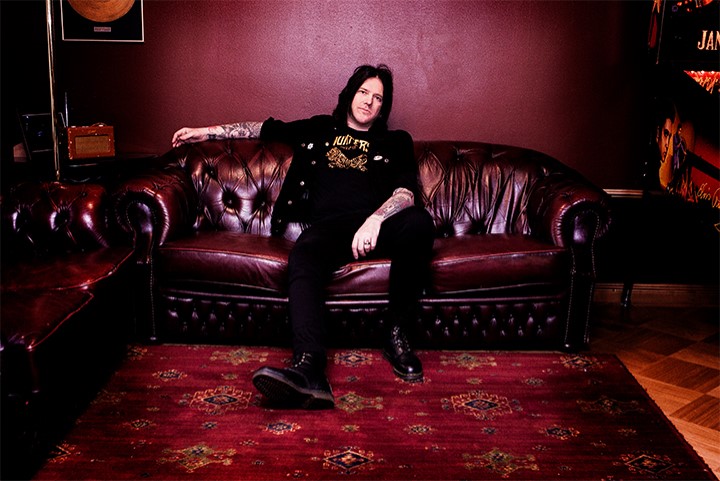 9 February 2020
For guitarist Rich Jones, rock & roll continues serving as his passport to the world. As a founding member of Canada's Black Halos, Jones spent years touring across the U.S. and Canada, eventually making his way to Europe before finally walking away from the group in 2001. After some self-admitted 'rough years", Jones worked to earn a spot alongside legendary singer Michael Monroe. Best remembered as fronting the legendary Finnish group, Hanoi Rocks, Monroe remains very active with length solo career and the release of One Man Gang reaffirms his place as one of rock's best live performers.
"I have been with Michael for seven years now. I knew him because Ginger from The Wildhearts was playing in Finland and his manager had asked me to fly out and kind of help their bassist, Scott Sorry. Scott and I go way back so even though you could say it was babysitting, of course I flew out," said Jones.
He added. "I became fast friends with everyone, including their manager whom also managed Monroe. I was asked to design merch for Michael and after Ginger was done playing with Michael he suggested I fill in and here I am, seven years later 'filling in', laughed Jones.
Sharing the stage with a captivating performer like Michael could make even the strongest personality insecure, but Jones stated each member shines in their own way. Hanoi Rocks bassist Sami Yaffi and guitarist Steve Conte complete the lineup. Conte served as the new lead guitarist for the resurrected New York Dolls, first appearing on their 2006 comeback record One Day It Will Please Us To Remember Even This.
"The group is pretty spread out with Steve being in New York, Sami in Spain, Michael in Finland and I reside in Canada. I consider myself very lucky because we get along so well. I didn't feel overwhelmed stepping in as Michael's guitarist because it felt natural to me since I grew up listening to Hanoi Rocks. We still play some of those songs and you have to give that material its respect while making sure to continue writing killer new songs together and remaining focused on them," stated Jones.
Hanoi Rocks continue enjoying legendary status in Finland but in the U.S. the group has been more of a cult favorite. Early U.S. tours were well-received but the band's career was nearly derailed when their drummer Razzle was tragically killed in a motor vehicle accident involving Motley Crue singer Vince Neil in 1984. Neil received a 30 day sentence for manslaughter. Hanoi Rocks was in great turmoil but eventually regrouped and is often credited for kick starting the U.S. Glam Metal and 'Sunset Strip' sound, much to the chagrin of Monroe.
Reflecting on his tenure with Black Halos, it's hard to ignore the marked contrast of both groups. Monroe continues playing large festivals in Europe while the 'Halos embarked on cross-country van tours, playing small clubs and finding themselves without formal accommodations following their set. Black Halos ended in 2008, with all their equipment and merchandise being stolen in Montreal. Online discussions ensued as band members couldn't even agree on the date the band broke up. Jones had departed in 2001 but still viewed the group with reverence and empathized with the group's demise. He shared his reasons for leaving the band he helped begin.
"For me, I just got burnt out. Black Halos would tour endlessly but my last one with them really took its toll. It was after 9/11 and so many of our shows were cancelled as we couldn't go through borders and our van was in the shop, costing us money by the day. We were on Sub Pop and I had called them for help because we didn't know what to do at that point but they were not really interested and kind of fucked us over. I drafted a very angry letter to their owner. But even after I left, I always felt Black Halos was a part of me."
The recent reunion of Black Halos may offer Jones an opportunity to rewrite the group's tumultuous ending but Jones takes a more measured approach. Having resided in Germany Jones was privy to a world where artists and musicians received unprecedented support from government officials, while local U.S. bands struggled to earn tour support from labels and club owners, the Black Halos not exempt from such challenges.
"Germany really recognized that artists and musicians were important because they helped contribute to growing cities and creating revenue. In Germany, there's a government-sponsored fund that artists and musicians can apply for money to cover expenses. Officials realized that artists are important to helping communities grow. When I lived there, I volunteered to help people with the application process. Canada also has a similar program in place and Black Halos used the proceeds for tour expenses," said Jones.
Asked if he was hesitant to rejoin Black Halos after their disastrous ending and singer Billy Hopeless' notorious persona, Jones stated he actually joined Hopeless on a small European tour in 2016. The positive crowd responses prompted Jones to wonder if the duo could resume writing and recording.
"Billy and I had a falling out but we moved past it. He was doing a solo tour in Spain for like 2 weeks in 2016 and reached out me. I hadn't seen him in 15 years! I joined him and we slowly started writing together. It was great seeing people sing along to songs that were over 15 years old! I thought why not? Let's see if we can still write and even make a record again. It's a lot easier now because I feel no pressure. I'm not pinning my hopes and dreams on just one thing anymore but I wanna give it a shot, try to make something great together," said Jones.
Michael Monroe will resume European touring in February, after Jones completes the Black Halos reunion shows in Vancouver.
"I don't feel any burnout or pressure, more like being thankful that I'm still able to do this. Everyone gets along so well playing with Michael Monroe and we all realize that nothing is more important than the music. This is our livelihood and for me, it's my only job so I make sure to do it at the highest level, no matter which group I am in," concluded Jones.
http://michaelmonroe.com/web/
https://www.facebook.com/TheBlackHalos/