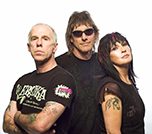 23 June 2019
The Dogs offer one of the most unique paths to cult status within the lexicon of rock & roll. The Detroit proto-punks formed in 1968 amidst one of America's most divisive social and political landscapes. The city was a catalyst for activism as authorities struggled to quell demonstrators voicing their discontent with racial and economic injustices and the Vietnam War. The Dogs were outspoken but not overtly political however; their raucous and powerful 'Detroit style' was an appropriate soundtrack to the grit that served as the city's backdrop. Singer and guitarist Loren Molinare reflected on The Dogs and their ongoing efforts to build a new generation of fans.
"We befriend the MC5 and played with them when Back In The USA was released. They were one of the most outspoken political bands and to this day, they remain the most powerful group I have ever seen! Our bassist Mary Kay attended high school with their guitarist, Wayne Kramer. I remember seeing them and opening for them and thinking that rock & roll could make a change," stated Molinare.
Having earned their own reputation as troublemakers, much like the MC5, The Dogs were blacklisted and unable to secure any local bookings, leaving the career of the motor city trio stalled. Seeking refuge in New York's gritty Lower East Side the group bore witness to arguably one of the most influential subcultures.
"I always remembered New York in the early '70's as being dirty but with a lot of excitement. New York Dolls were playing out and we had played some shows at Max's Kansas City. We auditioned to play at CBGB's but they said we played too loud so they didn't book us! Imagine that? Among the interesting things that happened was opening for KISS before they got signed and I remember that they told us to go to Staten Island to pickup their gear and then they would get us on a bill. I remember Gene Simmons literally taking notes while we were playing, which was helpful," laughed Molinare.
It appeared The Dogs were rejuvenated and on the verge of carving out their own niche but financial burdens had the trio split for Hollywood. Completing raucous sets in their hallmark Detroit style, The Dogs surprisingly earned prime opening gigs despite not having any official recordings available. Deemed 'too rough around the edges' for California's burgeoning hard rock audiences The Dogs struggled but thanks to some choice gigs opening for Van Halen and AC/DC, earned the distinction of having been privy to rock's most lauded subcultures, one decade at a time. Molinare recalled the early days of Hollywood's small but growing rock scene.
"We begged, borrowed and stole to get out to Hollywood in 1975. New York was too compact while L.A. was more spread out and more economical for us to live. Our first gig was at The Starland opening for Quiet Riot. We had befriended Van Halen and I thought David Lee Roth was a master showman and Eddie Van Halen was pretty nice. After watching him, I knew I would never have the dexterity to be a guitar hero like that! We got to open for AC/DC during their Powerage tour at The Whisky a Go Go and I found Bon Scott to be a gentlemen when he visited us backstage, sipping whiskey of course!"
Molinare affirmed The Dogs could play with anyone anywhere thanks to their conviction that rock & roll should be straight-ahead and loud. While California was growing its hard rock scene its now legendary first wave punk scene was taking shape however, Molinare's anecdotes did not end with The Dogs transcending paradigms and successfully crossing over.
"The trendy up and coming punk scene did not like us because they thought we played too well or something stupid like that. The hard rock crowds thought we were too Detroit or whatever. We finally had a single available for the few shows we were still playing, we recorded _John Rock & Roll Sinclair_(honoring the MC5's manager) but had to release it via our faux label, Detroit Records because nobody was rushing to sign us," laughed Molinare.
The Dogs' wild gigs never led to much-needed label support and the group suffered many false starts and multiple hiatuses. Molinare downplayed the trio's opportunity to tour the U.K. in 1978, citing dubious financial support that ultimately led to the group being homeless. The Dogs were on the cusp of witnessing and perhaps joining the U.K. Punk explosion but had to fly home broke and dejected as finances and living arrangements fell by the wayside.
"It was a case of anything that could go wrong went wrong. We managed only 20 shows out there but we did receive some good reviews despite the British press being cutthroat. We had sold everything we had just to get there but things got really bad when we had no place to live; just squatted to have any kind of roof over our heads. I do remember some of the early Punks pogoing to us and young guys in denim rocking out, just before the beginning of the New Wave of British Heavy Metal. We were able to record '78's Slash Your Face EP so we'd have something for people and despite having some great shows, things just became impossible," reflected Molinare.
Renewed interest in The Dogs came from record collectors paying top dollar for their John Rock & Roll Sinclair single and the 1978 Slash Your Face EP, the only available recordings of the group. An appearance on the renowned Killed By Death compilation kept their name alive but the group had yet to record anything else. The most ironic twist in their rock & roll tale stems from a rabid overseas fan base consisting of rock purists that have never even witnessed a Dogs show yet pooled their resources to help resurrect the group in the 2000's after being defunct in the '90's. Japan's unconditional love for the subculture helped rescue The Dogs from permanent obscurity.
"I do believe we have a crazy history! What kicked off the resurgence was the breakup of my next group, Little Ceasar. The Dogs were totally inactive from 1990-1998 but I was just starting to write new material but nothing was finished since I did not have a group. I felt at one point The Dogs lost sight of exactly who we were. People in Europe still knew about us through our appearance on the Killed By Death compilation and prior to breaking up we did earn attention from John Carter, an industry representative that put us in touch with New York Atlantic Records, who of course passed on us. Thanks to Japan and their interest, our name was alive and things were very slowly building again from them," stated Molinare.
Upon first glance, it seemed as if The Dogs would once again be relegated to a footnote in rock & roll history but Molinare cited two events that ultimately served as the catalysts for helping The Dogs resume and finally earn their proverbial day. He reflected on his initial meeting with a man simply termed 'Detroit Jack', a seemingly chance meeting that ultimately propelled The Dogs to finish what they started, but on their terms. Molinare thanks an individual that continues to serve as one of his biggest influences.
"I met Jack in the '90's thanks to Wayne Kramer of the MC5. Of course I know Wayne from way back and he was a big influence on me. Jack was living in Tokyo teaching English and was a big time record collector and told me about all this interest in The Dogs and how he wanted to put out a Dogs tribute record set with Japanese bands covering us. Now, I thought that was crazy and kind of took a wait and see attitude," he laughed.
Molinare cites his meeting with
Dionysus Records
owner
Lee Joseph
as the second crucial point for inspiring The Dogs to become active once again. Joseph had expressed his longtime support of the group and discussed a reissue project which would cull the group's long out of print material, with possible live bonus tracks provided by The Dogs.
"Lee called me up in 1999 with an idea for a compilation. I think this was a huge kick in the ass to our career and we worked together on a best of compilation; Fed Up. We will always be grateful to Lee and his vision of doing the record and signing us."
The Dogs limited catalog was no longer financially out of reach for fans. Further interest inspired Molinare to compose and finally complete new material that led to 2003's Suburban Nightmare, The Dogs newest recordings in 25 years. The renewed energy continued with 2012's Hypersenstive, released via The Dogs' original faux record label Detroit Records.
"There was some good press generating from Suburban Nightmare and I was proud of what we were doing. Things felt good and we were playing honest rock & roll, which is what we're known for. We did have some offers and were playing out rather regularly. Detroit Jack finally did release that Dogs tribute record set in 2007 and actually came to one of our shows to personally drop it off. I couldn't believe it because we had talked about it for so long that prior to, I had just put it in the back of my mind," said Molinare.
Capitalizing on the tribute recordings, Doggystyle, Detroit Jack inquired if The Dogs were available to play a few dates in Japan. For Molinare the offer was genuine but history proved overseas tours for The Dogs resulted in nothing but financial ruin.
"I couldn't say no simply based on bad past experiences but I think we were just too crazy to give it all up! We were doing some headlining gigs in L.A. and playing to all these younger people that were going crazy so we felt we could pull it off. The scene in Japan was so unified and exciting! Jack had the resources to take us out because he had earned money working during social media's early inception."
The Dogs continue to gig out consistently and have been rewarded with growing a new generation of fans. The group released Ain't Going Nowhere in 2016, a fitting title reinforcing their intentions, supported by an appearance on the famed South By Southwest tour. Recent sets in Philadelphia and New York offered The Dogs unique opportunities to interact with fans old and new.
"We had some original fans that stated they waited 30 years to see us and their support was touching. I think that was the first time we ever played Philadelphia. The younger people have been awesome to us and really supportive. How many people our age can just get out there and become relevant to a new generation? We don't have any illusions of record deals and we're thankful just to wake up every day and play rock & roll. How many people can be fortunate enough to say that?" concluded Molinare.
https://www.facebook.com/motorcityfever/
http://www.dionysusrecords.com/home/artists/