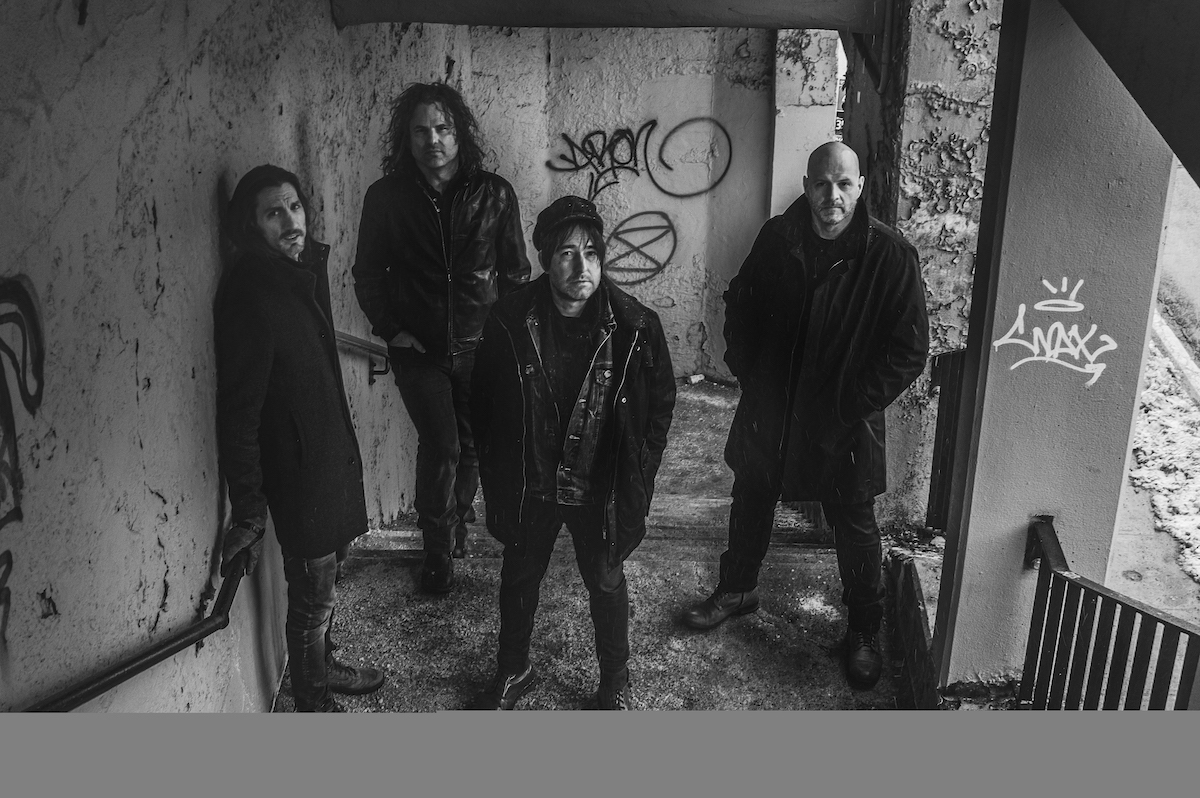 2 April 2021
Photo by Bryan Gagnon
Somewhere out there, in the vapor trail of a final Bob Mould chord or a poison Jim Reid valentine, yesterday becomes tomorrow. After all, there's value in everything, y'know, a value held dear by The Ember Glows.
Hailing from Montreal, Quebec, one can listen to The Ember Glows and just know the band members are comfortable knock knock knockin' on Heaven 17's doors, prefer their o.j. with Pulp and like to play call & response with Bunnymen echoes in the Caves of Nick.
The Ember Glows are guitarist Richard Bunze, bass player Kevin Hills, Martin Saint handling vocals/guitars and Dan Stefik on drums. The band released their debut 5-song EP Passerby on March 19, 2021, a collection of tracks that paddle upstream through hooks and melodies that recall the best of 80's New Wave, the 90's indie Brit soundscape with the odd dash of psych-rock, all filtered through the tangled & jangled reverb of today's Montreal music scene.
According to singer/guitarist Martin Saint, the album's title Passerby refers to an overall sense of being transient at different places and points in time and even in one's own life, which comes out several times in the song lyrics.
As veterans of other bands, the members of The Ember Glows are itching to get back to performing live – timing being both grace and goblin, music venues across Montreal of course shut down due to Covid soon after the band played their second gig. The album Passerby was recorded pretty much live off the floor so the band was able to mostly recreate their in-concert sound, having the luxury of numerous past practices so the songs were already fully formed. A filmed live performance in studio is in the planning stages, with a release hopefully in the next month or two. There are also rumblings of a follow-up EP this summer, so maybe by then the Canadian healthcare system will be in full swing with vaccinations and the venues will open up, with toasts to the night sky, rivers of Labatt 50 a-flowing, and more than a few noise complaints to keep the neighbors on their toes.
Passerby: th' track-by-track random & completely subjective comparison-o-meter:
1) Shivers: lashings of David Bowie's Cat People by way of The Cult c. 1987
2) It's Been Too Long: Ian McCulloch taking The Tragically Hip out for some really good ice cream
3) Man On A Mission: second row, seats near the end of the row by the amps, The Smithereens pissed off & cranked to 11
4) No Word For Goodbye: moody undercurrents & watershed moments, perfect for a first or last date
5) New Wave Drive: "Remember that night when Dave Vanian and The Edge jumped onstage at that Northern Pikes show at Crobar?" "Yeah I think they were opening for The Box or something – good times, good times."
The Ember Glows – Bandcamp
The Ember Glows – Facebook
The Ember Glows – Instagram
The Ember Glows – YouTube Channel