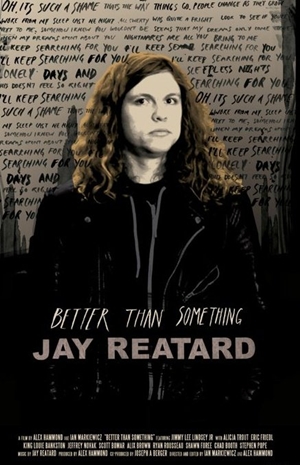 1 February 2012
A raucous performance (as if there was any other kind) of "Oh It's Such A Shame," by Jay Reatard and band in France opens Better Than Something with a bang. This is followed by excerpts and remembrances from the 2010 South By Southwest tribute show. The format of the documentary is a bit off putting as footage of Jay in 2009 is juxtaposed with comments from fellow musicians and friends recorded less than a year later, after his death. There's also plenty of archival footage of performances with the Lost Sounds, Angry Angles, and the Reatards. While Jay obviously didn't enjoy doing press, the footage of him at his home show the notorious perfectionist and cantankerous personality in a relaxed and affable light. He oozes enthusiasm whether talking about record collecting or even recalling a horrific childhood tale that inspired the Lost Sounds' "1620 Echols St.".
Though mostly reflective, Jay makes his views of music and the lifestyle a career music demands. He speaks candidly about his self-destructive impulses, needing to "destroy my whole life just to build it back up". Particularly amusing is Jay's constant music evolution as a means to avoid complacency. He compares punk rock to wrestling and his embarrassment that he was nearly thirty and still referred to as a Reatard. He didn't want to end up like 1980's pro wrestlers Jake "The Snake" Roberts or Koko B. Ware ending up "smoking crack in a Ramada".
There are plenty of interesting tidbits revealed in the doc. He had planned to one day release a country album under his real name. Jay was buried next to Isaac Hayes, thereby making that cemetery the coolest ever. He made music because he was "afraid of everything else".
Better Than Something – JAY REATARD – Trailer from Children of Productions on Vimeo.
This isn't The Decline Of Western Civilization. It's not a cautionary tale. It's not Sid & Nancy, a glamorization of punk lifestyle and drugs. Better Than Something is a unique celebration of this prolific and truly gifted artist. What makes this film special is the rare opportunity to chronicle an emerging punk rock artist on his ride to stardom only for him to fall and never live to see his legendary potential. We see him at the beginning of his creative apex in almost real time. Then again, each subsequent Jay Reatard release sounded more and more special; it's hard to argue that there wasn't even more amazing music to come. Filmmakers Alex Hammond and Ian Markiewicz were certainly in right place at the right time. And while we can all agree that we wish the narrative had different ending, they did a great job of adjusting to the circumstances. They documented Jay Reatard's music as his music documented his life.