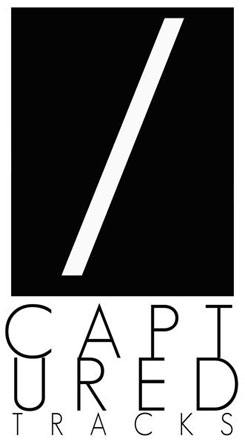 8 July 2011
Note: the following is an online expansion of a profile of the rising independent label Captured Tracks that ran in the print edition of the current Big Takeover issue #68. Click here to order that back issue, or here to subscribe including that issue.
Music geeks never forget their first love affair with a record label. It's an experience that transforms casual listening into an infatuation, and inspires freakish behaviors like maintaining a handwritten discography, referring to releases by catalog number rather than album title, and stalking the UPS guy from the parking to the record store with precious loot underarm—a jetlagged box of records. Labels from decades past, like Factory, 4AD, Flying Nun, Postcard, Creation and Sarah Records, incited such obsession. Lately, a small label based in Brooklyn has rekindled the flame in old collectors while spawning a new generation of devotees.
Captured Tracks has operated since late 2008 at the hands of one Mike Sniper. He is also the cloaked persona behind Blank Dogs, a band whose prolific output of 'new wave post-punk cave pop' was the impetus for starting the label. "As an artist I was frustrated with the fact that a bunch of my singles were going out of print so fast. I also saw how all these other labels were still operating in this kind of malaise. It just doesn't work that way anymore—you don't have to sit on something for three or four months before you put it out." Sniper's eagerness and efficiency as an artist drives his label's busy release schedule. Over the last two years, Captured Tracks has released some 90 titles (most as 7" singles and 12" EPs with the first 400 copies issued on color vinyl), unearthing new talent like Dum Dum Girls, whose debut EP was the label's second release, and introducing listeners to obscure gems like The Monochrome Set's recordings from 1975-77. Given such a feverish work rate and the gamut of music styles represented—from Cosmetics' cold wave era synth gloom to Minks' breezy Felt/Field Mice-inspired guitar pop—Captured Tracks has somehow maintained the ability to evoke a distinct identity both sonically and aesthetically with each release, a trait apparent in many stalwart labels.
"I'm a huge record collector. I definitely approach the label thinking about Factory and Sarah and Creation, and all those great labels I've always held in high esteem," states Sniper. "I do want to have a label identity, but I don't want it to be too restrictive, either. With most good labels, there's something that keeps it all together using a whole bunch of approaches in a way that comes out sounding kind of similar. We have some bands doing 'minimal electronic pop' using primarily drum machine and synthesizer that could go alongside any other guitar-based songs on the label. I feel like our bands are writing songs and not just being obsessed with what sounds cool. If the songs aren't there, then I don't care." Does Sniper share the same genius A&R gene as predecessors like Creation's Alan McGee or 4AD's Ivo Watts-Russell or Factory's Tony Wilson? Time will tell. Minks' mastermind Sonny Kilfoyle puts it back in perspective, "Essentially Mike is a curator. If you think in terms of an art gallery, he has his taste and lets it be. He appreciates music as a listener rather than as a commercial thing."
Though Sniper's A&R method seems slightly haphazard, the constant influx of new talent to Captured Tracks' roster is impressive. Sniper explains, "When I first started the label, we only had a handful of releases, so I'd pay attention to MySpace and any bands that would 'friend request' us. If I saw a cool band name I'd check them out. I figured if they sought out Captured Tracks, they must like the bands and label enough to think, 'This is a label I'd like to work with.'" When asked about signing with the label, several bands say they received an unsolicited invitation to do a record from Sniper via email. "In a way, it was like being stalked by some guy creeping in your window, watching you sleep," jokes Luis Vasquez, The Soft Moon's sonic visionary. It gave the wall of Neu! cum Pornography-era Cure songs posted by Vasquez a pathway to release—two 7" singles and a stellar debut LP later, The Soft Moon are generating a healthy buzz. When Sniper first came across Wild Nothing, he says he was awestruck: "There were only three songs posted and none were clunkers. I heard something in the songwriting and the way that [Jack Tatum, Wild Nothing's frontman] played made me want to do an album."

The Soft Moon
Such blind faith has paid off. Wild Nothing continue to garner praise with a sound that owes as much to the infectiously melodious guitar work of The Smiths' Johnny Marr, as it does to the hazy days of shoegaze. The band's Gemini LP appeared on a number of journalists' top album lists for 2010 (including #33 on Jack Rabid's list). "Mike saw me on Myspace and totally took a chance," claims Tatum. "He's willing to give new bands an opportunity, which is a strong point about the label. Pretty much every new record Mike releases is by a band no one has heard before, which is so exciting." Each subsequent Captured Tracks release seems to have a presence on the 'Gorilla-Forks' of the blogoshpere.
It's not just the blogs who are paying attention. "Now we're at the point, when we put out a single by a new band, it seems like the bigger labels are going to be interested [in signing that band]," claims Sniper. "So, we create an arrangement with the bands, where if we do a single, we also give them an option to do an LP. I wouldn't ever want to hold a band back, but at the same time I feel that we're capable of doing whatever anyone else could do for them." That level of commitment and support is backed by Nick Hessler, the 19-year old guitar pop craftsman behind Catwalk, who has two 7" singles on the label, "Mike puts his faith in the bands and leaves it at that. If there's one label I'd like to be on, it's Captured Tracks. There's a vibe I identify with. They're releasing records where the bands don't all sound the same, but do seem to have a good sense of songwriting." In fact, the label recently helped Hessler purchase equipment to aide him in recording his debut LP, which is bound to perk the ears of connoisseurs of guitar pop (fans of Arthur Lee's Love, The Bodines, and Moose take note).
Recently, the label has slowed down its recruitment of new groups, focusing on the current artists who have signed on to do one or more albums. Sniper explains, "We really can't sign any new bands for at least this year. I don't want to spread us too thin with everything we have going on. But, if I hear something that I just have to put out, I will." Case in point is recent signing Blouse—a new act from Portland, whose upcoming Into Black single seeps dark dreamy lullabies that will slide neatly in between records by Blank Dogs and Wild Nothing. Sniper has also laid out plans for a handful of noteworthy reissues that exemplify his taste for melody and collector's awareness of underappreciated audio bullion. First up are two impossible to find 7"s from The Wake—an underappreciated band from Scotland who survived the post-punk era with Factory and then helped kick-start the indiepop phenomena with Sarah Records. Interestingly enough, The Wake are listed as a major influence by Wild Nothing's Tatum, Minks' Kilfoyle, and Beach Fossils' Dustin Payseur. Fittingly, a tribute 7" titled "Gruesome Flowers," featuring Beach Fossils and Wild Nothing covering their favorite songs by The Wake, will be released at the same time. Other reissues Sniper has scheduled for release are vinyl editions of anthologies by '80s Big Takeover favorites The Servants (Dave Westlake's melancholic jangle pop outfit from the mid-'80s) and nick nicely (the duke of psychedelic synth rock pastiche).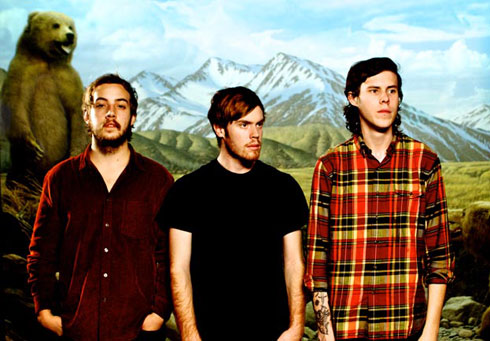 Wild Nothing
At the end of March Captured Tracks will reach a major milestone. "We're putting out our 100th release," says Sniper, surprised and delighted. "I'm pretty blown away by the fact we were able to do it and we're still around—and I'm not homeless. It's great that we've been so productive." To celebrate, the label will make available a free 7" by The Zodiacs—a collaboration of artists in, or friendly with, the Captured Tracks family of bands. The single features Sniper (Blank Dogs) as well as members of Dum Dum Girls, Crystal Stilts and Woods, and is just a prelude to an LP's worth of material being worked on by artists on the roster. Conceptually, it is reminiscent of This Mortal Coil—the 4AD project orchestrated by Ivo Watts-Russell released three LPs worth of collaborations featuring artists from the label and their associates.
One can glean much from the virtue of others, and mistakes they made. As Captured Tracks continues its trajectory towards indie label greatness, Sniper keeps his hand on the helm, setting a course according to the maps drawn up by indie's founding-fathers. Will Sniper impact Brooklyn in the same manner Factory's Tony Wilson sparked Manchester's cultural makeover? "I don't think so," says Sniper. "There are a lot of other labels in Brooklyn. I've organized a couple of festivals, but I really can't claim much more than that. I have yet to buy my sure-to-be-a-failure venue like Factory's Haçienda."
Give him time…