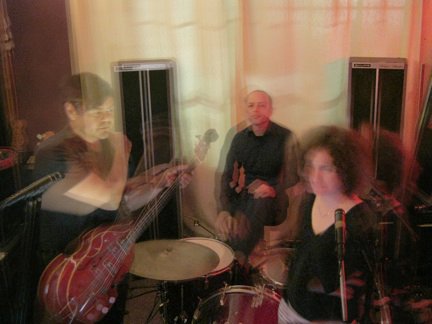 19 June 2011
Kids on a Crime Spree is the new project of Mario Hernandez, whom you may remember from such indie-pop bands as Ciao Bella and From Bubblegum to Sky. Sonically, it breaks away from the latter's bigger arrangements, returning to the former's rougher edges. But it's clear from the first notes that Hernandez is seeking out that perfect pop moment, that transcendent sound that takes the listener in and makes you realize that this is it.
Has Hernandez reached the point of writing that song? That's left for the listener to decide, but Hernandez doesn't quite think so. "I don't think I've come that close. I have songs that I dig, but they're in no ways perfection." What, then, represents pop perfection? "I think songs like The Eternals' 'Queen of the Minstrels,' Little Eva's 'The Locomotion' and Tommy James' 'Crimson and Clover' are closer to that point."
However, from the first note of We Love You So Bad opener, "I Don't Want To Call You Baby, Baby," with its crunchy, loud guitars that sound like a Jesus and Mary Chain cover of "96 Tears," it's easy to disagree with Hernandez's assessment of his songwriting skills. Throughout the rest of the EP's eight fast-paced pop songs, the trio—which features Becky Barron (ex-Poundsign, Scrabbel) on drums and backing vocals, and guitarist Bill Evans—one hears a band of experienced songwriters who appreciate the nuances of classic melodies.
The Tommy James influence is strong—"'Crimson and Clover' is genius. They always have that cut in old dive bar jukeboxes," quips Hernandez—but that influence has always been there, dating back to his first Ciao Bella days—debut album 1 opened with "If," that heavily borrowed from the aforementioned Tommy James hit.
Kids On a Crime Spree, however, represents a prolific time for Hernandez. "I had over 100 songs written, but my cell phone died on me and I could only remember handful of songs. If I can get that phone fixed I'll have the new LP in no time," he says. "I just want to write good songs, record them and release it on Slumberland."
Hernandez's confidence in his current project aside, fans of From Bubblegum to Sky should take comfort in knowing that Hernandez hasn't retired the band. "No, I have more songs for them as well. Right now I'm just really into writing songs that I can jump around to. Kids On Crime Spree is where I am emotionally—so I guess I'm channeling my inner thirteen year old."