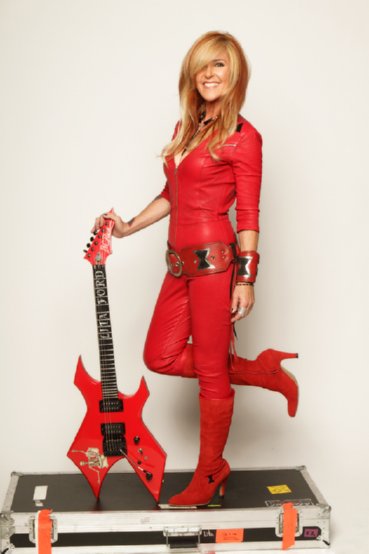 27 August 2015
With a career spanning more than three decades, iconic Metal artist Lita Ford continues her virtuoso guitar work while utilizing new mediums to further raise her voice in a male-dominated genre. Ford's impressive body of work began in 1975 with The Runaways, an all-girl rock outfit pairing her with future chart topper Joan Jett.
Projecting assertive attitudes while embracing their young sexuality, The Runaways earned a niche following but the male dominated industry wasn't supportive and creative differences forced the group to disband in 1979. Tracks like Cherry Bomb are still hailed as rites of passage for rebelling women breaking into rock n' roll but not until Jett's re-recorded '84 version did the song chart and take hold of the mainstream.
Ford's upcoming memoir, Living Like A Runaway seeks to reflect on her longevity with a new found clarity and perhaps dispel myths surrounding her career with The Runaways and her success as a solo artist. The book is due in 2016.
"It's a story of how I got into rock n' roll with the help of my wonderful mother and father. It's also about The Runaways, Kim Fowley (former manager), Lita Ford as a solo artist, the 80's, my boyfriends; the fun or fun we didn't have."
She added "I am the youngest of the living legends in the Metal scene today. Retirement is not an option at this time because I'm having too much fun."
Ford's 2012 record shares the same title and many believed it was a nice return to form, a form that began in 1983 with Out For Blood. After The Runaways imploded Ford accepted the challenge of becoming a lead singer. Rock had shifted to a more image conscious genre, and California's burgeoning Metal scene stylistically paid more than a nod to the New York Dolls. Los Angeles was home to what critics dubbed Glam Metal or the Sunset Strip Sound. Dueling guitars sought to outplay each other to near comedic heights, but Ford stood apart because her leads were more melodic. Ford's image was overtly sexual but her talent proved she was more than eye candy.
"I basically taught myself to front a band and be a singer. Guitar playing was easy and a gift from God but singing was a self-taught trade I had to master. In my earlier days I wanted the shock and awe factor. This worked visually and verbally because sex does sell and females can pull it off easily. Rock n' roll is a sexy style of music no matter who you are," affirmed Ford.
Out For Blood stood in marked contrast from The Runaways. It expanded on guitar leads while utilizing a harder sound synonymous with 80's Metal. It wasn't until '84's Dancing On The Edge that Ford finally received industry recognition with a Grammy for Best Vocal Rock Performance. The record further highlighted her showmanship and demonstrated her newly developed vocal versatility.
Perhaps best known by the mainstream for her Kiss Me Deadly video Ford earned rock star status with the ballad Close My Eyes Forever, a duet with Metal legend Ozzy Osbourne. The single earned heavy airplay and ultimately peaked at number 8 on BillBoard's Top 100.
"Of course anything like a Grammy is a validation. What an honor! The Grammys are so different today, though. Ozzy was a lot of fun to work with. He's a very great talent, very true, and very real," reflected Ford.
Osbourne commented to other outlets that their famous duet was actually unplanned. His wife Sharon was managing Ford at the time and informed him that he was requested to return to the studio to complete the track. Perhaps Ford's memoir can expand on this newly revealed tale.
"I have plenty of myths I'd like to clear up. My myths are not so easily answered," she said.
Capitalizing on the success of Kiss Me Deadly and Close My Eyes Forever, Ford embarked on arena-filling tours and even earned an endorsement from B.C. Rich Guitars. What further set Ford apart is that she defied the rock n' roll cliché of a wasted career due to substance abuse. After consistently releasing records Ford finally took a break after having her first child in 1997. Ford and then husband Jim Gillette had moved the family to the Caribbean shortly after 9/11 and the release of Dangerous Curves. After a long hiatus Ford returned with Wicked Wonderland in 2009. The record was widely panned, even by long-time fans and Ford's web site does not list it in the official discography. One can ascertain she believes 2012's Living Like A Runaway to be her true comeback record.
"I didn't have much to do with Wicked Wonderland. Living Like A Runaway was written about growing up on the streets of Hollywood with a lot of great bands; Motley Crue, Van Halen, Guns & Roses, and The Runaways. My mother used to encourage me to go go go and kick butt onstage!" exclaimed Ford.
Ford gives off the attitude that nobody owes her anything and that any accolade was well earned. Her ambition shines thru whatever task is at hand and her recent achievement of earning Guitar Player Magazine's Certified Guitar Legend award reaffirms her drive. Perhaps this serves as the ultimate response to critics that had once cast her aside.
"Never give up in what you believe in. I just remain true to myself. The newer fans now have a female guitarist they can look to for guidance and leadership. I stand still and the world revolves around me" stated Ford.
In addition to her upcoming book, Ford recently returned to television, a medium she dominated in the 80's with her videos. Her appearance on Food Network's Chopped took viewers by surprise as Ford's trademark style gave way to a chef outfit. The episode featured other rockers competing for their favorite, respective charities. Ford breezed thru the opening round but was eliminated in round two.
"When they called me I thought 'what fun!' and 'how exciting!' It was a very difficult show because they are the real deal; when they say 20 minutes it really is 20 minutes and you have to be done cooking. The judges were great and tried to be fair," remarked Ford.
In addition to Ford, the episode featured Dweezil Zappa, Eddie Ojeda, and Kelly Hansen. Ford competed to raise awareness to parental alienation, a form of mental child abuse. Ford's messy 2011 divorce from Gillette had unfortunately played out online and questions continue to be raised with Gillette responding thru various media outlets. Ford has countered with her activism against parental alienation.
"My inspiration for this show was not only my love of food and for cooking but for the winner to donate $10,000 to their favorite charity. My charity was going toward a severe form of mental child abuse called parental alienation. Thank you Chopped! I had a blast," exclaimed Ford.
This was not Ford's first act of charity as she reunited with former Runaways singer Cherie Currie in 2013 to record a Christmas single.
"Cherie and I found out that we had a lot in common. We reminisced a great deal about being in The Runaways together. She's a sweet lady but we have two completely different personalities. We were in The Runaways and still are today," said Ford.
Three years earlier a Runaways film starring Kristen Stewart debuted on the big screen. What caught the attention of viewers was how infrequently Ford was referenced despite being the group's lead guitarist. The movie had its share of inaccuracies, as confirmed by Curie to various media outlets but Stewart was praised for her portrayal of Jett. Feedback from fans left much to be desired when examined from a documentary vantage point.
Other documentaries and books dedicated to The Runaways have surfaced, including Currie's Neon Angel: A Memoir of A Runaway. With competing stories within different mediums the word 'truth' becomes highly subjective. Ford elaborated on her upcoming memoir.
"It's the story of survival in a male dominated world, with a touch of humor which I grew up with in my family," shared Ford.
Asked what future goals she has Ford stated she wants to make a major motion picture and continue raising awareness about parental alienation. There has been a discussion for an upcoming record as well. Ford appears to easily accept being an icon and why not? She has undeniably put the time in, honed her craft and is rightfully respected as a guitarist.
"I am honored to be called an icon and will go to my grave leaving my mark on this world. People won't forget Lita Ford!" she exclaimed.
Catch Ford's special appearance at The Food Truck & Rock Carnival. The three day NJ event begins September 18th.