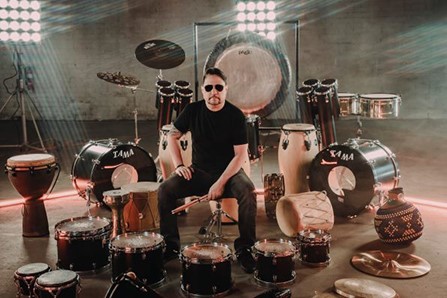 13 April 2023
With a career spanning over four decades, drummer Dave Lombardo continues serving as an innovator. Best-known as Slayer co-founder, Lombardo has elevated his instrument by adding creative nuances within genres wrongfully dismissed as nothing more than simplistic and aggressive. Lombardo's long-overdue solo debut, Rites of Percussion is an exercise in diversity and further reinforces his deserved reputation as one of the most sought-after musicians.
"This record is inspired by several players, from Tito Puente to John Bonham. Mike Patton turned me on to Puente's Top Percussion album in '98 and the idea was to create a drum-only record. The idea of working to create a body of work solely dedicated to one instrument drove me but due to sometimes hectic schedules, it took a long time to get going with it," said Lombardo.
Lombardo has always maintained a pact schedule and currently drums with Misfits, Suicidal Tendencies, Dead Cross, and Mr. Bungle. He recently completed a full tour with Testament. Lombardo still found the time to collaborate with Jazz saxophonist John Zorn, accepting another challenge to further push his creativity.
"I look up to Zorn because like Patton, he never creatively limits himself. Zorn is incredibly prolific and a very talented composer. Working with Patton, whom I also look up to, has been another incredible experience because he can create something beautiful and then turn around and write something aggressive yet melodic. Neither of them travels within boundaries," said Lombardo.
Lombardo has easily navigated working with some of the most prolific, yet challenging frontmen, but he was quick to state he did not have negative experiences and instead, utilized every opportunity to learn invaluable lessons.
"One of the many valuable things I have learned from playing with so many people is to allow each individual to simply rise within the music and be themselves. I never run from a challenge and I like to work with innovators. Looking back, working with someone like Rick Rubin, he was fearless in his diversity! He worked with Slayer, Beastie Boys, and Run- DMC. He couldn't be pigeonholed and I feel the same honor and happiness when playing with Patton," he said.
Lombardo partnered with Patton in '98 to form Fantomas, which critics conveniently called a metal supergroup. Featuring Buzz Osborne and Trevor Dunn, they debuted with their self-titled record in '99. With Patton on vocals, nobody could be sure what they were going to get, but they knew it would be eclectic.
Lombardo and Patton teamed again and formed Dead Cross, a hardcore-based group that took the genre's foundation but pushed boundaries in its execution. The California-based group debuted in 2017 and features elements of Thrash, but to pigeonhole the band with simple superlatives might be a disservice. Asked if Dead Cross would be a limited group, Lombardo happily stated he sees Dead Cross enjoying longevity.
"I love all the members and I absolutely see longevity with this group. I still love playing aggressive music and I feel we worked to create a natural sound for us but with originality outside hardcore parameters. Never limit yourself and begin writing in a way that only a certain genre will accept. Placing creative barriers to sound one way because that is historically how a genre sounded is selling yourself short. It feels good to allow other players to breathe and be themselves with this group," said Lombardo. Dead Cross released II just last year.
As a former member and co-founder of the legendary group, Slayer, Lombardo's diversity and continued output seems to have outpaced and eclipsed his initial legacy with the Thrash icons. Often cited as part of Metal's 'Big 4', the group sustained a career spanning multiple decades, rather unprecedented for bands within the Thrash genre. Slayer was met with calls for boycotts and censorship throughout their career, but Lombardo reinforced the group's unwavering ethos and commitment to music as they successfully worked past the resistance.
Slayer embarked on its farewell tour in 2018, which concluded in November 2019. Lombardo had departed the group multiple times throughout the years and finally in 2013, citing contract disputes. He did not participate in the group's final tour but he did briefly reflect on his tenure.
"I am very proud of what I had done with them. I recorded my first record with them at 18 and I was only 21 when we did Reign In Blood. That gave me the drive and the motivation to continue creating bodies of music documenting my life while having fun doing it. I don't harbor any negative feelings but once I cut the cord I don't look back because it has been 10 years now. I've moved on and I'm creating other things that continue making me happy."
For Lombardo, actively creating combats stagnation, something he vehemently opposes. During the height of the global pandemic, Lombardo utilized the time during imposed lockdowns to finally begin the solo project that first sparked his interest several years ago.
"If there is a silver lining to the pandemic for me, it was finally having the time to sit and focus on bringing that solo project idea to completion. It was the perfect storm and somehow, for the first time, I had all my gear with me! Nothing in storage across the states, or at another band's rehearsal space. I had to stop and appreciate that! I was studying and dabbling with music software programs to learn how to record and educate myself on the various challenges of music engineering," he said.
Lombardo added, "I never approached this project thinking that just because I have played drums for several years that it would be easy. You have to humble yourself and open yourself up to the challenges that come with learning something new."
Lombardo's excitement is refreshing. Despite playing a physically demanding instrument for decades, he never hesitates to share the positive rewards he gets from drumming nor sounds burdened by playing in several groups.
"No matter what genre you're playing, no matter what gig, it comes down to this: Do you love what you're doing? You have to be passionate and willing to play the shitty venues as much as you love and want to play the bigger venues. Love playing music at any level, if it's kicking back in your living room and playing for your family or with friends in a garage. The key is personal happiness and if you don't feel that, you will never fulfill your artistic goals," he stated.
Rites of Percussion doesn't serve as a platform for Lombardo to engage in self-indulgence, but more as another opportunity to share what continues driving him within another, body of work.
"Rick Rubin first taught me to never be afraid of creating something different. I have been playing for several years, but I have not recorded something like this before. I don't see myself stopping any time soon. I joke that someone will have to wheel me to my drum throne. I understand it can be difficult to keep the momentum going but try to implement your passions and what you love in daily parts of your life," said Lombardo.
In addition to collaborating with multiple groups, Lombardo has also engaged in several drum clinics. He stated he finds mentorship a positive reinforcement and a unique opportunity to not only share his extensive knowledge but become re-energized with the instrument that has enabled him to tour internationally and share his musical gifts.
"Drumming is a part of my daily life and I love sharing that when I do clinics and mentor people. When I see them smile and say they learned something from me, it's positive reinforcement but it also continues motivating me because I know something I loved creating is also meaningful to others," concluded Lombardo.
https://www.ipecac.com/artists/davelombardo
https://www.instagram.com/davelombardo/
https://www.ipecac.com/artists/dead-cross
https://www.ipecac.com/artists/fantomas