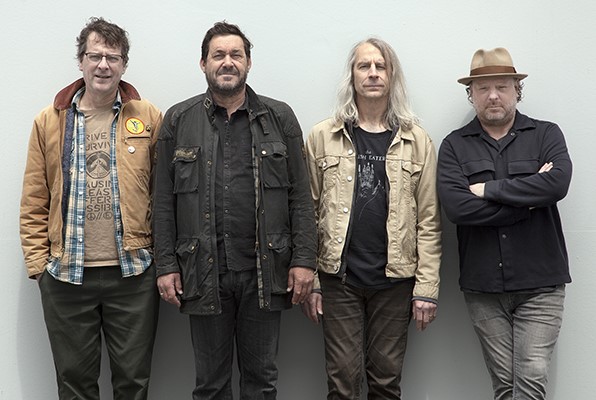 2 March 2023
Mudhoney and seminal label Sub Pop will be sharing their respective 35th anniversaries, a commendable achievement within a Seattle music community rich with storied histories of now iconic groups. Singer and guitarist Mark Arm does not dismiss Mudhoney's impact and place within the famed 'Seattle Sound' nor does he overlook Sub Pop's milestone. He reflected on the group's lengthy career and their upcoming record, Plastic Eternity.
"We all have strong personalities but we work well together. It's interesting looking back at just how long we have been playing despite not exactly striving for anything career-wise. Whatever we choose to write or work to take a new direction, it always ends up sounding like Mudhoney because that's our sound and it's who we are," stated Arm.
Mudhoney continues its hybrid sound of garage rock mixed with punk's energy, and with touches of psychedelia, the group has created a diverse and loyal fan base. Plastic Eternity marks their 11th record and is no departure from their hallmarks of fuzzed-out guitars and Arm's unmistakable trademark vocals of aggression coupled with his snide take on Blues and Punk. Arm's sardonic lyrics confront the digital world and all its hollow possibilities while the group irreverently scoffs at the media-driven apocalypse and efforts to create widespread panic. For Arm, this record is no radical departure from Mudhoney's trademark sound but the entire recording process remains in marked contrast from their history.
"Our bassist Guy Maddison was moving to Australia and we thought that would happen in 2021 but with everything that was happening, the country was still very strict about letting people in. We were able to book nine days straight in the studio, which is a stretch for us," laughed Arm.
As the studio sessions continued, Maddison's impending move loomed heavy on Mudhoney. Arm reflected on the recording deadlines.
"At that point, there might have been a sense of desperation. We had initially written some songs in 2020 but with everything going on, we were unable to consistently rehearse and finish. When we started up again in 2021, it felt like a mad scramble to relearn what we wrote. We then had this urgency to put together material that we were proud of that would make a strong record. I think with the challenge of Guy's moving coming closer, we stayed focused and it came together."
He added, "We wrote some material from the ground up, which was a different approach. Our drummer Dan Peters wrote a song on acoustic guitar, we looped a synth riff on one song. We worked on different things and it ultimately came together. I feel that we've been lucky for a long time to be able to still do this and still be proud with the new material we continue writing."
Mudhoney could be championed as local luminaries among an extensive list of their Seattle peers, which includes its most famous group, Nirvana. However, Arm has never aspired to achieve mainstream success yet Mudhoney has endured, celebrating its 35th anniversary long after other groups disbanded.
Their history can be traced to Green River, whom Arm sang for and joined with future Mudhoney guitarist Steve Turner, the group recorded demos in '84 and began gigging locally. A hybrid of punk, hard rock, and slower, more dissonant songs that preempted the 'grunge' moniker by several years, they struggled to sustain any consistency and disbanded in '87 due to creative differences. Their final record, Rehab Doll was officially released after they broke up. The group boasted several prominent members, notably Jeff Ament and Stone Gossard who later went on to form Pearl Jam and achieve international, mainstream success. Green River did reunite in 2008 to celebrate Sub Pop's 20th anniversary, which Arm quickly noted 'already feels like a long time ago'. Green River's records have since been repackaged and reissued, offering opportunities for rediscovery and perhaps, more recognition. Arm briefly discussed the reunion.
"Of course, that reunion was not a recent thing by any means and it's hard for me to put that in any historical context because I'm not a writer and that's not my job. Musically, it was super fun because obviously, we have not played any of those songs in years but some of those lyrics can be real cringey shit. You just have to laugh it off and put yourself back in time to moronic years," he laughed.
Green River has slowly been credited as some kind of trailblazer to the subgenre of 'grunge', a term many bands refused to embrace, including Arm. The term was constantly used within media outlets after Nirvana broke the mainstream with Nevermind but today, Arm sounds more at peace with it.
"I suppose I don't hate the term but I think it's kind of lazy shorthand to lump loud bands from the pacific northwest together. I don't think any of the bands sound alike yet people tried to use that term to simply describe all of them. When that whole media thing happened with Seattle bands people largely left us(Mudhoney) alone, not too many people wanted a piece of us. We could go about our days and routines and nobody hassled us, which was fine," said Arm.
Mudhoney has always maintained an uncompromising ethic that has served them well, even during the 'Seattle Sound' explosion that led to many of their peers earning major label contracts, festival dates, and high-profile media appearances, and with all the difficulties that came with sudden fame. Mudhoney eventually signed with Reprise and released three records, 1998's underrated and oft-overlooked Tomorrow Hit Today being their last. Neither album suffered from producers interjecting and working to polish and commercialize the group but Reprise did not have a clear vision of what to do with Mudhoney and the group was dropped.
"Looking back, I'm pretty happy with our relationship with Reprise. We didn't get fucked over. When we did Piece Of Cake, our first record with them, we thought it would be easy. That's how we came up with the title! But listening to it now, perhaps we should have spent a little more time on it," laughed Arm.
Tomorrow Hit Today proved to be a great rebound. Mudhoney was able to secure producer Jim Dickinson and the record ultimately sounded raw but cohesive, as Mudhoney's hybrid sound was captured better than their previous two Reprise efforts.
"We were able to do two tours for that record. I was excited but because of the way things were going at the label, it was basically the only opportunity for us to record with someone like Dickinson, who had a very storied career. I was really happy with that record but the second tour had diminished returns. It was a weird period and by 1998 it seemed everyone was over grunge or whatever you wanna call it, especially in the UK where people were moving on to electronica. You hear horror stories of how things continued with the label and by then, there was a total changeover of people. It was a struggle to do that record but it was our last chance to use a bigger budget so went for it," reflected Arm.
Bassist Matt Lukin quit following Tomorrow Hit Today and Mudhoney remained inactive after Reprise officially dropped them.
"Looking back to when Matt quit, it was tough because we didn't quite know what to do. We did Monkeywrench stuff and then we got an offer to go to Brazil! Which was wild! Mudhoney was in a tough space for a bit," stated Arm.
Arm and Turner had resumed their side project, The Monkeywrench, which featured garage rock stalwart, Tim Kerr. The group's 1992 debut had Arm and company showcasing their affinity for the Blues, but with a garage rock spin. The group sporadically recorded, with 2008's Gabriel's Horn being their last record. Arm reflected on his tenure with The Monkeywrench.
"That group was awesome, I'm very proud. We did our last hurrah in 2016, an Aussie tour. Tim wanted to do that because he had never been and the entire experience was fun. I'm really glad we did it. Unfortunately, our drummer Tom Price has advanced Parkinson's and I don't think he can travel too well now," stated Arm.
Mudhoney enjoyed a creative resurgence once new bassist Guy Maddison joined. Perhaps serving as a catalyst, Maddison brought more elements of psychedelic rock and Mudhoney returned to Sub Pop and released records on a more consistent basis, beginning with 2002's return to form, Since We've Become Translucent.
"When Guy joined there was a more Psychedelic sound. As you grow, you find more music that impacts you and discover things you weren't aware of. I'd like to think things worked out," laughed Arm.
Plastic Eternity has Mudhoney sounding as intense as ever and with international and U.S. tours all booked, they seem poised and eager to share their new songs to their loyal fan base.
"I feel we avoid any burnout when we play the old songs because they still sound good to us, those are the songs people still think of, which I'm very grateful for. The songs all have their unique energy, old and new. To me, Steve is still a very interesting, atypical lead guitarist and we all feel lucky to still be doing this with this kind of passion," concluded Arm.
https://www.subpop.com/artists/mudhoney
https://www.instagram.com/mudhoney_/?hl=en
photo: Emily Rieman