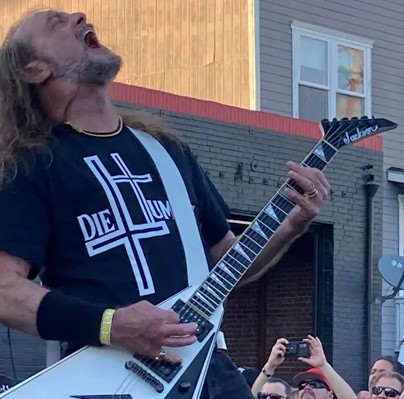 8 November 2023
Guitarist Rick Hunolt has triumphantly returned to songwriting with DieHumane, a complex new group taking Metal's aggressive foundation but adding more ambient avant-garde layers within their compositions to creatively push each member, and perhaps propel Metal forward. Debuting with The Grotesque, Die Humane has earned critical accolades but for Hunolt, the success of working to reach a new creative height has him gaining a deeper understanding of just what drew him to the guitar.
"A friend of mine told me a group he knew in Texas was searching for a guitarist so I casually said for them to send over some music for me to check out. I thought it was just gonna be a real casual thing or not lead to anything much. A couple of weeks went by, I decided it was time to focus on it and I was really into it! It had these really over-the-top vocals from Garret West and layers of violin, sax, and keyboards. I was digging it but not sure how I would fit it," he stated.
Best known for his tenure in Thrash legends Exodus, Hunolt earned the moniker The H-Team, as he and guitarist Gary Holt worked to create and define a new, underground sub-genre that eventually reached international heights. Sharing stages with Metallica, Megadeth, Testament, Death Angel, Slayer, Venom, Anthrax, and countless others that were instrumental in growing Thrash, Exodus helped prove that an entire community could create a supportive grassroots network and audience, with no input from mainstream radio or media. Despite initial success and international tours, Hunolt lived as fast as he played, ultimately leaving the stage behind in 2005 to overcome substance abuse, stating his addiction left him no choice but to leave the only stable thing he ever knew. Hunolt's final studio record with Exodus was Tempo of The Damned.
Hunolt has sporadically joined Exodus onstage throughout the years and even guests on their newest record, Persona Non Grata but Hunolt does not view his journey through a lens of regret, but with newfound clarity focused on creative rebirth and a healthier mindset.
"Thrash is always in my heart and my blood but I had to make the painful decision to leave Exodus because I had to get my head on straight and I finally reached my rock bottom. My last record with them, Tempo of The Damned, you can hear the pain within my solos. When I finally put in the work to get better I was scared because all of a sudden I was no longer in the group, which was all I knew. I couldn't play guitar for the longest time because it kind of triggered me but I put the work in and was happy to just start playing again on any level," reflected Hunolt.
With no original studio output for several years, Hunolt maintained his guitar prowess outside the spotlight, until he received a call, a creative wake-up call in 2020 that took him on an unprecedented musical journey that had him finally returning to songwriting. Hunolt has since earned greater mainstream recognition and has long been crowned by the Thrash underground scene as one of its top players for his tenure in Exodus. Despite being credited as a trailblazer in the creation of Thrash, Hunolt was quick to admit his hesitation for joining Die Humane full-time stemmed from his long tours with Exodus, being away from his family and at times, returning home broke.
"As much as I love Thrash I was just not interested in doing a new Thrash project. I had several Zoom meetings with all the Die Humane guys; Josh Vargas, Greg Hilligiest, and their drummer Sal Abruscato. We were all getting along great, with no egos, and no drama. Just really sweet people. I cannot get along with egos and that's one thing I always tell younger people in bands, you have to get along," stated Hunolt.
He added, "You can be an awesome musician but if you can't get along none of that matters in the end. Die Humane was looking for a commitment and I was nervous because all my time in Exodus, always on the road and away from my kids and coming home broke, that wears on you. I played them the Die Humane demos and they supported me joining a band again," said Hunolt.
Despite years of experience in Exodus and The H-Team cited as a major influence within Thrash, Hunolt suddenly questioned his ability to return to music full-time and join such a challenging, versatile group.
"I admit, I was nervous. I sat in my garage for weeks trying to play along to the record, seeing what I could create, and where I would fit. Being with Exodus for so long I was never in a group that had space within the music so I had to take on a less is more approach. Looking back on Exodus, man, we were crazy! Listen to all the notes we would fit in with every song, just all attack and manic tempos. I was into the challenge with Die Humane but no matter how many years I have played, it felt like learning to walk again," said Hunolt.
Once Hunolt felt he had a stronger grasp on the creative process within Die Humane, he flew to California to track his parts, feeling more confident during the sessions as he carefully dialed in his tones. For Hunolt, he adamantly defends the talent, drive, and oft-overlooked creative nuances demanding of top Thrash players, details that a casual listener may quickly dismiss. Within Die Humane, Hunolt cites the same intensity is required but with a more concentrated and intricate approach that pushed him in an entirely new direction.
"I learned I can still express myself without relying on so many notes to communicate. In this group, I feel like I am discovering guitar all over again and despite playing for so long, I am noticing different things and I love that energy," said Hunolt.
Another layer of discovery for Hunolt was walking into the world of social media. Active only recently, he was proud to be reminded of Thrash's international reach, even if his first European Exodus tours have been relegated to memory years ago.
"Playing in Exodus was wild! Social media is still a scary thing for me, I only started using it like 2 years ago. Everything is very different now but I can see how it gives music and albums a different kind of longevity. Josh in Die Humane is active and kinda pushed me into it. It's been awesome and flattering to learn about people's experiences with stuff I helped create and see just how many people still love the songs I wrote when I was 17-18! That is powerful."
Hunolt adamantly stated that Thrash and the entire Bay Area scene would not have enjoyed such a widespread impact if it wasn't for the active tape trading community and 'zines dedicated to the burgeoning Metal scene.
"We owe some much to those communities. There was nothing like social media back then so everything was word of mouth and support built from the ground up. The bands always supported each other, it was a pretty tight community. The early shows were packed with people so hungry for Metal and tape trading was essential for this music's evolution. Remember, Bonded By Blood was delayed but so many people loved those songs and traded tapes to get the word out about the record. I feel Exodus took off locally right away, I'm forever grateful for that early support. I remember so much because it changed my life forever," reflected Hunolt.
Further reflecting on first joining Exodus, "Gary and I go back decades and I still remember the impact the music made on me. When he played me early Exodus demos, their sound and approach were so different and wild, like nothing I had ever heard at the time. I had only been playing guitar for a few months when Gary asked me to come by and jam. There he was ripping it up with his Marshall stacks cranked and I could barely hear what I was doing," laughed Hunolt.
He added, "There was none of that Big 4 stuff the media came up with later on. Hell, we did not even call it Thrash! People were calling it Speed Metal. We were so wild in Exodus! We partied so hard because we just lived in the moment, but of course, when we stopped taking care of ourselves only then did we realize just how bad that stuff was. Meth was big in the Bay Area for years," sadly recalled Hunolt.
Exodus began in '79 but their heralded debut, Bonded By Blood did not appear until 1985, after several delays in business-related endeavors a young group is hardly ever privy to or cares to focus on. The record was well-received within the underground tape trading world but their peers all had their records officially released and completed tours before Exodus could formally release their debut. For Hunolt, he never believed this would make his beloved band a footnote in history because rabid fans packed the clubs to participate in the mayhem, all incited by their now legendary first singer Paul Baloff. Baloff passed in 2002 but was able to join Exodus reunion shows in the late '90s and release the live record, Another Lesson in Violence in 1997.
"I do miss Paul every time I think about him. It was a sad loss but I have to admit, he couldn't really sing and his timing was shit but he could command a stage! He was the epitome of Metal, had a Ph.D. in Metal and he touched a lot of people who had met him. That's what forever makes him a legend to me," reflected Hunolt.
Asked if he has made peace with all the ill-fated business decisions that hindered Exodus, Hunolt quickly stated, "I don't think Exodus missed out or fell short of anything due to Bonded By Blood being released so late. It was supposed to be released at the same time as Metallica's Kill 'Em All but we were young, and we didn't care about business stuff. We were doing what we loved and we signed with Torrid because we thought they had good distribution. We partied like maniacs and were so lucky to tour Europe and play with Venom and Slayer. Hell, that was not the only time one of our records would be delayed, same stuff happened with Pleasures of The Flesh, more business bullshit," sighed Hunolt.
Thrash has since earned its rightful place within America's independent music lexicon. Several bands were fronted by members under 20, yet several groups enjoyed immediate local success due to uncompromising work ethics and the complete support and strong foundation of the DIY, underground network.
History has proven the business and recording sides were deftly handled by Jon and Marsha Zazula, instrumental in officially producing and releasing several Thrash debuts, including Metallica, Anthrax, and Overkill on their seminal label, Megaforce Records. Jon Zazula passed in 2022, one year after Marsha passed. The music community paid extensive homage and cited their passing as major losses, often calling them a second family and stating the music community would be left with a major void.
"Exodus was almost signed by the Zazulas but it wasn't meant to be. They forever made positive impacts on this music and were so supportive. I've been asked all the time about our friends and other bands getting huge and why we didn't, and I don't have an answer but I do admit, that we were on drugs and many of them were not. Drugs can never help you. I was 18 when I started using, all the way until 2004. Like many have said, at first it felt like no big deal but as the years went by I was so reliant on it for everything. In the beginning, Gary and I would just play non-stop, use, and go back to playing. We would play for like 12 hours at a time! Eventually, it dominated me, took away so much and I finally had to step away. There was no other choice," recalled Hunolt.
He added, "I feel no anger or resentment. Music changed my life and even when Gary stopped using and I still was and playing in Exodus, he never singled me out. It was never an easy thing to decide to leave the group but by then, I had to for my health, and my family. All the right reasons."
Throughout several lineup changes and extended hiatuses, Exodus has found more stable ground. Well-earned sobriety and Thrash's resurgence welcomed them back as they continued to build on their more consistent studio output. With history long-resolved and fans still embracing Exodus and the Thrash genre, each member seems poised and more energized to propel themselves into the future. For Hunolt, he will always be associated with The H-Team but he remains proud for pushing his boundaries with Die Humane and once again realizing music's transformative power.
"I love what this group is doing. I admit, that I still really care what people think and was nervous about how people who supported my Metal playing would receive Die Humane, but it's been very positive and I'm grateful. I know it's different but this group has made me love music all over again. We all need new inspiration to evolve and fresh input is good. I'm happy with how open-minded people have been with Die Humane," concluded Hunolt.