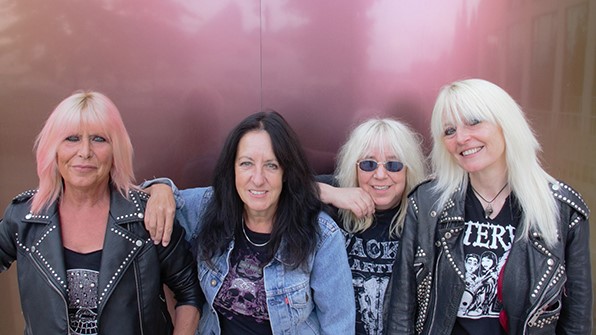 21 August 2023
UK rockers Girlschool celebrate their 45th anniversary with WTFortyfive? their newest record since 2015. Earning the distinction of the longest-tenured all-woman rock group, Girlschool rose to prominence in '78 as Painted Lady, playing pubs despite being underage. Girlschool worked to evolve their songwriting and built a foundation of Punk attitude mixed with anthemic rock & roll choruses, ultimately becoming their hallmark through the decades.
It wasn't until guitarist Kelly Johnson took center stage to force their peers and rock journalists to take notice, and they immediately cited her melodic leads and the group's raucous anthems as a driving force within the burgeoning New Wave of British Heavy Metal scene. Lemmy and Motorhead also took notice and were instrumental in Girlschool's initial success by pushing for their tour support throughout the years, beginning with Motorhead's Overkill tour in 1979.
"It was never a conscious decision to remain an all-girl band. That came from necessity because no men were willing to play with us! We worked hard so nobody would view us as a novelty and once we practiced some more, we felt maybe being an all-girl band was not such a bad idea. We played pubs despite not being old enough to drink and our first official show was at a youth center. We were gaining strong support and we just kept lining up gigs," reflected singer and guitarist Kim McAuliffe.
WTFortyfive? stands as a true return to form for Girlschool. Melodic gang vocals, crisp guitars, and McAuliffe's aggressive vocals remind long-time fans Girlschool can still command a stage. Their legacy was predicated on uncompromising rock & roll ethos, lengthy tours, and prominent festival appearances. Despite being an all-girl band within a genre best known for men engaging in all sorts of excess, McAuliffe maintains Girlschool was never on a mission to 'prove women could rock' with message-based music. Instead, they took their anthems to any club willing to book them and created their legacy.
"I always felt we were too Metal for the Punk fans and too rock & roll for Metal. We created our own world of sorts. With this new record, the label was always asking us when we were going to do another one after Guilty As Sin. It was crazy to me how much time passed, I was like 'What? You need another one of these?' This new record sounds hard but natural to me. We still love writing together and playing out but the process this time was funny. Time kept passing and we would be like 'Ok, no mucking about let's get it done'. We have some mates on it this time, including Duff McKagan which was cool because I never knew he was a fan of us," shared McAuliffe.
In retrospect, Girlschool always had a strong following but their dynamic shifted once Johnson departed in 1984, due to lengthy tour schedules. The group has shuffled its lineup throughout the years, with 1985's Running Wild being the biggest change due to new lead singer Jackie Bodimead. The record featured a more polished sound with keyboards but their melodic and aggressive hallmarks of gang vocals and any guitar leads reflective of Johnson's all but faded away.
"I liked some of those songs! That lineup only lasted one year and we were in a tight spot but we wanted to continue the band. I think we came to agree later on that we should have called the band a different name because we had a new singer," reflected McAuliffe.
Girlschool returned to a four-piece for Nightmare on Maple Cross, with Kim stepping back to the mic for lead vocals. As their Metal peers transformed to more radio-friendly anthems, new images, and music videos rising to prominence, Girlschool was on the outside looking in until guitarist Jackie Chambers gave them a much-needed shot in the arm. Befriended by Kim, she formed an enduring friendship with Johnson, who worked to help Chambers refine her songwriting once it was agreed she would eventually join Girlschool. Chambers officially joined in 1999 and Kim reflected on her dynamic with Kelly.
"Jax had such a great friendship with Kelly. We think about Kelly all the time and it was hard for all of us when she passed in 2007. She had spinal cancer and there were times when she was getting better and then things progressed, and we were just so shocked. Kelly worked with Jax a lot on songwriting, even when Jax visited her in the hospital. It was just so nice to see the torch being passed," said McAuliffe.
Johnson did return to Girlschool for reunion shows and one last studio record before passing, appearing on 21st Century: Not That Innocent. Johnson had not formally gigged out since forming World's Cutest Killers with Go-Go's bassist Kathy Valentine in 1987 but despite their efforts, nothing was formally recorded. Johnson contributed several tracks and lead vocals on 21st Century but the record's delays had her depart once again, before its official 2002 release. This proved to be Johnson's last studio work with Girlschool. The group reshuffled its lineup, as bassist Tracey Lamb was replaced with original bassist Enid Williams. Johnson returned to the U.S. and Kim stated she was no longer available for shows, so Girlschool once again had moved forward without her. Kim maintains they always kept in touch and solemnly shared how Johnson's premature loss continues to impact her.
"We had Kelly's ashes with us in the studio when we were recording Legacy. Jax was always hopeful Kelly would be on that record and there was talk but it didn't come to be. We weren't sure how we wanted to pay tribute but then came up with a crazy idea of shaking the ashes like maracas and having the mics pick it up! Jax spoke to Kelly's family about it first. You can hear the sound on the record and we felt Kelly would have laughed and gotten a bloody kick out of that," reflected McAuliffe.
Girlschool's foundation of Kim and drummer Denise Dufort has always remained and despite lineup turnover, and 'the passing of the torch' from Johnson to Chambers, WTForty45? sounds energized and focused. With Lamb returning for her third stint on bass, it seems as if Girlschool's lineup is solidified moving forward. For McAuliffe, the band's longevity has not been reliant on exclusively playing material off their debut Demolition or Hit and Run, but building on renewed fan interest by sharing their newest material the only way they know how: raucous rock & roll anthems that continue withstanding time. In retrospect, McAuliffe admits the sad losses of Lemmy and Johnson still linger, but believes the power of those enduring friendships has lost no strength.
"I think about them often and it can be a bit scary knowing our friends have passed. Lemmy and Motorhead were so supportive of us from the very beginning and we formed such great friendships. When I think about friends that have passed, I think never meeting them and knowing them at all would be the scariest thing to experience. I'm just so grateful for them and all we had," she said.
Girlschool continues planning tour support for WTFortyfive? with little care for critical reception though the idea of having to work on a follow-up record already gives Kim pause.
"Oh, I cannot imagine working on another record at the moment! Before, 'Sure, I can write some songs about drinking and rocking' but now? Well, perhaps we may try to sound a little more grown-up. We don't care too much who will listen to it now because we keep seeing some younger people come to our gigs and tell us how their dads got them into it! I think that's great."
She added, "I have also seen a new generation come to gigs with their babies in prams and earmuffs at shows. New parents bringing their kids out keeps it all going, though I feel sorry for 'em that they have to drag their kids along to a rock show," laughed McAuliffe.
https://girlschool.co.uk/
https://www.facebook.com/GirlschoolOfficial/
http://sl-music.net/en/artists/girlschool
http://girlschool.co.uk/videos/