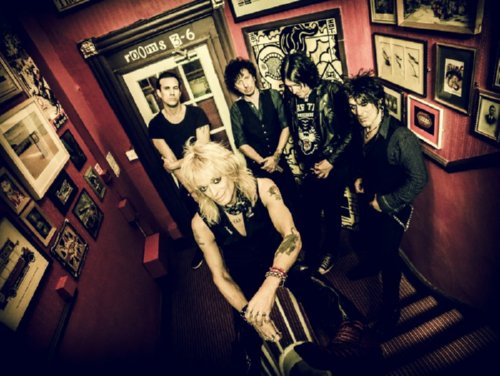 10 February 2016
Michael Monroe remains as charismatic and dedicated as ever. Celebrating his newest record, Blackout States with an upcoming tour, the legendary Hanoi Rocks singer continues crafting memorable hooks that once galvanized the 80's U.S. rock community. As countless Los Angeles imitators sprung up on Sunset Strip, Monroe worked to push his creative boundaries as opposed to treading the path he undeniably influenced. He reflected on the early impact of Hanoi Rocks, beginning with their 1981 debut Bangkok Shocks, Saigon Shakes, Hanoi Rocks.
"Unfortunately, a lot of those bands that were spawned of that era really missed the point. Many went all out with the posing, partying, big hairdos but with no real substance. When I was told I had something to do with starting that scene, I used to say 'don't blame me for that shit.' To Hanoi Rocks, it was mainly about the music and we had very much a punky attitude," stated Monroe.
Hanoi Rocks exploded internationally thanks to unwavering support from their native Finland and their immediate embrace from Japanese fans. Poised to breakthrough America's mainstream, their early U.S. tour suffered a shocking setback in 1984 once their drummer Razzle was tragically killed during an automobile accident with Motley Crue singer Vince Neil. Neil completed a 30 -day sentence for vehicular manslaughter much to the chagrin of others claiming a harsher punishment was in order. Monroe reflected on the tragedy.
" Losing Razzle was tough, apart from losing my best friend I lost my band and my life was shattered. I didn't know what to do and I was very much alone, except I had a great friend; Stiv Bators, whom helped and encouraged me to start a solo career. But how do you cope with a loss like that? What else are you going to do except keep going, somehow. You never totally recover but time does help a bit over the years," shared Monroe.
With Hanoi Rocks stalled, Monroe began his lengthy solo career with 1987's Nights Are So Long. The album did not earn widespread praise but his follow-up, Not Fakin' It garnered mainstream attention thanks to the single Dead, Jail, Or Rock N' Roll and Monroe's hosting of MTV's Headbanger's Ball. Guns N' Roses singer Axl Rose had a cameo in the accompanying video, which again fueled rumors that Geffen was originally going to sign both bands but chose Guns N' Roses instead, despite members claiming to be influenced by Hanoi Rocks. Monroe affirmed this rumor to be "bullshit" because "Both bands did not exist at the same time."
Once again poised for breakthrough success, Monroe clashed with Mercury/Polygram Records over supposed unauthorized promotion videos. He clarified the issue.
"They put together a TV ad for Not Fakin' It without my knowledge, saying stuff like 'Michael Monroe is not fakin' it, he's the real deal!' And 'The brains behind Hanoi Rocks'. It showed at every commercial break during Headbanger's Ball and when I saw it I freaked. The ad was misleading so I called them and told them to take the ad off the air and fix it so it wouldn't misrepresent me or Hanoi Rocks," stated Monroe.
During the time when record labels dominated and were imposing on artists, Monroe confirmed Mercury ultimately dropped the entire promotional campaign for Not Fakin' It, leaving him in limbo.
"They told me that after I sold a million records like Bon Jovi I could start making demands like that. So I thought if it'll mean me being less famous for sticking to my principles in order to maintain my integrity, so be it," said Monroe.
This attitude remains a hallmark for Monroe and a testament to his longevity. Blackout States shows no signs of being his 10th solo record, as each track reveals vitality and a sense of urgency mixed with recognizing how fortunate he is for the unique opportunity to still be doing what he loves.
"Blackout States has its own identity from the other records, I guess we're evolving. This band has a lot of creative energy and talent flowing around so there's a productive future in store for us," said Monroe.
He remains very complimentary of his guitarist, Steve Conte. This is high praise considering Monroe partnered with Hanoi Rocks guitarist Andy McCoy, whom has since earned widespread recognition for his versatility. Monroe's relationship with guitarists has historically been quite interesting, often resulting in setbacks that would leave the most dedicated individual disillusioned. Monroe shared an engaging anecdote regarding his relationship with Billy Idol guitarist Steve Stevens.
"Of all the guitarists I've had onstage to my left, Steve Conte is definitely my favorite. Looking back, I was approached by Steve Stevens after he heard Not Fakin' It. Stevens was very talented, looked the part and was nice enough so I hooked up with him for a future album, it looked pretty promising," said Monroe.
What began as a strong start for Jerusalem Slim ultimately crashed and burned once the label rejected Monroe's push to have Little Steven produce the record. Opting for Michael Wagener, Monroe has since cited this as "A big mistake."
"Encouraged by Wagener, Stevens took the album in a completely opposite direction from what we had originally agreed. What was supposed to be 2 weeks of guitars in LA turned into 3 months of guitar hell. When it came time for mixing Stevens had a falling out with Wagener; I said everything was wrong with the album and we need to start from scratch. Steve agreed to do that and I convinced the label but then Steve disappeared without a word and I was left alone with a huge bag of shit to deal with."
Monroe estimates the incident cost $700,000 and combined with being mostly uncompensated for Not Fakin' It he stated his only option was "To get off the label which took me over a year so this record project really ruined my career in the States."
Today, Monroe remains optimistic about his current band, leaving the past where it belongs and remaining committed to his art. Believing each member of his current band having the creative drive to reach new heights and perhaps fulfill his personal ambition of becoming openers on world tours with artists such as Foo Fighters, Monroe soldiers on.
"I'd like to get the opportunity to get the exposure this band deserves in order to expand our fame. I believe there's a big audience out there wanting this. One of my dreams would be opening for some of the coolest and biggest names on a world tour; Foo Fighters, Slash, Alice Cooper, Aerosmith, Rolling Stones. That would be cool!" exclaimed Monroe.
Hanoi Rocks has since earned a stronger spot in rock n' roll's vast lexicon. Cited as a catalyst for the Glam Rock movement and perhaps bridging that gap with Punk, their productive 2001 reunion created a new fan base, leading newer generations to the sound that played a strong role in shaping 80's U.S. rock. Monroe shared his thoughts on the reunion, confirming his creative spark for Hanoi Rocks never died out despite the tragic circumstances that stalled their early career.
"I was never going to use the name to make a quick buck, it was more like a rebirth and like a long term thing where we would create new music. It was fun to see what me and Andy could accomplish after all these years and I was willing to do it indefinitely but after awhile it started not being fun anymore. One of the things I hoped to do was come to the States and sort of 'finish what we had started back in 1984', but for whatever reason Andy cannot enter the U.S., though he led me to believe otherwise."
The reunion yielded 3 new studio records and farewell shows in the UK, Japan, and finally Helsinki, where Hanoi Rocks began in 1979.
"Those shows were well-over 2 hours long and the final one was released on DVD as Buried Alive. We put Hanoi Rocks to its permanent resting place, honorably and with the band's integrity intact and that's final," said Monroe.
Michael Monroe will tour the U.S. this month in support of Blackout States. For Monroe, his creativity remains fueled by a passion for evolution and the disdain for being idle.
"I'm never complacent. I always just try to get better and improve my work, which keeps me hungry and striving for greatness endlessly," he concluded.
http://www.michaelmonroe.com/site/