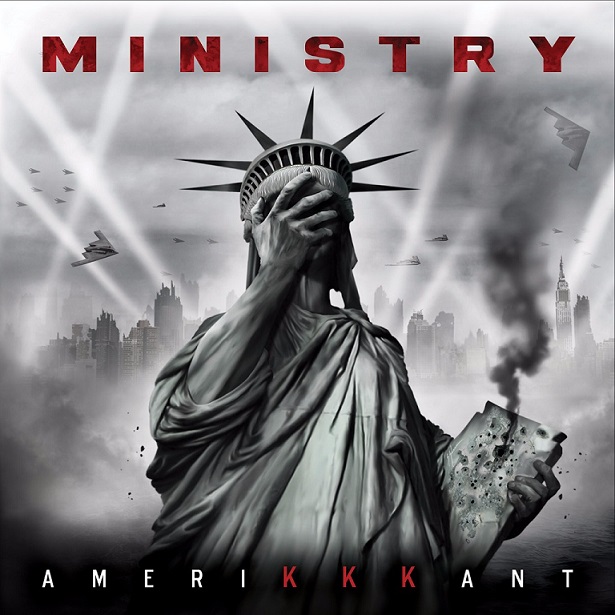 13 December 2017
MINISTRY's apocalyptic anthem "AmeriKKKant" targeted straight for North America; band takes CHELSEA WOLFE along for a 2018 resistance tour.
American industrial demigods Ministry ignite a five-week North American series of shows in mid-March, a feral three-ring psychus balanced by Anima/Animus pairing with Chelsea Wolfe. Tickets start selling this Friday, December 15; for all ticket purchasing info, go to www.ministryband.com/shows. Confirmed tour dates are below.
Flashback: In 1989, as the war in El Salvador and towards Nicaragua was as perfervid as the CIA distribution of crack to U.S. ghettos and stock brokers feverishly attempting to destroy our economy, the notorious synth pop-turned-industrial band Ministry put out a spectacularly breath-squelching full-length called The Mind Is a Terrible Thing to Taste. Frontman Al Jourgensen had been a prolific collaborator with many of the era's most ferocious death-dance rock collectives such as Revolting Cocks, Pailhead, and others, but on this album began calling himself Alien — and let loose a grinding horror show of guitar mayhem and trash compactor rhythms to reflect the "upside down" madness of the State.
Unhappy days are here again, a perfect opportunity for the transmutation of political misery into protest music, and Ministry delivers to us its new album AmeriKKKant, the band's first release for Nuclear Blast Records (worldwide), due out March 9, 2018.
Jourgensen just released the first single and video "Antifa," that gives artistic muscle to the folks trying to make cathartic sense of the grim facts and fake fake news here.
"It's like the Nazis back in '39
Like the Romans on the verge of decline
Like the Russians back in '68
How is this supposed to make American great?"
— "AmeriKKKant"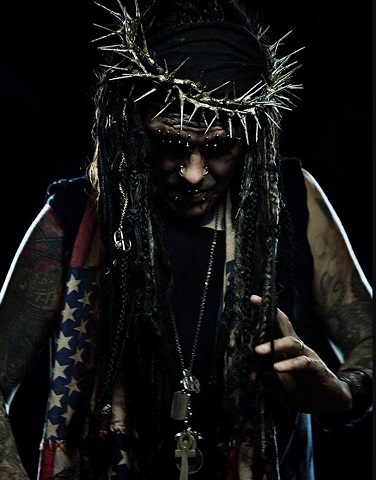 Declaring creative war on the world of the "'Hurricane Cheeto'" as he had once done on Reagan's 'Land of Rape and Honey' Jourgensen produced AmeriKKKant at Caribou Studios in Burbank, CA between January and May 2017. The package features suits apocalyptic artwork from Mister Sam Shearon, which suits the topical voodoo of the nine new anthems just fine, raging about "the waning respect for the U.S. Constitution, the growing acceptance of one's opinions replacing facts, the decline of our leaders' sense of morals, ethics and personal responsibility to the country and to their constituents, and the mad man in the White House."
These maverick alchemists of rock, punk, Goth, and dance music have been rewarded for their long time in the wasteland by six Grammy nominations and over three million records sold. This tour shows them adding further to their legacy of more than 2,000 live performances.
Pre-order your physical or digital copy today via Nuclear Blast or PledgeMusic
AmeriKKKant track listing:
01. I Know Words
02. Twilight Zone
03. Victims Of A Clown
04. TV5/4 Chan
05. We're Tired of It
06. Wargasm
07. Antifa
08. Game Over
09. AmeriKKKa
Tour Dates
MINISTRY, CHELSEA WOLFE
3/22/2018 Anaheim, CA – House of Blues
3/23/2018 Ventura, CA – Ventura Theatre
3/24/2018 Las Vegas, NV – Brooklyn Bowl
3/26/2018 Sacramento, CA – Ace of Spades
3/28/2018 Portland, OR – Roseland Theater
3/29/2018 Vancouver, BC – Vogue Theater
3/31/2018 Edmonton, AB – Union Hall
4/01/2018 Calgary, AB – Palace Theater
4/03/2018 Missoula, MT – Wilma Theatre
4/05/2018 Lincoln, NE – Bourbon Theatre
4/07/2018 Chicago, IL – Riviera Theatre
4/08/2018 Milwaukee, WI – Turner Hall Ballroom
4/10/2018 Cincinnati, OH – Bogart's
4/11/2018 Grand Rapids, MI – 20 Monroe Live
4/12/2018 Indianapolis, IN – Egyptian Room
4/14/2018 Toronto, ON – Opera House
4/15/2018 Montreal, QC – MTelus
4/17/2018 Boston, MA – Royale
4/18/2018 Portland, ME – Aura
4/19/2018 Huntington, NY – Paramount Theater
4/21/2018 Montclair, NJ – Wellmont Theatre
4/22/2018 Buffalo, NY – Town Ballroom
4/23/2018 Baltimore, MD – Rams Head Live
4/25/2018 Atlanta, GA – Center Stage
4/26/2018 Orlando, FL – Hard Rock Live
4/28/2018 Austin, TX – Levitation Festival