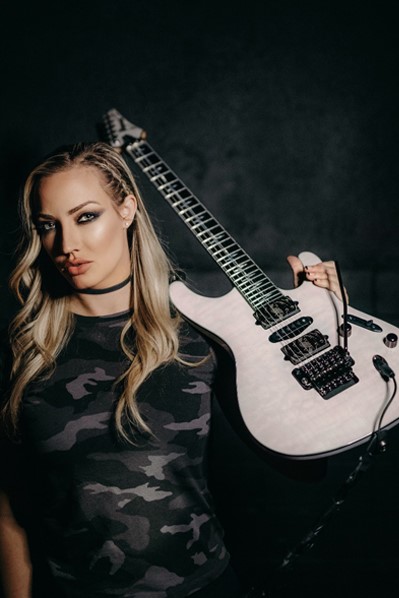 14 May 2023
Guitar phenom Nita Strauss continues elevating her creativity while facilitating collaborative relationships that ultimately propel modern rock and metal forward. Her newest solo effort, The Call Of The Void boasts several guest artists that contribute their creative hallmarks in conjunction with Strauss to create a fluid record highlighting everyone's respective strengths.
"I wanted the follow-up to Controlled Chaos to be exciting, new, and fresh, to take listeners to a new place and take myself somewhere new as an artist, too. We have some amazing collaborations on this album with incredible musicians, as well as the instrumental guitar music that first inspired me to play," said Strauss.
Rising to international prominence in 2014 as Alice Cooper's touring guitarist, Strauss has grown the hard rock, 'shred guitar' genre by incorporating more melody while bringing more aggressive rock sounds to audiences outside rock's safe comfort zones. She thrilled arenas during Cooper's tours but her decision to leave the group in 2022 was the cause of heavy speculation among several media outlets, despite Cooper's public support of her decision as he lauded her creative skills. She quickly announced she would be collaborating with pop artist Demi Lovato, much to the chagrin of die-hard metal fans.
"People didn't know what to expect when I made that announcement. It did show an ugly side of our rock and metal community, a community I love so much but there was a dark side with several reactions. Demi is a dedicated rock fan and she wanted a tour celebrating that, a full-on hard rock show. I felt lucky for the opportunity to bring hard rock to them and expose so many new people to it," stated Strauss.
She added, "Demi was not there to be a pop princess for those shows and I loved the crowd reactions! They were so supportive and screamed so loud during some of my solos, I'm forever appreciative. At a typical hard rock or metal tour, people just expect or demand solos but on that Demi tour, those fans were part of something new to them and I really felt their positive energy!"
Strauss may serve as hard rock and metal's, new ambassador. She gladly participates in several Guitar Center-sponsored clinics, intimately interacting with fans while supporting seasoned guitarists and new players seeking inspiration to continue. Her resolve to participate at several local retail locations during Alice Cooper's entire 2018 tour reinforced her accessibility and unwavering dedication to her craft. Working within a divisive genre, critics oft-dismiss metal and 'shred guitar' as vehicles for egos, ignorantly believing all players simply hide behind high-speed legato and high gain distortion. Strauss adamantly countered these claims.
"Any time you're forced to engage in a debate defending or justifying your passion and tastes it will be a losing battle. I feel anyone that automatically dismisses all shred players or metal players may not be listening to the right tracks. I feel there is a beautiful sense of melody and sure, they're utilizing quicker tempos but you cannot tell me players like Steve Vai and Joe Satriani are not crafting beautiful, soulful music."
Strauss added, "I feel when you write a solo it always has to serve that song, in that moment. Always be mindful of the song's story, is it about love? Heartbreak? Sudden loss? A full-on, major shred moment does not always fit and you have to be respectful of the song."
As a hired gun when touring with major artists, such as Cooper, Strauss stated the roles are never seamless despite the job titles remaining the same. Each artist has distinctive, creative nuances and she maintains preparation, respect, and collaborative relationships are keys to success. Strauss has since announced her return to Alice Cooper's group and plans to fulfill every 2023 date. Coupled with the upcoming release of The Call Of The Void, she maintains a hectic schedule that several seasoned musicians cannot parallel. Asked how she maintains her schedules and deep commitment to physical fitness, Strauss carefully shared her past struggles with alcohol.
"I definitely had a problem but I'm proud to share I have been sober for seven years. I spend so much time on the road and that can be hard for anyone. I was only home for 18 days last year! I have come to learn that being on the road actually keeps me focused on routines, which are very important to me. There can be temptation but I work to remind myself what serves me best and what doesn't. I am a much better performer without alcohol, a better friend, and a better partner. Physical fitness is important because I feel better doing those routines and it also helped me recover from my recent knee surgery."
Strauss has also changed perceptions of a woman's role within a genre known for negative and regressive themes toward women but chooses to simply amplify the message through her consistent, highly proficient playing. Strauss quickly stated that precedents have already been set for women rockers within metal but 2019 marked a watershed moment for Strauss and the guitar industry. Having earned the distinction of being Ibanez's only endorsed woman player on their roster, the company approached her for a collaborative project that ultimately resulted in her signature mode, the JIVA.
"That was a dream come true! I have always respected the company and several of my favorite players use Ibanez. There was a lot that went into that project because you have to balance your personal specs with production model ethos because it will be widely sold and the worst thing for me or anyone at the company to hear is people being unhappy with the model. I went with the tried and true S body and looked at different tone woods, eventually going with African mahogany because I feel it does not color too dark. My signature DiMarzio pickups are very hot and it took nine different versions for us to get right, my guitar tech hates me," laughed Strauss.
For Strauss, working with Ibanez enabled her to create a new opportunity to broaden the hard rock guitar's accessibility, thanks to different JIVA price points. Her return to Alice Cooper continues providing excitement for her fans while also creating a new audience to discover Cooper's extensive catalog. Additionally, her tenure as the official in-house guitarist for the NFL's Los Angeles Rams since 2020 welcomes a whole new audience for hard rock and metal, shattering the divisive paradigm that sports and rock must always be separated.
"Being from LA I'm obviously a big fan and I absolutely hate missing home games when I'm on the road! I actually feel it's a perfect fit because LA has such a rich hard rock history but the city is also very diverse so the team embraces that and includes different music genres during events. My first time playing with the Rams was for a 2018 Salute to Service game and the whole organization has been so good to me. I will never forget how they called me when I was touring asking for my ring size and then surprising me with a Super Bowl ring for their 2022 victory! What an honor," said Strauss.
On the cusp of releasing The Call of The Void, Strauss remains grounded despite international media outlets hailing her as one of the most important female guitarists of all time. She agreed instruments are the great equalizer and was more grateful for her efforts being recognized for elevating hard rock and metal, not simply relegating her as a woman guitarist achieving lofty aspirations but simply as a dedicated musician with an unwavering passion.
The Call Of The Void features several guests, most notably Lzzy Hale, ex-Megadeth virtuoso Marty Friedman, Alissa White-Gluz, Anders Friden, David Draiman, and Alice Cooper. With such diversity, Strauss successfully works to create a sense of fluidity between aggression and melody.
"Some pieces of music come into the world gracefully and easily. This album is not one of them. The Call Of The Void was born kicking and screaming, a labor of love for sure, but also of blood, sweat, and plenty of tears. I couldn't be more proud of the end result. Making this album helped me learn and grow so much as a musician and songwriter and I'm excited to finally unleash it on the world," concluded Strauss.
The Call Of The Void will be released on July 7 via Sumerian Records
https://sumerianrecords.com/collections/nita-strauss
https://www.instagram.com/hurricanenita/
https://www.ibanez.com/na/artists/detail/568.html