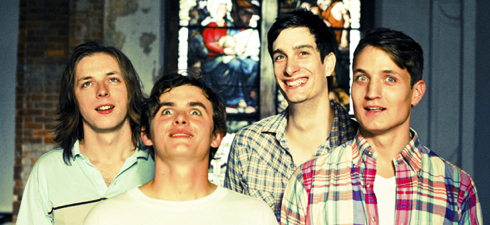 10 October 2011
Throughout the history of modern music, the extended play format has oft proven to be the area where bands and artists stretch themselves out, expand upon ideas, and generally experiment. Not always meant for the wider audience, this format is something of a gift for long-term fans, something to whet their appetite for future recordings, or a "thank you" for patience in waiting for a follow-up.
Such is the case with Pomegranates. The Ohio-based band has been in operation for the past few years, with last year's full-length, One of Us, an album that found the band mixing straightforward rock and roll with a slightly moody, atmospheric bent. Chestnut Attic had originally appeared as a freebie for fans on the band's website, but its well-reception warranted it to be reissued as one side of a two-part, 12-inch EP, the other side being entitled In Your Face, Thieves. What is instantly notable is the name appearing alongside Pomegranates, that of Caleb Groh. Who is this mystery man?
"Caleb is a friend of ours, and we just decided to use some free time writing some songs with him," says drummer Jacob Merritt. His influence, Merritt states, isn't necessarily obvious, but in the spirit of the experimental nature of the two EP's, his voice—best heard on the heavenly "Softness," adds a gossamer-like quality to the band's melodies. Additionally, the songs here fall into two distinctive categories: gentle, atmospheric yet somewhat moody post-rock numbers, and rough-and-tumble alt.country-style rave-ups—a far cry from One of Us's Radiohead/Death Cab For Cutie styled atmospheric rock.
Considering this, perhaps working with Grob
did
have an influence, for the bands have worked together in more than one area. "Pomegranates played on Caleb's solo album, which is coming out soon. That record, it's more of an alt country affair, in the vein of
Wilco
or
Ryan Adams
."
Whether this experiment was successful, Merritt is optimistic. "I think it was successful before it was even released. We had a great time with our friend recording some tunes, which was the goal."
Mission accomplished, then!