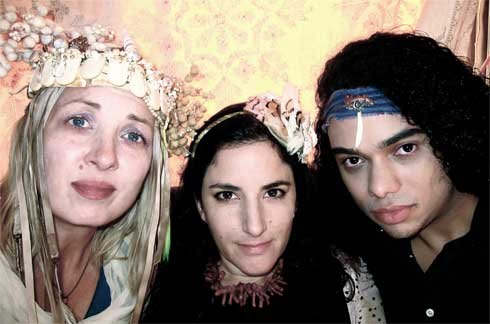 27 June 2014
Melora Creager takes the stage adorned with her trademark Victorian garb and calmly prepares as if giving an intimate recital. Creager's sensual vocals and deft bow work serve as the foundation for Rasputina, an aptly titled "cello rock" trio ultimately proving strings do not have to be relegated to classical music.
"When Rasputina started we didn't have anyone to emulate. My naiveté turned out to be a real blessing because it seemed obvious to use cello instead of guitar. I wasn't going to get a guitarist or learn just so I could have a band," laughed Creager.
Creager studied music at the early age of 5 and four years later began her lifelong passion for cello. She formed Rasputina in 1991 with the sole purpose of recruiting other passionate cellists seeking to perform outside the accepted paradigms.
"I never thought cello was supposed to be used for strictly one thing. There are no rules. We are our own bosses," she affirmed.
Rasputina has successfully integrated unique accompaniments into a genre long dominated by guitars and drums. Their innovative cover of Barracuda and their touching rendition of Wish You Were Here prove strings transcend the barriers created out of fear from those wishing to promote exclusion.
" We do what feels real in our lives and a good song is a good song. I feel our audience is mostly made up of possessive fans that really give us a feeling of intimacy with them at shows," said Creager.
Rasputina tirelessly worked to create their own niche, or what Creager affectionately called "Our brand of diverse and dedicated misfits."
She added, "At the beginning we would play all these shitty clubs. We had the challenge of not being able to move because of our instruments. Our Victorian costumes came from how I was raised; I grew up with a lot of Victorian tastes. We really needed to just stand out from all the bands. It wasn't easy."
Her efforts earned Rasputina major label attention during Grunge's heyday and Columbia inked the group in 1996.
"We were able to tour with Marilyn Manson in 1997 but our label support steadily got smaller. The thing with major labels is that we felt discouraged from being able to meet all our fans. The true rewards are to be able to interact with your fans, to reach out and touch them. That's the best form of payment," laughed Creager.
Perhaps Creager's most notable achievement was when she collaborated with Nirvana during their 1994 In Utero tour.
"The photographer Michael Levine was a good mutual friend. I was told Nirvana wanted a new cellist. I was pretty shy at the time and Kurt Cobain had called me up himself to give me the job. I think it was the first big, professional thing for me and I'm very grateful."
Asked for her reactions regarding Cobain's passing in 1994, Creager paused before sighing.
"That really was tragic. Fame is just so unnatural. Fame kills and it was valuable to learn that early on."
To celebrate friends that left too soon, Rasputina launched Dedication Compilation. The online collective pays homage to loved ones with inspiring compositions seeking to preserve their memories while sharing songs and anecdotes with other users.
"Losing someone is hard enough but as time goes on do we still stop and think about them? This project keeps them alive. I call it a totally free exercise in non-commerce," said Creager.
Her desire for preservation undeniably shines within her lyrics. Weaving fact with fiction, Rasputina craft unique historical narratives highlighting Creager's expansive study.
"I have always been interested in history. Having lived in Columbia County for over 8 years I really appreciated the beauty; the landscape, architecture. There's so much interesting history there. The music scene is fantastic in Hudson, it seems to be the retirement home for 90's musicians," she laughed.
Asked how she has personally and creatively evolved, Creager credits motherhood as making a major impact.
"It really has completed me and made me more patient, of course. Creatively, I think my voice has grown because I wasn't that confident at first," she reflected.
Building on her extensive network of musician friends, Creager recently launched Melora Creager and The Calico Indians. Self-described as a super group mixing eclectic sounds of rockabilly, gypsy-punk and other melodies, her new outfit will certainly highlight her versatility.