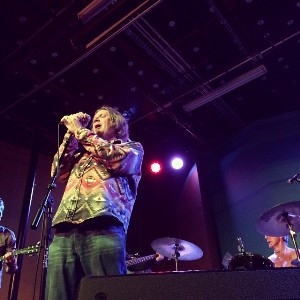 18 June 2014
In certain circles, mention of Jad Fair in conversation inevitably turns to his extensive discography. It's a catalog that includes collaborations with such legendary indie acts as Daniel Johnston, Yo La Tengo and Teenage Fanclub. Collaborations aren't the only trick in Fair's bag, he also continues to record/tour with his pioneering group, Half Japanese – a now mythical band created in Maryland by Jad and his brother David in 1975.
2014 shows no signs of Fair slowing down his collaborations or Half Japanese. In fact, Record Store Day (April 19, 2014) marked one of many Half Japanese releases from Fire Records. The RSD release entitled Half Japanese Volume 1 1981-1985 includes an overwhelmingly influential set of early HJ LPs – Loud, Our Solar System, and Sing No Evil. "No collection of music has ever been more important to me to see its past poor care properly remedied." says John Foster of Fire Records. Foster adds, "Both Jad and Half Japanese are pretty prolific, and still vital listening, so there will definitely be new material."
This year also marks Half Japanese's first long player in 13 years. The LP will be the first HJ release for Indianapolis' Joyful Noise label. Fair says, "We recorded the album in Baltimore at Tempo House with Craig Bowen and Jared Paolini. It was then mixed and mastered by John Dieterich of Deerhoof." Karl Hofstetter of Joyful Noise reports, "I don't think they could have made a better album. John did a lot of production work, and the end product sounds more energetic than the band has ever sounded." A limited edition 7" has been released in advance of the LP, containing alternate takes of two album cuts.
Fair also happens to be Joyful Noise's first ever Artist in Residence. For the residency, Fair will be releasing four full-length collaborative LP's over the course of the year with R. Stevie Moore, Danielson, Norman Blake, and Strobe Talbot. Hofstetter explains, "All the artists were chosen by Jad, however we helped whittle the list down to just four collaborations – his original list was about eleven artists long!" Fair quips, "Joyful Noise has a very high quality standard. They want to have the best of the best, so it's only natural that they would ask me to do it." All of the records will be housed in hand-numbered wooden boxed sets featuring layouts by David Woodruff based on Fair's original art.
Along with all the aforementioned material, Fair also has plans on releasing a full length LP with his brother David before the end of 2014 on Hollerlujah Records, a new label run by Travis McElroy of Thick Syrup Records and Nathan Howdeshell of The Gossip. Fair claims, "In October we had a recording session in Austin, TX. We have enough songs for two albums."
When asked how he stays so generative after so many years in independent music, Fair simply states, "It's normal for me. It's not anything I need to work at. It's what I am."
Joyful Noise
Fire Records
photo courtesy of Hardly Sound