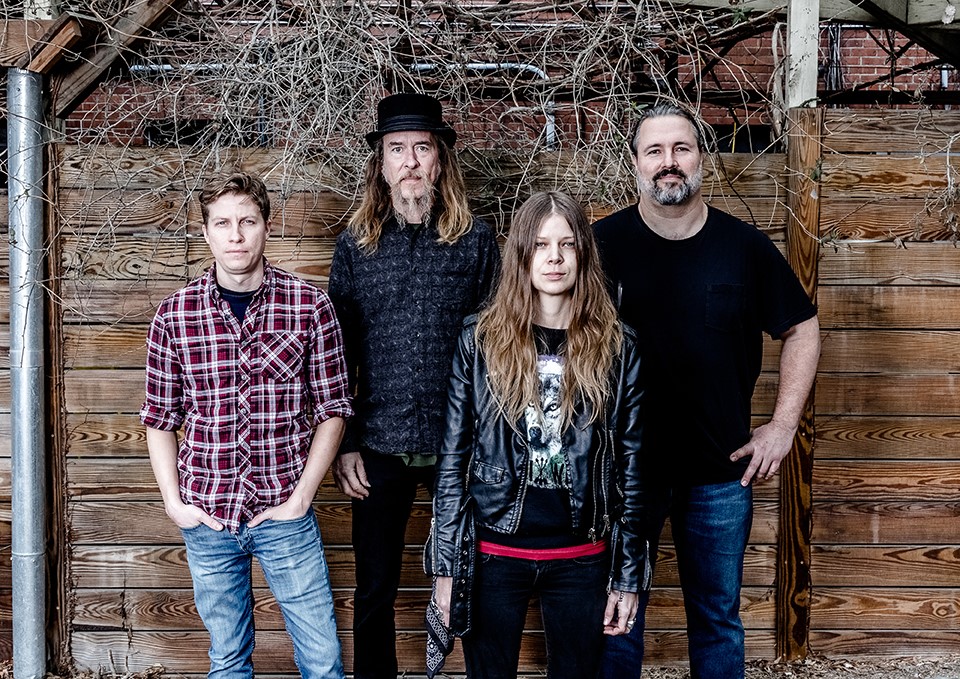 1 August 2018
The lead singer & guitarist of Sarah Shook & The Disarmers is personable and trusting, in marked contrast from her gritty and uncompromising songwriting persona. Shook continued sharing anecdotes as if among longtime friends joining her at her favorite hangout, even managing some laughter despite revealing her sheltered and restrictive childhood memories.
"I was raised in a very conservative Christian household and was home schooled until I was 18. I was incredibly sheltered and shy. The only people I ever spoke to was my family so I really had no other social interactions or a lot of emotional connections," confessed Shook.
The irony for Shook is her recently completed European tour and the release of Years has heightened her visibility, earning the attention of critics seeking to peel away her tough exterior. As a Country songwriter with an outspoken disdain for what she terms 'country pop shit', Shook's path to songwriting is perhaps the most natural and sincere backstory a player may share.
"In 2007 I was dating this man and he started playing this music that I fell in love with. He dropped the needle and my heart dropped; it was Johnny Cash. Due to my upbringing the only things we were allowed to hear was praise music and classical. We didn't even own a record player and I had no idea what other music was out there," she reflected.
Shook embraced all she heard, finally learning her life had a soundtrack that complimented her highs, lows, and heartbreaks. She loved the raw emotion of the vocals, the sincerity of the lyrics and the simple, yet infectious chord structures that inspired her to ultimately choose music as her salvation and livelihood.
"I had no idea that I was writing in any style because we never listened to anything growing up. I was always writing straight from the heart, what came natural. When the guy I began dating played me those records and he read my writings he said I was writing Country music. I had no idea!" she exclaimed.
A self-taught musician by her late teenage years, Shook took to performing small acoustic events, opting to hide behind her music stand to alleviate her stage fright. Asked if her family cast her aside for straying from her traditional upbringing, Shook countered with a brief sigh before carefully answering.
"I know my family did the best they thought they could do. I don't have any resentment. It's funny you ask about that because recently, my mother was reading an article about me and cried out 'I know you're drinking but please, I have heard a lot about musicians and heroin so promise me you will stay far away from that!' As for being supportive, they couldn't believe I wanted to perform onstage because I was so shy and the only people I ever spoke to was my immediate family. I know they did not like the name of my first group; Sarah Shook & The Devil," she laughed.
Sarah Shook & The Disarmers celebrate traditional Country themes and song structures but Shook's vocal delivery deviates from the stars of yesteryear as she chooses to evoke Punk's energy but with a more measured sneer. Years has all the makings of a throwback Country record but The Disarmers present their songwriting with a contemporary edge, an edge that ultimately makes them outsiders to the genre that has seemingly found a permanent, mainstream foothold.
"Our music is for anyone it resonates with even though I have been critical of the newer Country sounds you hear. When you look at both genres I think they share a long relationship. In Country, you had poor people being pissed off and playing that music was a way for them to escape and entertain themselves and with Punk, I feel you had people that were pissed off but it was directed at the governments or their respective communities. In the grander scheme I think Punk was working to right some of the wrongs of politics and social injustice but the underlying theme is the same; People are dissatisfied," stated Shook.
Sarah Shook agreed her journey has been eye opening, considering her most lengthy travel prior to her music career was a mission trip to Mexico when she was 13. Despite the challenges, Shook sounds grounded and with a more logical view that is perhaps wiser past her once limited experience.
"Well, I no longer have to hide behind my music stand onstage. I really felt playing out was really the best thing for me, to the point where I quit my day job at Wegman's, which by the way is a real nice company. One thing that is still hard to get used to is realizing a bunch of people you don't really know have shown up just to see you, watch you play. I still believe the idea of fame is bullshit because it's all centered around status and people thinking they might be better than others," she scoffed.
Sarah Shook and The Disarmers appear collectively well prepared for their increasing visibility. After being heavily courted by Bloodshot Records Shook still recalls carefully weighing all options as opposed to hurriedly signing the proverbial dotted line. She reflected on the early acclaim the group earned for their debut, Sidelong.
"Bloodshot hit us up in 2015, after the record came out and then again in 2016. We didn't even have a booking agent and were doing it our way, the only way we knew. Then, the record just blew the fuck up. I agreed to meet with them after we played the Americana Fest and the funny thing was, I sent them a demo over 10 years ago that they forgot about, maybe that was for the best looking back," she laughed.
After striking a deal with Bloodshot, Sidelong was re-released, allowing new fans to hear the group's debut. As Shook continues stating how much has changed, she remains sincere with her introspection, creative and emotional.
"Sidelong was really wild and reckless. The group hadn't been playing together that long and I was drinking a lot during that time. I do love that record but I began feeling a lot of pressure thinking how I would follow it up. For Years, I made a conscious choice to be sober during the recording and worked real hard to be emotionally present. I listened to Sidelong before this record and I was very critical of it and decided I was going to really knock this one out of the park!"
Shook realizes the stakes have risen, each band mate more reliant on the other as the group embarks on lengthy tours with the ultimate goal of remaining a full-time working group. As Years continues earning more acclaim, Shook stated the group has already began writing for their next record, but this go round she feels more confident.
"I know there's a lot riding on things, it's not just me playing. I realized awhile back that this is what I want to do, but we went into it very carefully. I don't feel as much pressure to follow things up, we've already been writing for the next record and I feel things are really cohesive. I don't know as much music theory as my band mates but my brother-in-law went to school for music composition and told me not to focus solely on theory because with all that knowledge, some of the magic gets lost," laughed Shook.
https://www.disarmers.com/
https://www.bloodshotrecords.com/artist/sarah-shook-disarmers