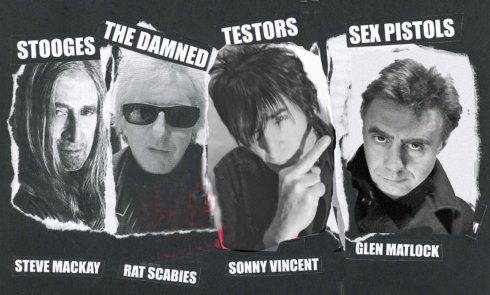 2 December 2014
Sonny Vincent, the oft-overlooked NYC punk guitarist has returned with Sonny Vincent & Spite, his newest project featuring members from The Stooges, The Damned, and Sex Pistols. Spiteful offers Vincent's trademark guitar growl complimented by themes of solitude, grit, and the ultimate desire to spit in the wind and soldier on. Vincent's 28th record treads a new path thanks to Steve Mackay's discordant sax, allowing Vincent to further blur the lines between structure and chaos.
"His playing is all over the place and I asked him to do that. The overall loose vibe was no problem because we all share the same musical history so it naturally locked in," said Vincent.
Spiteful stands as an authentic rock n' roll document thanks in part to Vincent's uncompromising approach toward recording.
"We recorded on all vintage, analog equipment. Man, I tell you we would wait and wait for the tape to rewind during playbacks but there's just something special about recording that way. When it was time for mixing and mastering so many other places tried to modernize the sound and just ended up taking so much away."
Vincent recalled "In the end, I wanted a record that Rat Scabies (Damned and Spite drummer) would like and I knew that would be a challenge."
Sonny Vincent has crossed paths with so many players over the decades that it's hard to imagine there is someone he hasn't collaborated with. From the enigmatic Replacements guitarist Bob Stinson to MC5 trailblazer Wayne Kramer, Vincent continues preserving all the danger that makes rock n' roll's fire burn.
"Of all the people I worked with I really do miss Bobby. He was a crazy motherfucker but he was golden. He was really sweet and a lot of people don't seem to remember that."
Vincent 's contribution to New York's Punk legacy continues being overlooked by historians. Major names such as New York Dolls, Ramones, Television, and Richard Hell have finally earned accolades but Vincent's Testors were among the early artists that formed Max's Kansas City's and CBGB'S respective identities. Asked if he was bothered about being overlooked he projected a more realistic view of a scene dominated by half-truths and myths.
"About being overlooked I go thru phases, I guess. It seems a lot of the myths surrounding bands weren't created by the bands themselves but by someone with different intentions. The New York scene was isolated and insular. Before Max's and CBGB'S I would play anywhere I could. Eventually, the scene became wild and chaotic but thinking back, there were like 10 or 12 people at a Testors show because the times we played only allowed for a certain group of people to make it; taxi drivers, prostitutes and the like," laughed Vincent.
He stated many bands have fallen into obscurity due to not earning prime time spots such as weekends at Max's. Vincent credits the early New York Dolls gigs at Mercer Arts Center as the initial spark the scene needed, ultimately uniting musicians and bringing local Punk into the spotlight.
"It was as if a small crack opened in the cosmos, a spark so to speak. Something shifted, something visceral, real, and exciting. As an artist, it's easy to create in a vacuum and kind of become a voice out of isolation. Then we realized people heard it and were feeling the same way but at the same time other people in society were reacting extremely negative and against it all. That's when it got interesting and wild," stated Vincent.
He added, "With all that said I was still shocked when I heard they had Punk bands in France and Germany etc. I was really taken aback! When happened a bit later in England is still hard for me to fathom; was shocked to see the music and attitude spread globally."
As more artists called New York's lower east side home, its arguable Vincent missed the opportunity to broaden his reach when he hit the road in '80.
"I moved to Minnesota in an effort to go back into a 'cave' and create. Maybe I could've stayed in NYC a bit more but by then the scene had gotten soft and there were horrible junkie dramas. Soon the hardcore bands were playing CB'S and that was cool. Aside from the 'No Wave' stuff decadence was setting in. A lot of rich, entitled fake artist types started moving in, a precursor to the 'hipster', recalled Vincent.
Today, Vincent calls France home but his relentless approach to his craft and loyalty to rock remains unquestioned.
"On tour you still need people who have been in the game for awhile. Many people get burnt out and that's unfortunate. After 20 years of playing and drinking stale beer it's always cool to meet someone congenial and still excited about it all. For me, each time you tour is unique. One thing I say to people is that we will be at the height of madness but we'll all be mates afterward," he laughed.
Sonny Vincent's prolific career may not garner the attention of critics and scribes but his 28 documents preserving rock n' roll's original spirit have endured. He shared an early anecdote of how he was first drawn to music.
"Hearing early rock n' roll made me wanna bash stuff and make a racket! When I was 4 years old they discovered me in the kitchen with all the pots and pans upside down on the floor. I was bashing on them with a spoon along to the music coming out of the radio. When I was 11 I got a guitar, picked it up and wrote a song on it, on one string! I'm still cranking on that string and bashing stuff."
He concluded, "Thankfully, people will always be attracted to soul and what they discern as real fucking rock n' roll. There was a solid base of integrity, confrontation, exploration and fun that has endured and brought back a lot of the original, rebellious nature of rock n' roll."