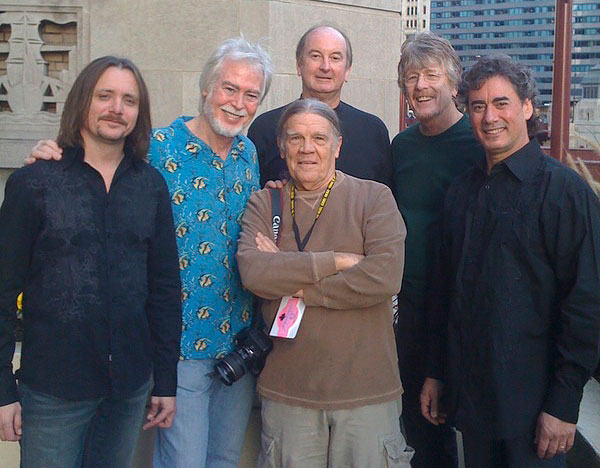 21 November 2014
Today's Lovin' Spoonful: Phil Smith, Joe Butler, Steve Boone, Jerry Yester, Mike Arturi and photographer Henry Diltz
For many, the Lovin' Spoonful remain one of the best and most inventive bands of the 1960s. Yet while many know their numerous hit songs, the story of the band's brief yet colorful career has been largely undocumented. Band bassist and founding member Steve Boone had been looking to fill that void for some time.
"Even in the 1970s, I thought that there was a good story about the Lovin' Spoonful," says Boone. "Because nobody had told the story, and there were a lot of stories and innuendo out there that wasn't there. But I felt like that it should also include my time with Blue Seas, my recording studio near Baltimore. In 2009, Tony Moss interviewed me for Baltimore Magazine about Blue Seas Studios. And that came out so well, because Tony really cared about the story."
Working from different cities, Boone and Moss took turns working on the writing for Hotter Than A Match Head, which was released this summer through ECW Press. "It took us three full years. I'd write a chapter, and then we've go through what I'd written. It was a great process, but I took a lot longer than I thought it would."
When asked what he learned about himself through writing the book, Boone says, "I have been my own worst critic throughout my whole life. And what I found was that I wasn't giving myself enough credit. In some situations, I think I set myself back by being too critical of myself, and that was a good release for me.
"One of the things that the band labored under was that it was 'John Sebastian and three sidemen comprised the Lovin' Spoonful'. I'm not diminishing John one iota, but the songs that I contributed to ("Summer In The City", "Butchie's Tune", "Forever") were far more successful than just being album cuts. I've had people come up and say, 'Wow Steve, I didn't even know that you wrote.' Some of that was the fault of our management, and the record label."
What emerges through Hotter Than A Match Head is the relationships between all four members of the group. "Zally (Vanovsky, guitar) was the onstage firecracker in the band. John (Sebastian, guitar, vocals and primary songwriter) was very introspective, thinking about his music. He was good, he just wasn't outgoing like Zal. Zally was all over the stage. If he hadn't been restricted, he would've been playing on 13, not even 11. Joe (Butler, drummer) was very much the performer's performer. He had been doing this since he was six. He sang a few leads, but not of many as he should've had. I had huge stage fright. When Zal left, we took on a different dimension. Jerry (Yester, guitar and keyboards) brought to it a bigger dimension for vocals, and more complex arrangements, and made it seem like John, Joe and Jerry were the lead singers. It wasn't just exclusively John."
The Spoonful formed in New York in 1964, just as the British Invasion was sweeping the United States. "All of the record labels turned us down all said, 'This music is great, it's fabulous. We just wish they had an English accent.' That sounds odd now, but record companies do the same thing now. They run scared, they don't take chances.
"When we started out, we were looking for electrify jug band music. We wanted to bring bass and drums, and guitars and amplifiers around that good time music that we were centering our music around. So John's songs at the time were being written for a four-piece group. As John went on, he wrote more songs that were in a singer-songwriter mode, and the rest of the band was not writing enough to stop that direction. There's no finger of blame here, but the Lovin' Spoonful as I knew it existed for one year in its first incarnation."
During that year, the band signed with Elektra Records, only to sign with Kama Sutra Records a short time later. "Kama Sutra had connections with radio stations, and we knew that we had to get our singles on the radio." The band also dove headlong into a busy touring schedule. "We were working on the road all the time. We had to record the entire Daydream album in three days. That's just the way it was."
In the book, Boone recalls the band's first trip to England as one of the band's high points. "Daydream had gone to number one in England, but that was the extent of our airplay at that point," recalls Boone. "The first two gigs went okay, but then we played the Marquee in London. Eric Clapton was playing a gig that night with John Mayall, and he told John, 'You'll have to find someone to replace me. I'm going to London to see the Spoonful.' Eric was a huge Zally fan. At the end of our set, we played this song called "Fishin' Blues". On the last verse, our amps blew out, and we just kept playing and singing. And the crowd went nuts. We then got hired to play the 21st birthday party for Tara Browne, at the family mansion. It was a weekend party like you haven't seen. Everybody that arrived was handed a three-ounce block of hashish. Keith Richards, Mick Jagger was there. George Harrison, John Lennon. Mick Fleetwood and Peter Green played before us. Tara couldn't have been a nicer guy. It was chock full of European bluebloods. The word of mouth really got around about us. So when we stepped off the plane from England, we were riding pretty high. And we had "Summer In The City" coming out, which we all felt was going to be a big hit. And a month later, the bust happened."
That bust saw Yanovsky and Boone arrested for marijuana possession is San Francisco. Because Vanovsky was from Canada, the bust eventually led to his return to that country, and his ouster from the band. "When the bust happened, the air started leaking out. In my own opinion, it was just a devastating blow. When you're not feeling good about yourself, a number one record doesn't matter. We had a meteoric rise to success, and almost as quickly a fall," recalls Boone.
The hits continued for Boone and the band, but by 1968, "The album was becoming the thing. And Kama Sutra didn't know how to promote an album. We were kind of handicapped by our success. But we wouldn't have had the success we had without being on a singles label. But when it became time to make Hums Of The Lovin Spoonful more of a conceptual type album, the label just wan't there. Everything Playing was the first album that had recorded by a rock band on a 16-track machine. The producer quit, and the engineer gave up. If Jerry Yester hadnt gotten involved with the production, I'm not sure that the album would've been finished. I wish we could go back and remix the album. The Lovin Spoonful broke a lot of ground, and Everything Playing should have been our album statement. It had the songs."
The book also documents Boone's life after the breakup of the band. Increasingly frustrated by the band and those around them, Boone began looking for a way out. "I'd read these National Geographic articles about living on a sailboat in the Caribbean, and I was intrigued by that. I tried to record an album after we suspended touring, and it was cut off without explanation. I felt like I was punished for the drug bust. Once I'd finished my obligations, I picked out a boat, and made plans to go sailing."
Boone proceeded to sail in the Caribbean, and elsewhere for the next three years. "When you're on a sailboat, there's no time outs. There's no port of call. You've got to be prepared for whatever Mother Nature throws at you. I didn't have a fear of bad things happening, and it built up my resiliency."
In 1973, Boone stopped into a recording studio in Baltimore to visit a friend. The owner of the studio asked Boone if he would like to get involved, and Boone called the Spoonful's old manager if he knew of any possible clients. "My manager asked, "Have you heard of Little Feat?" I said, "No, I've been in the Caribbean for three and a half years." I decided to get involved with the studio, and made the deal happen to get the band to record in the studio.
After Little Feat recorded Feats Don't Fail Me Now at the studio, Boone got more involved with its day-to-day operations, renaming it Blue Seas Studios in the process. In early 1976, Boone was forced to move the studio. "We didn't know where we were going to move. We just knew that we had to be out of that building," remembers Boone. "I went to Baltimore's inner harbor, which was still pretty derelict at the time. In the middle of all of this, there was a beautiful houseboat with a For Rent sign on it".
Boone moved the entire studio into the houseboat. Over the next two years, numerous national and local acts recorded on the floating studio. "It actually did pretty well", remembers Boone, "until December, 1977, when it sank. It was actually Christmas Day, and I was visiting my family out on Long Island, and I got a phone call. They had salvaged a good deal of the gear, but we lost the tape library, and that was devastating. That was the end of Blue Seas Studios."
Having reformed the Lovin' Spoonful with Butler and Yester since 1991, Boone and his bandmates have kept up a healthy touring schedule, though nowhere as hectic as it used to be. "It's a lot more fun now. The only fun that's not there is the excitement of teenage girls screaming for you. You can't replace that as a thrill, as a guy," says Boone about the band, who were inducted into the Rock & Roll Hall Of Fame in 2000. "But nowadays, the technical end of the show, everything about the gig now is first class. We're not doing 30,000 seat places. So we're not making the big bucks, but the shows are a whole lot of fun. I think it compares very favorably to the original Spoonful show. When we started in this business, you considered the age of 30 to be the end of your career. Nowadays, you're just getting started at 30."
As the Spoonful prepares for their 50th anniversary, Boone has a lot to look forward to in the coming year. "I don't have any desire to think of myself as somebody with nothing to do. I'm just not that kind of personality. I like to work. I do to things. Whatever I can squeeze out of more to come of a life in music, I plan on doing it."