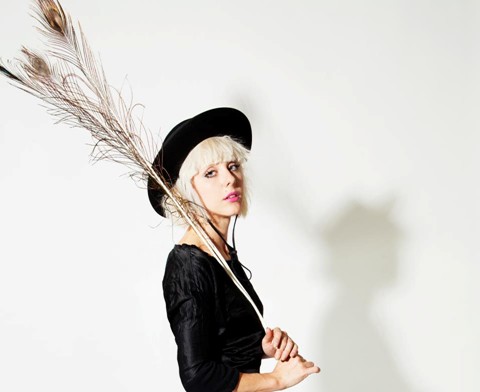 21 May 2012
Sophia Knapp is a time machine. When listening to her music from either from her band, Cliffie Swan, or her solo work, one is instantly transported back in time, into a world that looks something like the years between 1978 and 1982. Simpler times, where home taping was killing music, where kids getting ready to leave for Sunday school would turn the radio on to Rick Dees or Casey Kasem and hit 'record' on said tape players, where Solid Gold and Soul Train were the real music television, and where 11:30 AM on Saturday meant it was time for American Bandstand. For this writer, Into the Waves makes me think of my sister and the neighbor girl hanging out during summer break, listening to the stereo and singing along, joyous in innocent fun, living in innocent times.
"I hope people want to sing along to my record, because that is the biggest compliment!" declares Knapp. "I included the lyrics in the printed version for that purpose."
Knapp's music may have a classic sound to it, but with enough production value to it to keep it from sounding like a mere pastiche of the sounds of yesteryear. Comparisons may be made to Pat Benatar or Stevie Nicks and even the darker moments of Abba. Yet in listening to her various records and projects, it becomes quite obvious that her style is no mere imitation—this is, of course, who Sophia Knapp is, and this is how she sings, and that it doesn't vary in spite of the project tells all.
As her music reminds me so much of my childhood, what role did music play in hers, I ask.
"As a young child, I was motivated by girl group sounds of the 1950's, Motown, oldies radio, especially Diana Ross and The Supremes, says Knapp. "I remember singing along with 'Lollipop' and 'Get A Job' while we were carpooling to school in the morning. 'Stop! In The Name of Love.' Those are nice memories. I still love that music. It's sugar coated but has an edge to it, a desperation that has kept it fresh for so long."
"My first favorite cassette tape was Meet The Raisins by The California Raisins, a claymation cartoon band, which turned out to be Marvin Gaye, The Temptations, and other Motown artists. I was four or five years old, and I wore that tape out! I had an outpost in a tree near our house, and I would sit and listen for hours to 'Heard It Through The Grapevine', 'Cool Jerk', 'Ain't Too Proud To Beg'. I had a Fisher Price boombox I tied on a rope so I could and raise and lower it from my branch.
"I remember trying to organize a band to perform 'Leader of the Pack' in the schoolyard. I had all the lyrics written down in a notebook, dance moves choreographed, and outfit ideas, but couldn't find other girls to sing with me because no one wanted to be bossed around," laughs Knapp.
How, then, does she consider her music? That it plays so much on memory, nostalgia, and the idealistic sounds of two to three decades past, surely tapping into this is part of her goal?
"Once I make a recording, it's immediately out of my locus of control, so I don't think too far ahead about where it's going to go, who will listen to it, or things of that matter," declares Knapp. "That's what I like about making records—it's like letting a dog off a leash. You know it will come back to you, it's your dog, but it may have all sorts of adventures before it does so. For instance, it's very exciting and surprising that people in Sweden are listening to the album. I was born and raised in the U.S., but my heritage is Swedish, so it's neat that the album is finding a home with listeners there. Are there some ancestral roots that come through in the songs? Some psychic lattice that draws us together? I don't know, but it's fun to think about these things."
Considering the relatively short gap between Cliffie Swan's latest release and her solo album, what, then can one expect in the coming months?
"I have lots of shows coming up," she says. "We're hitting up the west coast in June, and the rest of the U.S. in the fall. I'm also going to Brazil in July, which I'm pinching myself over, and Sweden in August. We're playing a festival in Stockholm with Nick Lowe, which is a welcome occurrence for me, because I had his record Jesus of Cool on constant repeat last year. He is so good!!! There are other things on the horizon, but I'll keep them under my hat for now because I'm a Pisces and I like having secrets."