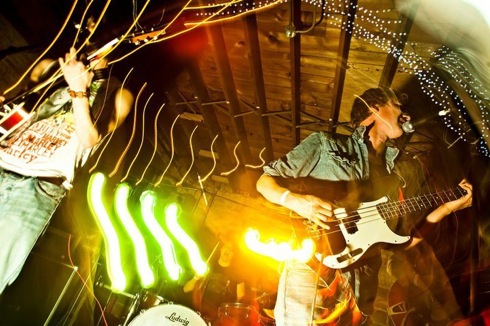 25 July 2011
Let's play a little game. Psychedelic-minded lo-fi garage-punk, a bluesy wobbler of a vocalist leading a band that references the 20th Century's most tragic suicide cult that is renowned for its live show and its explosive performances, and what do you have? This piece is about the band that equals that equation…but, surprise! It's not Brian Jonestown Massacre! Instead, we are talking about Lansing, Michigan's The People's Temple, who have just released their debut album, Sons of Stone, on HoZac Records.
"Oh my god, I love that band," proclaims guitarist/vocalist Alex Szegedy. "The name is a total homage to Brian Jonestown Massacre. People have made that comparison, and that's totally cool with us. Many bands might get tired of the comparisons; we don't! Even though that film is total bullshit, and doesn't serve its subject well, it still introduced us to our favorite band, and if we sound a little bit like them and people like us because of that, then that's really awesome!" 
Such enthusiasm is refreshing, especially coming from such a young fellow. "We're a young band, both in our band's existence and in our age. We really started playing together since we were in high school," says Szegedy. "We saw DiG! and were shocked to discover that there were people who were making music that sounded like what we were doing. We went to their website, and got as much as we could. We just decided that, hey, we really love what Anton Newcombe does, and we just wanted to give it back."
And give it back they do, in spades. So superb is their debut album, Sons of Stone, it's hard to believe that this band of two sets of brothers—Alex and George Szgedy (drums) and Spencer (bass/vocals) and William Young (guitar/vocals)—are barely out of high school. One might think that these guys fell through the same spacetime continuum that the aforementioned Brian Jonestown Massacre seemingly fell through. Fans of 13th Floor Elevators, Love, The Chambers Brothers, Spacemen 3, early Rolling Stones and even Vanilla Fudge, Mudhoney, or Jesus and Mary Chain will be happy within the band's raw grooves.
"It's funny, we don't necessarily see ourselves as revivalists or a retro band," says Szegedy. "We just have picked up things here and there that we've liked over the years, and we want to make music that falls in line with the things we like. I guess that's a natural reaction for anyone creative; that ours is an oft-imitated style, well, that's just a coincidence, and something we don't worry about."
But Szegedy sees a greater joy in his music. "Music should be about enjoyment; that's why our live shows are so energetic and so chaotic. We don't think they should be planned-out, we want to have fun, entertain, and to make the audience leave feeling they had a good time. One can make music that's complex and requires a lot of effort to reproduce live. That's great, but that's not for us; to us, there's a greater spirit that gets lost when you try to make it too intricate, too complex, too much 'like the record,' and to us, that's the spirit of good music. We're just enjoying the time that we have while we're on the stage. It's a great place to be, and we're happy to give back!"