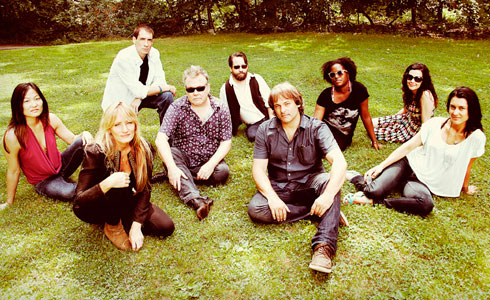 11 December 2013
Photo by Alex Brown
"If you're going to make a comeback, you might as well make as big a comeback as possible."
Such is the philosophy of Perry Serpa, vocalist of New York-based orchestral-pop band The Sharp Things. Their third album, A Moveable Feast, was released in 2007, and not much had been heard since. Two years ago, after a successful Kickstarter campaign, a new record was in the making…and then, suddenly, what was one record soon became four records. "The original title of the project was—and still is—The Dogs of Bushwick," says Serpa. Earlier this year, the group released the first album of the series, Green is Good, with second album, The Truth Is Like The Sun, having been released a week ago.
"We decided to take a little break," says Serpa. "We stopped playing shows, and at that point, we weren't sure of who was in the lineup—with a band our size, people come and go, and that's especially true of a band of our size that is more sporadic in nature, or one that is much more active in the studio."
"I just started writing. I'd started in 2008, and kept writing through 2010. When we went finally got organized and ready to record, we went into The Kennel Recording Studio [in Bushwick, Brooklyn], and at first, we decided we would pick and choose which songs to record. After a while, we thought it'd be much more fun to just sit down and record everything, to see what clicked. It turned out we liked everything!" laughs Serpa.
"At first we thought we'd do a big, multi-disc album, like a 69 Love Songs or All Things Must Pass. That's a fun, ambitious idea, but I realize now it would have been too much. It would have been unrealistic, both financially and creatively. Sure, we might have forty amazing songs, but nobody's going to fully appreciate them if they're presented all at once. Presenting too much at once waters them down. Since we had forty songs, we decided that it would be better to track ten songs together, and then steadily release them every six months or so."
The appeal of the gigantic, ambitious double or triple album hasn't been completely forgotten, though. When one looks at the cover of the latest album in the series, The Truth Is Like The Sun, one might notice a passing similarity to a rather famous album. "I like the idea of having each album cover paying homage—at least in some small way—to the great big albums in rock history. For Truth Is Like The Sun, we paid tribute to George Harrison's opus. Who knows, after that might be a 69 Love Songs tribute, or even an homage to Guns N'Roses' Use Your Illusion," Serpa says with a laugh.
Even though the band seemingly circumvented the problem of presenting a cache of songs to the world, another predicament has arisen. "As we record and work on these songs, it inspires us to create new songs, so just when we think we're done, we find new creations coming along," laughs Serpa. "It's a great problem to have, even if it alters the original concept."
Of course, the delivery of their material is one thing, but what of the other seemingly pressing issue—the size of the band? It's that reality that led the band to start a crowdfunding project in the first place. "Sustaining a band like The Sharp Things isn't easy. We have so many things to keep in mind; we all have families, day jobs, and non-music related concerns that we have to consider. Sure, a few of our members are working musicians, but even then, that can be as rigorous as a 40-hour week job."
"Additionally, we have to be honest about what we do. We're a rock band that is also an orchestrated jazz-pop group as well. Our audience is probably going to be much more sporadic, so that makes touring a lot less feasible. We're not like a band like The Polyphonic Spree, because they're all or nothing. On some level, their size is as much a part of the overall package, and that peculiarity gets them exposure and draws in an audience, because nobody else is doing things like that. I admire them for that; they're a unique group, and even though they have a great audience, I'm sure touring isn't always easy for them as well.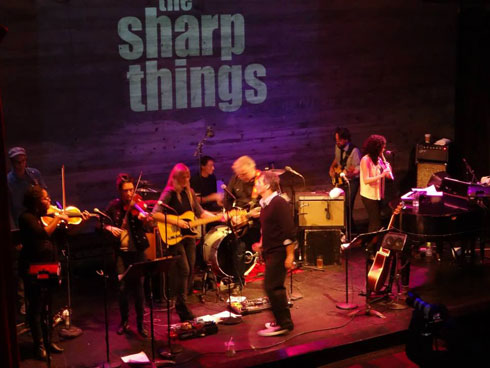 "What we're doing is much more traditional in sound and style; the size of the band is necessary to the sound, but it isn't a part of the appeal of our live show, nor does it guarantee an audience. Kickstarter was also a great tool for us, because we can gauge our audience, and plan accordingly."
With the ongoing process of releasing albums, what does the future hold in store? "The third album, it should see the light of day around April, possibly for Record Store Day. We'll release the final album this year as well. We're also working on a special vinyl set of all four albums in The Dogs of Bushwick series," says Serpa. "Ultimately, though, we're just wanting to get the word out and share our creations for an appreciative audience—and have a little bit of fun along the way."