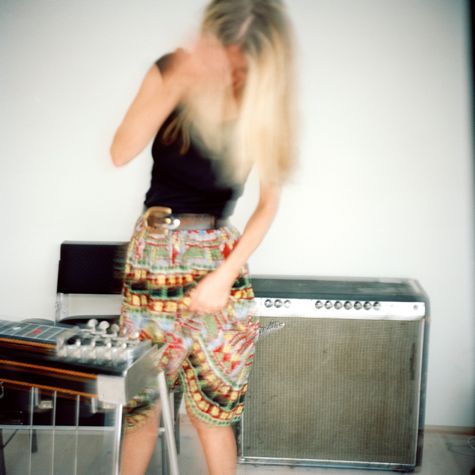 2 May 2011
"A pedal steel guitar maestro…from Denmark?"
That was my first reaction to learning about Maggie Bjorklund, and her debut album Coming Home, which was released recently on Bloodshot Records. She's not a particularly new name; she has resided in and out of the US, working with musicians based in the Seattle scene, with many of them returning the favor on Coming Home, including members of Calexico, Rachel Flotard of Visqueen, The Posies' Jon Auer, and Mark Lanegan all contributing and singing for her beautiful, haunting compositions.
When one hears the pedal steel, one finds it an alluring, appealing sound, and the same was true for Bjorklund. "I came from playing regular guitar and I played country guitar in several different bands. I also listened a lot to old school country music and naturally, the enticing sound of the pedal steel made me curious whenever I heard it. I think the steel guitar embodies a lot of other features from other instruments. I can find the piano, violin and guitar in there. It may sound strange but to me it carries some truth. Those are all instruments that I play. I love that pedal steel is so challenging, it keeps you very alert and focused. But mostly I just love the sounds that lie hidden within the instrument. It sounds like no other."
That may be, but Denmark is an odd geographic location for such a rustic, complex instrument. The instrument is known for being a complex, challenging one to learn; one simply does not sit down and play it from scratch. Given your location, was learning it a difficult process?
"When a friend offered me a pedal steel guitar really cheap, I bought it right away," says Bjorklund. "They are very hard to find in Denmark and it was a lucky chance that I was able to buy this pedal steel. I failed miserably at my first attempt on trying to play the instrument, it was just too hard and difficult to understand what was going on with all those pedals. I put it in a closet and left it there for some years. Later I took it out again and I had matured musically and was able to produce some sounds with it that I liked. I instantly fell in love with the instrument after this and have played it every day ever since. Very few people play that instrument in Denmark, you can count them on one hand, and there for it is rare to see any one play the instrument live. Mostly when American bands breeze through town you have a chance of seeing and hearing how it is played. This means that I was more or less left to myself and my imagination on how to address the instrument. Later I went to Nashville to have some of the pro's teach me and that was a great boost for my playing. There is so much to learn with that instrument."
About that…the Nordic regions have recently had a fascination with dark, southwestern-styled bands, with groups like Calexico, Lambchop, Giant Sand finding much greater success there than in their homelands. Of this mysterious reality, Bjorklund states, "It is hard to tell why those bands strike a bigger resonance in Scandinavia than perhaps other places. Maybe its because we are living in cold climates and like the warm desert sound to comfort us, but who knows?"
And with her association with the esteemed Bloodshot label, does this mean a chance to work with their in-house pedal steel maestro Jon Rauhaus is in the works?
"It would be absolutely great to work with Jon Rauhaus, but there are no current plans. Who knows what ideas we get in the future and some of them might lead us to work together. I would be very honored to do so. He is such a great player and musician, and a great person too, but we are working on tours at the moment. And there are always new songs to be written and music to be worked on."
Whatever it may be, Coming Home proves that it will be worthy of your time.