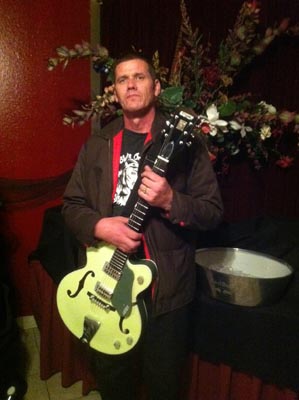 10 July 2011
Awaiting their first New York City show in six years, T.S.O.L. guitarist Ron Emory carefully makes his way backstage. He appears cool and collected, with a renewed vigor thanks to his well-earned sobriety and new home in Sioux City.
The undisputed trailblazers of dark wave punk rock have experienced more trials and tribulations than their peers, but their altruism and commitment to charitable organizations has them continuing to learn about themselves and give back to their respective communities. He shared one of his first experiences in his new home.
"I saw these Winnebago Tribe kids at the local skate park in Sioux City. They were like seven of them sharing one pair of sneakers! We have strong ties with Vans and Hurley and I just got on the phone with them and bought these kids some shoes. They were in true need," said Emory.
Emory has always earned the respect of his peers as a talented musician, transcending the genre's barriers as T.S.O.L. rose to the top of California's first wave of punk. However, the group's success always came with violent resistance and self-abuse.
"I first got sober back 1999. Our singer Jack (Grisham) had asked me to play on the Social Chaos Tour. Man, was I nervous. I had never played sober before. I always hid behind my guitar and substances like heroin," revealed Emory.
Prior to that fateful tour, T.S.O.L. led a storied yet tragic career.
The band regularly sold out west coast venues during their heyday, but were unable to sustain themselves spiritually. It's impressive how they managed to still create some of the most trailblazing music within the genre.
Beneath The Shadows may now be now be recognized as some kind of creative benchmark, but long-time supporters ultimately renounced them and the group drifted from the scene they helped create. Violence was common and the group's spirit was constantly challenged. Front man Jack Grisham experienced many self-described breakdowns, while bassist Mike Roche faced criminal charges and homelessness. According to Emory, Grisham first quit in 1982. The group's tumultuous history has since become legend.
"We did crazy and stupid shit. We did very unethical stuff like stealing from churches and fighting. We went around destroying and hurting a lot of people. Substance abuse was all too real. I could've easily ended up dead or locked up. We don't live that way now. Some people go around and hype that kind of thing, we don't feel good about that. You try to do right and make up for the hurt you caused before," he said.
Emory sadly reflected on the time T.S.O.L. first made their way to D.C., home to the original straight edge hardcore movement.
"It's our fault for the way we react. I know this now. When we played the 9:30 Club back in the early 80's and with the straight edge scene; it was just so anti everything we were. We threatened bands with real violence. I put Ian Mackaye from Minor Threat against a wall and threatened Brian Baker with actual violence," said Emory shaking his head.
He was happy to say he had since made amends with Baker, but has yet to see Mackaye.
"If I come across him, I'd apologize."
His sincerity was unquestioned.
Each individual member of T.S.O.L. has struggled against personal demons. Grisham once said he was a sociopath but did not consider himself a true addict because he never crossed the threshold to intravenous drug use.
Today, he celebrates over twenty years of sobriety, made a respectable run for California governor in 2002 and currently runs Amends, a non-profit organization dedicated to helping individuals in need. He proudly shared he has earned a degree in hypnotherapy and continues to see clients.
Roche lives in Las Vegas and works as a respected tattoo artist in a high-profile shop.
"Jack holds meetings on the road and has been sober for twenty-two years. He really helped me," said Emory.
T.S.O.L.'s collective journey to renewed spirituality had them pay heavy prices along the way.
As the members stumbled through their personal hells and spiritual missteps, their music ultimately suffered and creative focus was lost.
According to Emory, Grisham left the group due to the mounting drama. Confusion ensued and clarity was even harder to find when people learned Grisham's brother- in- law Joe Wood was fronting a band with the same name!
The Wood lineup bore little resemblance to the original T.S.O.L. and fans were left divided over who to show loyalty to. Emory and Mike Roche had recorded with Wood and released Change Today in 1984. The Joe Wood lineup would continue to record for the Enigma label and earn some radio play before disbanding. Wood's web site alleges Grisham abandoned the name in 1983 and Wood's version of the group continued to tour worldwide until 1996.
"That was a very tough time. A lot of those songs were worked on with Jack as T.S.O.L. but we originally broke up after only two or three years. Change Today is one of my favorite records, though."
T.S.O.L. had managed to perform sporadic reunion concerts over the years, but lost the rights to the T.S.O.L. name and were forced to book shows using only their full names. A 1991 concert was released by Triple X Records, but no new material surfaced.
Four years later, Grisham partnered with Emory to form The Joykiller.
The band recorded for Epitaph and earned positive reviews from critics and fans alike, but the group disbanded. A collection of their albums was released in 2003.
"Jack had kicked me out of Joykiller because I was a mess. I was always strung out," said Emory.
Perhaps T.S.O.L. most tragic story was the passing of original drummer Todd Barnes in 1999. His life-long battle with alcoholism and drugs led to the group being forced to take him off life support. Emory previously revealed to me that his last interaction with Barnes had the troubled musician saying he was 'going to the grave with Wild Turkey'. Despite not playing with Barnes for many years, T.S.O.L. were forced to regroup and cope with the loss.
With a renewed sense of purpose and focus, they returned with Disappear in 2001. Silencing critics and skeptical fans it highlighted their true return to form. They embarked on festival dates and small, west coast tours. Produced by Thom Wilson who had previously recorded Beneath The Shadows, the album featured dark interludes and social commentary, with Grisham's trademark Vincent Price vocal inflections and eerie crooning. Divided We Stand followed in 2003 to much acclaim. Among the record's attributes was the return of keyboardist Greg Kuehn and the band's effortless ability to craft powerful rhythms complimented by Grisham's scathing views of politics and society.
T.S.O.L. recently celebrated their 30th anniversary and rewarded their fans with Life, Liberty, & The Pursuit of Free Downloads. The premise behind the record was for fans to donate to a list of charities the band supported in exchange for a copy of the new album. Grisham once told me he thought it was great to take corporate money and have all the profits go to charity. The project was a partnership with Hurley and allowed long-time supporters to still maintain their personal connection with the group.
"This is all I've known! When you spend thirty years with someone they're family. There's nothing different and all the songs are still relevant to me. I still do it because they're people still searching for something life-changing. The difference between us and other groups is that we survived! Music is really second nature to me."
Emory's second nature was finally welcomed by the mainstream and he's currently sponsored by Fender Guitars.
"My wife was helping do some work at Tim Armstrong's house. I learned there was a Fender bass clinic event in town and Mike Roche and I went. Some of the guys in their custom shop I'm friends with, like Mike Eldred and Tim Bryant. It started with some acoustic guitars and we laughed about putting T.S.O.L.'s name on the necks and stuff. I've played a lot of Fender and Gretsch guitars over the years and to show their appreciation T.S.O.L. was invited to play a motocross event."
To Emory's surprise, Fender mailed guitars to his home and his living room was soon filled with deliveries.
"My wife was wondering what was going on! They were all these boxes and boxes of guitars. I just thought about the Winnebago Tribe kids I saw before at the local skate park in Sioux City. I gave them the guitars," he said smiling.
Emory believes one of his proudest achievements is the formation of Music Inc., a non-profit conservatory with the mission of teaching kids the positive power of music.
"When my family moved to Sioux City we thought 'What could we do to bring something cool here? 'I had told my story of sobriety to a local church and I looked around the city. Really took it in and people really struggle out there. Lots of working class people just trying to survive.
I worked with a lot of kids giving music lessons. I have 59 students!"
According to Emory, the conservatory has allowed kids from diverse economic and social backgrounds to interact, something he feels would not normally happen if it wasn't for the uniting force of music.
"I work to turn them on to new kinds of music. I try to be a positive influence and help direct them. It's really about getting people involved."
Emory's life-long dedication to songwriting doesn't begin and end with T.S.O.L. His recent solo record, Walk That Walk had him confront his shyness and actually step up to the mic full-time.
"A lot of those songs have been with me for years. When I was homeless I always managed somehow to have an acoustic guitar with me. A lot of these songs are very personal."
Emory credits Armstrong for motivating him to capture the songs on tape.
"We spent a lot of time chipping away at the songs. Vocally, I was very nervous. I pretty much cast a fishing line to friends so they would sing. Mike Ness, Dexter Holland, Mark McGrath all sing a little."
As he happily walked through the inspiration for Walk That Walk, his innocent anecdote about one early family experience had his face light up. Emory's memory remains very sharp and carefully nuanced, much like his unique guitar phrasing.
"My grandpa was my father figure because my dad left when I was six. He saw me sleeping with a guitar and later took me for a ride to the local music store. He asked me what guitar I wanted and he got it for me. He told me to stay true and make a career out of it. But he told me when I would look back, none of it would ever seem like work. He said I could have the guitar but only if I promised to never tell my mom how much it cost."
As T.S.O.L. continues to utilize their talents and ultimately facilitate positive change, Emory reminds fans that it was a long road to reach his goal.
"That huge void of my father leaving when I was six. I've looked at my past now as a grown man and it has allowed me to forgive and ask for forgiveness."
www.ronemory.com
www.truesoundsofliberty.com
www.myspace.com/tsol