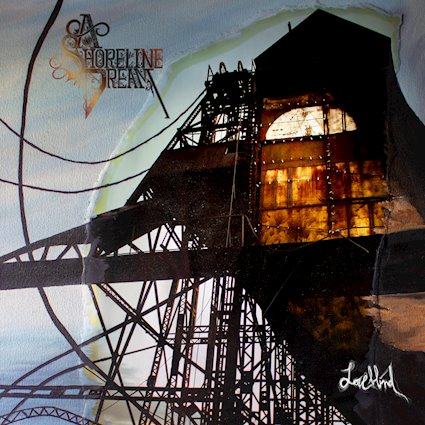 7 September 2022
With a new long player (yes, I'm that old that I still call them that) on its way, "Loveblind" arrives like a sonic morsel, a tasty treat to tie you over before the main meal is served. And what a delicate dish it is. Few bands can merge moodiness and bliss, beauty and darkness, a bitter edge with a sweet sonic center like A Shoreline Dream. And if you are new to their world, Loveblind makes for a perfect place to test the water. If you have followed their long, lush, and illustrious career, it still stands as a benchmark in a career beset with extremely high musical standards.
Built on a Cure -esque bassline, one that creeps alone rather than grooves, they hang various gothic-drenched and post-punk-infused sonic layers. Guitars seem to cut across like broken shards, their pieces shimmering in the half-light. The Drums are brilliantly unfussy, appearing merely to tether the song rather than drive it. And around and throughout, dark and beguiling tones and textures are woven.
And on top of that, the vocals dance and drift, sometimes communicating directly with the listener, at others happy to sink down into the music, becoming more a musical wash than a narrative device.
Post-punk might seem like an antiquated term, mainly as it was coined to describe the music of the late seventies and early eighties, which crept through the holes in the barriers left by the punk rock bovver-boot. But given A Shoreline Dream's obvious love of the era and their ability to weave those same lush and luxurious sounds through their more modern soundscapes, such a term remains the perfect shorthand description.
Alarm Stops Ringing
Album pre-order / Bandcamp