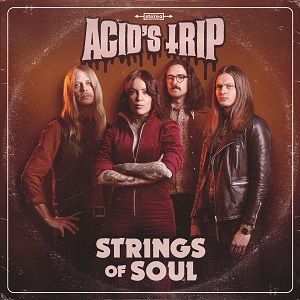 10 May 2021
Anna Acid, the titular leader of Gothenburg rock quartet Acid's Trip, used to sling strings for the remarkable but short-lived rockers Honeymoon Disease, whose debut The Transcendence was a highlight in the underground action rock scene. While AT debut Strings of Soul doesn't quite reach those heights, it's still a strong example of no-frills power rock like few make anymore.
One of the best things about the Scandinavian rock explosion that started in the nineties was the lack of self-consciousness – these folks played late 60s/70s rock & roll without a shred of irony, as if they'd just discovered that pile of riffs and it was the most exciting thing that ever happened to them. Acid's Trip is no different – the band's blend of Detroit fury, American South melodicism and British singalong steel is powered as much by sheer enthusiasm as talent. Six-string slathered blazers like "Delusions of Grandeur," "Faster, Chopper, Boogie" and "Just a Man" – the track to sample if you want to know exactly what this band is all about – rock like muthas without the nudge and wink that so many American and British bands of this stripe feel obligated to include. The band also adds a few non-hard rock touches here and there for flavor, like the spacey bridge on "Delusions" or the massed vocal harmonies of "Creature From the Black Lagoon."
Make no mistake – like soul brethren the Hellacopters, Acid's Trip aren't mere mimics. The band uses seventies hard rock as a springboard, continuing the tradition rather than ripping it off. So folks sick of their Thin Lizzy LPs but looking for the same thrill will find that Acid's Trip have got their backs.