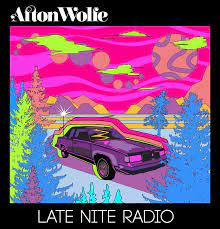 22 May 2022
There is something wonderfully self-referential about this latest gorgeous song from Afton Wolfe. Not only does it reference the late nite radio of the title amongst its darker and more heartfelt message but sonically it is exactly the sort of song you would expect to hear playing at a low volume from the old transistor radio next to the bed, from the dashboard of the car as one day slips into the next and the land around lies still.
Afton Wolfe is a master storyteller, not just in the actual words but in the creation of a mood. Here he reaches new heights even considering his already outstanding body of work. Reflection is the name of the game here, the author looking back on a failed relationship, blame on both sides perhaps, what's done is done and all that is left to say is "please don't think badly of me, we had some good times, right?"
If anything can help ease the pain, it is the power of familiar music playing on the radio in which you can both lose yourself and, for a moment or two at least, forget the pain.
And "Late Nite Radio" comes with a funky little travelling companion in the form of "So Purple", a bass-driven blend of chiming piano lines, shuffling drums, floating flute and Wolfe's unique vocals. Once, someone famously described Tom Waits voice as "like it was soaked in a vat of bourbon, left hanging in the smokehouse for a few months, and then taken outside and run over with a car." Such a fantastic description could easily have been said about Afton Wolfe.