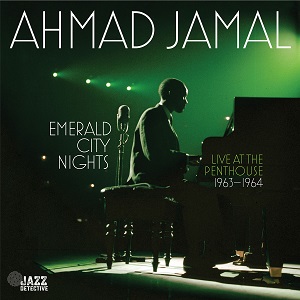 2 December 2022
Though he's not invoked as much as he used to be, it's worth remembering that Ahmad Jamal is a major jazz figure, both in terms of popularity and cultural impact. The Pittsburgh native became a mainstream presence in the late fifties thanks to his classic live album At the Pershing, and while he hasn't repeated that level of success, he's still one of the godheads of jazz piano. Rescued from the metaphorical flames by historian Zev Feldman for his new imprint Jazz Detective, the two double disk sets entitled Emerald City Nights: Live at the Penthouse show Jamal at the peak of his live powers.
As evidenced by "Johnny One Note," the first song on side 1/disk 1 of Vol. 1 (recorded at the beloved Penthouse in 1963 and 1964), Jamal was in the midst of a transition during this period. After zeroing in on the hard bop piano crown with Pershing and Alhambra in previous years, the pianist started stretching his legs, er, fingers in the sixties on his way to later masterpieces like The Awakening and Freeflight. On the Rodgers & Hart tune, he sticks close the melody during the head, riding bassist Richard Evans' and drummer Chuck Lampkin's easy swing. But when it's time to solo, he channels his inner Cecil Taylor, ranging across the keyboard with boundary-busting fills, taking his already superior improvisational sophistication to new heights, and unveiling the harmonic daring for which he would become so well-known. Elsewhere, Jamal sticks closer to home, particularly on the shorter pieces, but he lights the brightest fire during the extended cuts, with Evans' "Bogota," Cole Porter's "All of You" and "Minor Moods" (the only Jamal original, oddly) being particular standouts. (Note: bassist Jamil Nasser replaces Evans for the 1964 set.)
Vol. 2 picks up in 1965/66 with the 1964 band and a set of standards that leans surprisingly hard on the Anthony Newley catalog. Jamal unleashes his usual melodic brilliance on the British songsmith's "Who Can I Turn To," "My First Love Song" and, of course, "Feeling Good" as if he wrote them himself, with his groovy take on the Nina Simone standard coming off as especially sparkling. For the late 1965 set, drummer Vernal Fournier replaces Lampkins for a pair of songs, including a swinging, expertly drawn take on the beloved Johnny Burke and Jimmy Van Heusen standard "Like Someone in Love." With drummer Frank Gant coming in, things get even more vibrant on the 1966 tracks. A palpable drive runs through the Ben Webster composition "Invitation," wherein Jamal holds back to let the spotlight fall on Gant and Nasser. Outside of an excerpt of Benny Golson's "Whisper Not," the disk ends with Jamal's hit "Poinciana," which eschews filling every spare inch of space with notes to focus instead on simply getting the melody across, accented by ascending/descending piano solos.
Simply stated, any Ahmad Jamal music is worth hearing, especially in the live setting with which he became famous. With bravura performances in front of a sympathetic audience, Emerald City Nights: Live at the Penthouse Vol. 1 & 2 is a damn good example of what makes Jamal the legend that he is.