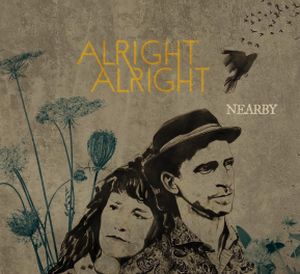 12 October 2018
China and Seth Kent of Denver-based alt-folk/Americana act Alright Alright channel their personal experiences, directly and obliquely, into their heartfelt, warm, and engaging music. The married duo released their debut album, the passionate to dreamy and uplifting Nearby, via Hooves and Sugar Record Co. on October 5th.
Nearby was produced by the Kents and Eric Dawson Tate, who also mixed the LP. Alan Douches of West West Side Music mastered the tracks. The record follows the pair's 2016 Faraway EP and was meant to be its twin bookend, but China (vocals, piano, keyboards, string arrangements) and Seth (vocals, acoustic guitar, electric) found they had created enough material to compose a whole album.
The stylistically diverse LP opens with the introspective number "Little Girls, Little Birds". Mellifluously flowing piano notes and sustained light organ press form a soft bed for China's bittersweet vocal tone as she expresses the sentiment that all children have to grow up into adults ("Little girls grow older / Little birds fly away…").
Seth's plaintive vocals are featured on the reflective alt-folk tune "The Liar", while China sings ruefully on the delicate piano, violin, mandolin, and picked banjo-infused "Too Much". Both China and Seth join in on the lyrically blunt, yet poignant acoustic folk song "Whisper Your Name".
Burnished retro-folk with vintage piano notes shine on "Gulf Coast Highway", while the old-fashioned, lyrically positive ("Be good to each other"), strings-driven piano ballad "Be Kind" rises on the voices of an angelic children's choir and China's emotive vocals.
The varied musical styles continue, with vespertine country and western "By The Bed" sounding more personal than ever lyrically, as Seth passionately reveals, "The smallest act of kindness / A smile and a gentle glance / It's the gift within forgiveness / Grants a second chance." amid curling slide and reverb guitar. Contemplative piano-based "Luckiest Girl In America" is a quietly inspiring track, with China "singing our story" of "ordinary glory" as a subdued electric guitar line weaves around bright piano notes.
Nearby closes with the brisk and spirited, gospel-inspired "My Jesus Carries Me". At its start, picked acoustic guitar flows quickly and is accompanied by subtle handclaps, sporadic tambourine jingle, and congenial piano notes. The intensity soon surges upon the introduction of added instrumentation, with the rhythmic clacking of hands growing louder and China and Seth enthusiastically praising Jesus and "His example / to lead a life of love."