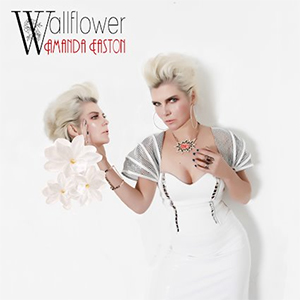 18 February 2021
Sydney, Australia's soulful electronic pop artist Amanda Easton has returned with Wallflower, a new full-length album that is not so much a departure as it is an inner discovery for the singer-songwriter. 2020 will undoubtedly prove to be a year when many artists and musicians found pause for self-reflection, and as Easton herself admits that it gave her more of an excuse for introspection, it will come as no surprise that Wallflower is a far more intimate and personal record than some of her previous recordings. There is also a newfound rawness present, as if anything superfluous has been stripped, thereby creating a record that is emotionally honest while Easton digs through her past to find the person she is today.
Easton's signature sound is as present as ever, as she performs these songs in a way that can only conjure to mind Debbie Harry performing in a smoky jazz club somewhere in space. There remains the occasional glimpse of disco rhythm, but film noir ballads reign supreme here. Some songs like "Don't Take Off Your Coat" are reminiscent of similar seedy guitar ballads by Depeche Mode in recent years, but the greatest moments are also the simplest. Songs such as "At the Door" and "Don't Forget You Love Me" almost seem to be captured in a demo state because they have been reduced to the bare essentials, and they are all the more powerful for their primal intensity.
Wallflower is a fantastic document of a state of mind that countless others have likely experienced in the preceding twelve months, and is definitely recommended for any fans of Lana Del Rey. The album is out February 20th, and will be available on vinyl in the US through Renaissance Records.