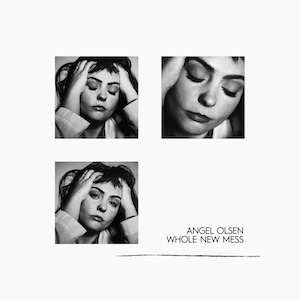 3 September 2020
Angel Olsen has come full circle. Almost a decade ago, she epitomized the tremulous folkie, spinning stark tales of burning emotions with bracing directness. Her subsequent releases gradually embraced more sophistication without losing heat, culminating in last year's transfixing All Mirrors, an art-pop gem rendered in orchestral shades.
Now, Whole New Mess renounces fancy sounds, presenting an alternate-universe version of All Mirrors. Featuring Olsen all by her lonesome, just taut, anguished voice and guitar (apart from spectral organ on a couple of tracks), this electrifying album will remind longtime fans what made her so commanding in the first place. Most of the 11 tracks are different incarnations of songs from All Mirrors, yet do indeed feel like a whole new mess, ranging from hopeful expressions of tenderness to unsparing accounts of a failed relationship that anyone who's suffered from lovesickness will recognize.
For all its seeming simplicity, the music of Whole New Mess is rich and satisfying. Wrapping her vocals in echo and distortion, Olsen seems to be sending a call for help from another dimension. "Impasse (Workin' for the Name)" slowly ratchets up the tension as if headed for a meltdown that never comes, while "Waving, Smiling" could be descended from a dreamy '50s teen ballad. Brutally frank, Olsen declares, "Worst feeling I've ever had is gone…I'm done," on "Chance (Forever Love)," and says, "Just don't have time to explain/All the things you think you've come to understand about me," in "Tonight (Without You)." Snap!
Thrilling and harrowing at once, Whole New Mess is a fascinating study of a tormented heart, painted in bold strokes. But don't be surprised if Angel Olsen takes a totally different approach next time.