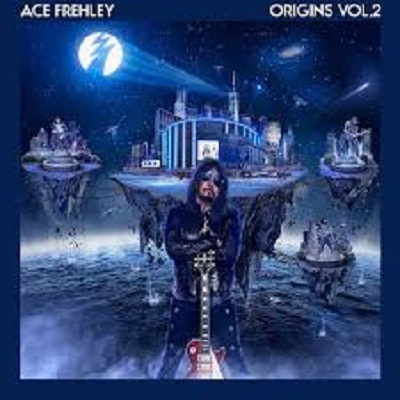 2 September 2020
It is evident on Origins Vol.2 that not only is Ace Frehley on top of his game, but he is enjoying himself.
This man needs little in the way of introduction. Ace Frehley is one of most emulated, and influential guitarists of the past forty-five years. As a member of KISS in the seventies, he was integral to their success, and their myth. His riffs, solos and fireworks which literally exploded from his fingers became the reason as to why so many lost teenagers picked up a guitar and found a direction. But he was something bigger than KISS, he could knock a decent album away from the fold, and his solo album from '78 is testimony to that. The truth is, when the divorce happened in '82, the band lost it's creative spark, and it's authenticity. And now Ace is back with a new album. 
After KISS, his offerings with Frehley's Comet, and solo outings (Trouble Walkin'), have been on the same level, if not bettered what his former band were knocking out. This century however, things have taken a twist, one which involves a plethora of quality releases that are satisfying long time fans and the converted. Since 2009's acclaimed Anomally, Ace has struck gold, not just as a musician, but as a songwriter. In 2016 came something different in Origins Vol 1. An album of covers, featuring input from Slash, Lita Ford, John 5, Mike McCready, and ex-bandmate Paul Stanley. Twelve tracks including three KISS tracks, two of which penned by Frehley ("Cold Gin", "Parasite"), but not originally sung by him. On September 18th, he follows up that excellent homage-paying album with something equally strong in the aptly titled Origins Vol. 2. 
There is a transcendent selection of tracks on offer. Although one bonus KISS number in "She", the rest is a who's who of rock goliaths. Already the teaser dropped in "Space Truckin'", the 1972 Deep Purple, which is reinvented, and sounds hand built for Ace (Space Ace Truckin'), although great it does not represent fully the impact of what's on offer. The set launches full throttle with the early Led Zep cracker "Good Times, Bad Times". It is a spectacular opener, with a relentless riff-fest. What is dominant is the cohesion between Frehley and the rest of the band, working as a solid machine. Evident further in the reworking of the Mountain track "Never In My Life". The dominance of the guitar lines which come at the listener from all angles is at times overwhelming but wholly enjoyable. 

Ace really brings the rock to roll in the
Beatles
"I'm Down", with a solo pulled straight out of 1977. It is stadium intense music condensed onto an album. The take of  "Jumpin' Jack Flash", with vocals by
Lita Ford
, is the fuse lit on an incendiary stick of dynamite. The intro alone is mind blowing and inventive, the vocals are venomous and all guitars are in flames. Though there are even more heavyweight adventures in a version of the
Cream's
"Politician", a follow on to the version of "White Room" from
Vol.1
. This time, what would sound like an odd choice is actually executed with conviction, with an extra edge of guitar work from
John 5
. Same can be said for "Lola" by the
Kinks
, but it cleverly works, in both paying tribute to the original and integrated with the style of Ace. The chorus of course remains as catchy as ever. 
This is a real tribute to influence, the appearance of the Humble Pie classic "30 Days In The Hole". With vocals by Cheap Trick's Robin Zander, it is just such a great track that it sounds like an original. There is a transcendent appearance by another ex-KISS player in Bruce Kulick. Both Bruce and Ace let loose on the Jimi Hendrix banger "Manic Depression". Here things are lifted closer to heaven, hearing both guitarists with different sounds cut solo after solo is just spectacular. Also worth noting is "Kicks" by Paul Revere & The Raiders. Like all that came before it, the track sounds so organically drenched in sweaty rock and roll. The urgency of the original is very much at the heart of the recording, and it flows beautifully. 
An honest view of Origins Vol.2 can be to describe it as 'fun'. It is the good old sounds, some of which we may have forgotten, updated in this surreal and tragic world. The Animals "We Gotta Get Out Of This Place" is the perfect example of this. It is sing-along personified, an anthemic statement to find freedom. Ace nails it. And then comes the closing track. A statement of how Ace has accepted his past, and now celebrates it with a reworking of "She". This bonus track is a final act of intensity, a reminder of what the guitarist accomplished, as if we need one. But it is great to hear it, and Ace has a voice that, like the man himself, has aged gracefully. 
The band backing Ace, Jeremy Asbrock, Ryan Spencer Cook, and Philip Shouse, are simply sublime, and fully complement the style of the guitarist. They give him space to soar and an anchor to reign him in when needed. However, it is evident on Origins Vol.2 that not only is Ace Frehley on top of his game, but he is enjoying himself. For the length of the album he is breathing fire through those humbucker pickups, stretching the instrument, within a slick, cool playground of rock and roll. 
Tracklist; 
1. Good Times Bad Times (Led Zeppelin)
2. Never In My Life (Mountain)
3. Space Truckin' (Deep Purple)
4. I'm Down (The Beatles)
5. Jumpin' Jack Flash (The Rolling Stones) 
6. Politician (Cream) 
7. Lola (The Kinks)
8. 30 Days In The Hole (Humble Pie)
9. Manic Depression (The Jimi Hendrix Experience)
10. Kicks (Paul Revere & the Raiders)
11. We Gotta Get Out Of This Place (The Animals)
12. She (KISS) [Bonus Track]
Available September 18th.
For More Info & to pre-order: 
Website
Bandcamp
Facebook