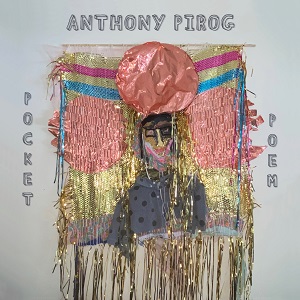 4 December 2020
Budding guitar hero Anthony Pirog has quite a resumé – he's worked with avant-guitar giant Henry Kaiser, free jazz legend William Hooker, jazz guitarist Joel Harrison and for the last few years has been co-leading instrumental power trio Messthetics with Fugazi's Joe Lally and Brendan Canty. _Pocket Poem*, his second solo album, also features notable musicians as his rhythm section: veteran bassist Michael Formanek (Tim Berne, Thumbscrew, Ensemble Kolossus) and maverick drummer Ches Smith (Berne, Mary Halvorson, Elliott Sharp, Marc Ribot). Those folks don't work with just anybody, so their presence in itself lends credence to this project.
Interestingly, Pirog, who studied jazz guitar at Berklee and NYU, doesn't play much actual jazz here. Instead, he explores folk and psychedelia, drawing on the sounds of the sixties, but reinterpreting them firmly for the twenty-first century. He does this in part with the use of guitar synthesizers, but rather than put them up front in the style of Pat Metheny or Allan Holdsworth, he uses them for texture to his acoustic and electric guitar melodies. "Honeymoon Room" and "Adonna the Painter" both make good use of ethereal atmospherics generated by the guitar synths, putting a lush context around his improvisatory picking. (It should be noted that Pirog follows through on the implied promise of the album title title – only these and two other tracks break four minutes, with the rest under three, most of them under two.) He does bring a Methenyesque horn line to the floating "Mori Point," which would sound at home on the ECM label. He also shows off a love of British folk on "Sitting Under Stars," EDM groove on "Part and Particle," and full-on cosmic electronica on "Beecher."
Pirog rocks out only once, in opening cut "Dog Daze," preferring to stick to keenly crafted aural watercolors. Clearly, variety is his watchword here, as he ambles down various six-string paths and ignore the obvious roads his C.V. might indicate. All the better, as a well-rounded Pocket Poem makes for an engaging, sometimes engrossing, spin.